Best Apps That Turns Pictures Into Cartoons 2022
If you have a variety of photos that makes attractive your gallery. Many applications are available for the Andriod and ios versions that can convert your ordinary picture into cartoon pictures. In addition, it is desirable to look at, but you need to choose the best application to edit your pictures.
Thank you for reading this post, don't forget to subscribe!
Moreover, cartoons and sketches application are trendy because of their popular art forms. We will discuss popular and valuable apps that have extraordinary features. They are available for free to use, and they also have various features, different filters, and effects. Moreover, we will tell you about the availability of these apps for Android and iOS versions.
Why Should You Use Convert Photo to Cartoon Apps
Every people have different likes and dislikes. Also, serval reasons are available to use the cartoon apps. Suppose you want to create some different pictures and show creativity in pictures. Therefore, you need to use the cartoon application to turn pictures into cartoons.
Additionally, these applications have a different set of tools and also advanced features like AI photo effects, stickers, text overlays, and backgrounds to enhance your photos.
In addition to the pictures, you need to use cartoon apps to convert photos to cartoon shapes. Let us know some top different apps available on the internet in the next section.
[Read more: How to Take Temperature with an iPhone?]
Best 11 Apps To Convert Photo to Cartoon App
Some top apps can easily convert pictures into cartoons. Also, these applications have different filters. Now, let us be familiar with detailed information in the next portion.
1. Painnt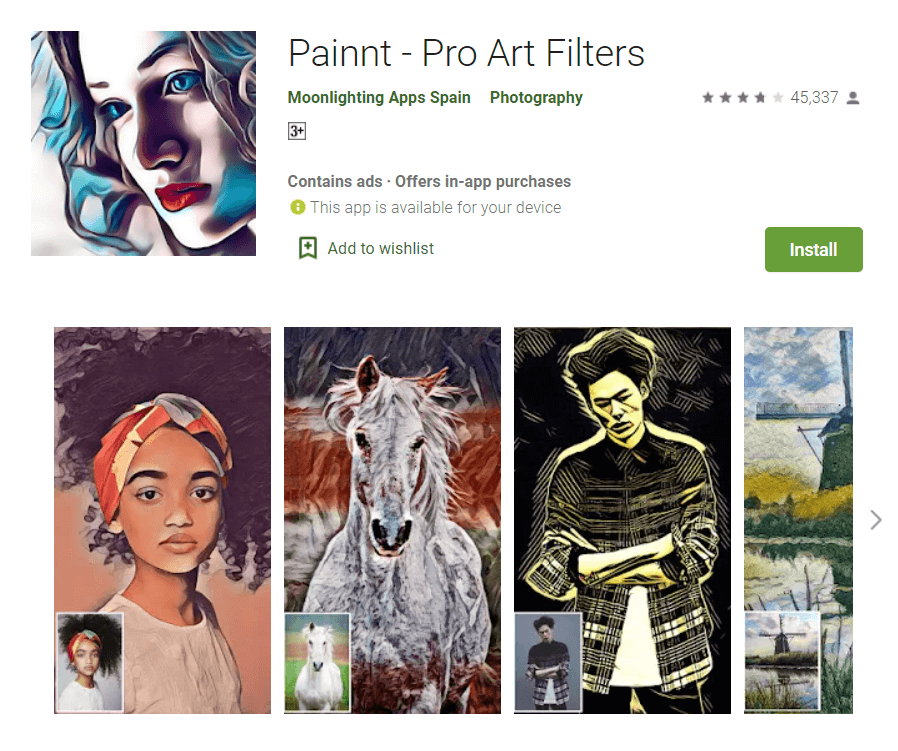 Painnt is an application that users use to make their photos look like Van Gogh or Picasso by using AI tech. In addition, it offers to users over 2000 fully customizable HD artistic filters. Additionally, it provides the same features available in the paid versions. It is available for iOS or Android for free.
Features of Painnt
It can turn your photos into masterpieces with dramatically art of AI.
Available HD filters of paintings, color palettes, and sharp brush strokes.
Available 1000+ filters, including a classical, comic book, modern, abstract, and mosaics.
Preview and share your painting with friends and family social networks.
Website: https://play.google.com/store/apps/details?id=io.moonlighting.painnt
Price: ₹50.00 – ₹599.99 per item.
2. MomentCam
MomentCam is a great application that can turn photos into cartoons. That is why it is available at the top of the list. Also, It offers users a variety of unique filters and different stickers. It helps to create a unique amazing cartoon or a sketchbook. Additionally, this application is available free of cost for Android and iOS.
Features of MomentCam
You can create your own cartoons and animated emoticons.
Use personalize your background with our latest MojiWorld feature.
It has a straightforward interface and is easy to use.
More engage in activities to win prizes through sharing your creations with the MomentCam community.
Website: https://play.google.com/store/apps/details?id=com.manboker.headportrait
Price: ₹29.00 – ₹1,999.00 per item.
[Read more: How to Install Spectrum TV App on Firestick?]
3. Avatoon
Avatoon is the top application to turn yourself into animated stickers. Also, you can convert them into stickers. Moreover, you can share these Stickers directly with your friends on the WhatsApp app and other platforms like Instagram, Facebook, and more. Additionally, it has AI features like facial recognition, avatar fun, avatar customization, etc. It is available for both operating systems for free Android and iOS.
Features of Avatoon
Avatoon easily creates a personalized cartoon avatar like the real thing.
Send and Share photos on any other social media.
Character Maker and Creator that can easily customize your avatar.
Style Options that can change your clothes, hair, color scheme, etc.
Website: https://play.google.com/store/apps/details?id=face.cartoon.picture.editor.emoji
Price: ₹90.00 – ₹5,200.00 per item.
4. BeFunky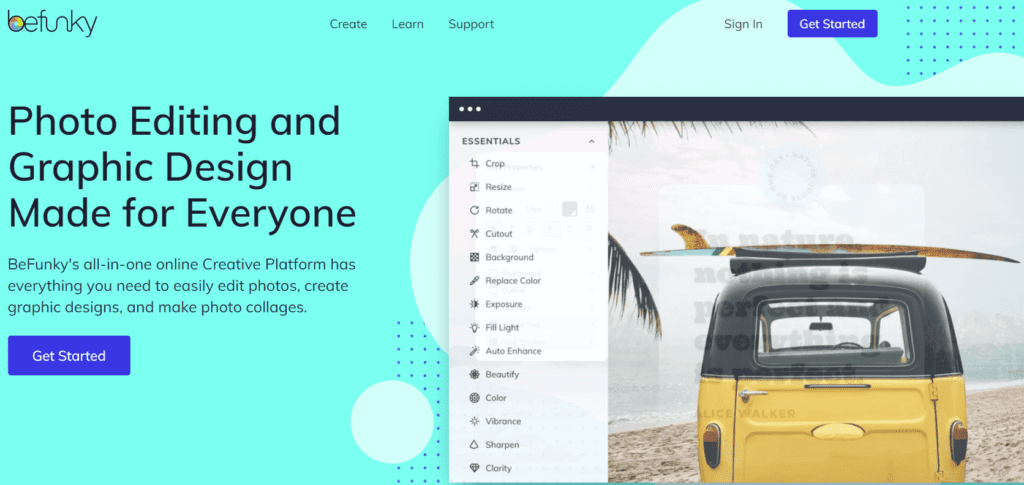 BeFunky is a web-based platform where users can edit their photos from any device. Also, it offers some fantastic features to turn photos into cartoons. Many options are available for free. Beyond the tools, you can find excellent great design tips and user guides on the website, and you will be able to try everything out for free.
Features of BeFunky
Easy to crop and resize photos.
Users can turn photos into Art.
It allows to bulk photo edit at a time.
Provides many vector graphic icons.
Website: https://www.befunky.com/
Price: $4.99 per month, if you buy an annual plan.
5. Picsart
PicsArt is one of the best photo editing applications because of its simple user interface and features. Also, it provides lots of creative control, excellent image-editing tools, and a large variety of attractive filters. It is available for the Andriod version as well as iOS versions.
Features of Picsart
Use images and you can edit your Background.
Create more interesting stickers with photos.
Many styles are available that can change the avatars.
Website: https://picsart.com/
Price: $11.99 for a single month or $55.99/year.
6. Toonme
Toonme is a new application that makes a favorite in a short time. It can convert photos into Cartoons. Also, it is simple to use and can use your camera to use free built-in editing tools. Toonme is available on both Google and iOS. It is available free of cost and also paid version with advanced features.
Features of Toonme
Full-body cartoon maker.
Vector portrait templates.
Lots of simple layouts and sophisticated designs.
Website: https://play.google.com/store/apps/details?id=com.vicman.toonmeapp
Price: ₹430.00 – ₹8,900.00 per item.
7. Paint Lab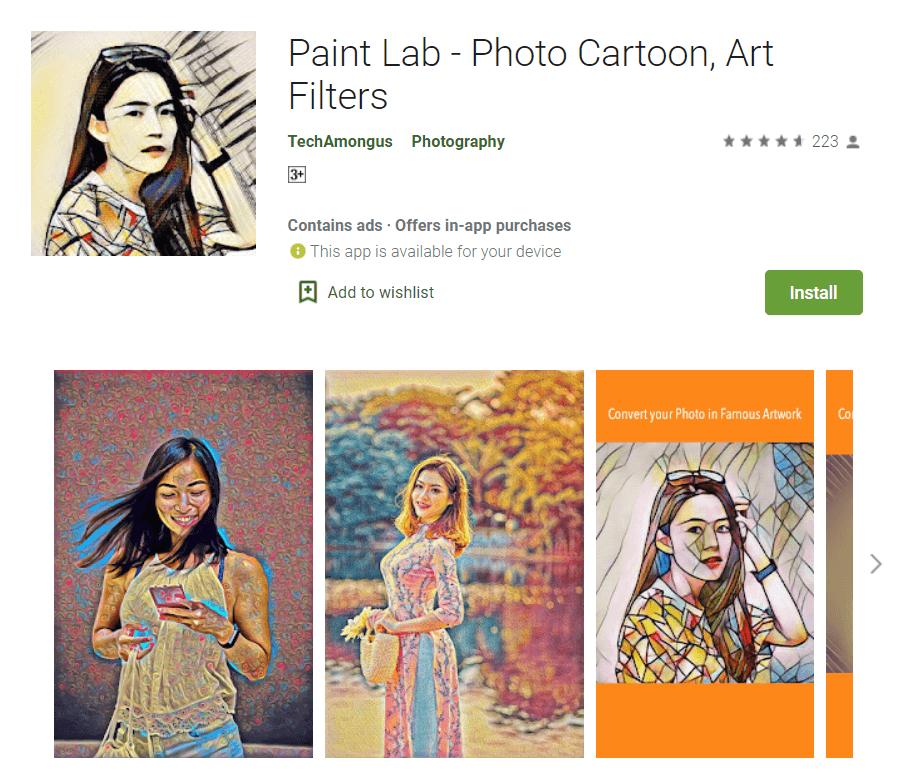 Paint Lab is a helpful Photo Cartoon app that uses AI to convert simple photos to cartoon pictures. It has excellent filters for you to turn your favourite photos into a cartoon. Additionally, you can share pictures directly on any social media platform you want. It is available for Android and iOS for free and paid.
Features of Paint Lab
Option available to create artwork.
It has more than 40 filters from famous artists.
Change style filter intensity and Prisma filters.
It allows sharing your artworks with social.
Website: https://play.google.com/store/apps/details?id=com.techamongus.paintlab
Price: ₹500.00 per item.
8. Camart
Camart provides several different filters to give different looks to your ordinary pictures into cartoons and sketches. Moreover, it makes your photos into pencil drawings, oil paintings, manga, watercolor, comics, and more. Additionally, it is available to Android and iOS for free and paid versions.
Features of Camart
Apply real-time effects and take photos, selfies, and videos with your camera.
Available artistic, cartoon effects, and variations of your photos.
Options to pinch to zoom and tap the screen to autofocus.
Share photos by email or to social networks
Website: https://play.google.com/store/apps/details?id=pixelab.camart.cartoon
Price: ₹35.00 – ₹290.00 per item.
[Read more: How to Login ATT Email Account 2022?]
9. Comics Cartoon Maker
Comics Cartoon is the best application to turn your photos into comics & cartoons. It is available to download on Apple app stores and Google.
The users can use this for free this application and additional features available with
Features of Comics Cartoon Maker
Provide an option to select a picture from your gallery and use the filter.
The app is light and it runs smoothly on any phone.
Legit-looking comic effect.
You can create your own memes.
Website: https://play.google.com/store/apps/details?id=gr.gamebrain.comica
Price: ₹60.00 – ₹140.00 per item.
10. Snapchat Filter
Snapchat is very popular because of its new filter that offers users to transform their selfies into Disney or Pixar-like characters. Moreover, it provides free filters with cartoon and cartoon 3D Styles. Also, it provides the additional features in paid version for both Andriod and iOS for
Features of Snapchat Filter
Express yourself with Filters, Lenses, Bitmoji, and more.
Submit your own Snaps or sit back, relax and watch.
Create Stories from Memories to share with friends and family.
Video chat with up to 16 friends at once.
Option available to use Lenses and Filters when chatting.
Website: https://play.google.com/store/apps/details?id=com.snapchat.android&hl=en_IN&gl=US
Price: $0.99 – $399.99 per item. 
11. Cartoon Photo Editor
Compatible devices include those running Android 5.0 or higher. The program used to produce cartoon-like effects Given that it allows you to add cartoon effects, oil paintings, and canvas artwork, it's one of the best photo-to-cartoon apps for Android. You may add painting effects, smooth art filters, pencil sketch effects, and cartoon animation effects to your images to turn them into works of art.
Features
This tool for converting cartoon images looks amazing.
Counting animated photo effects is challenging.
editing photos in real time while using a strong selfie camera
You should upload your sketches and artwork on Facebook, Instagram, Pinterest, and Twitter.
Download App: Android
Cost: Free
Website: https://play.google.com/store/apps/details?id=com.gamebrain.cartoon&hl=en_IN&gl=US
Conclusion
We have explained the different applications that are very useful for creating cartoon pictures. Also, they are available for both Android and iOS versions. Every application provides the basic features and filter access free of cost. In addition, some features are in the paid version that provides extra value in creativity.