How to Install Spectrum TV App on Firestick? | Complete Guide 2022
Spectrum live TV portal is an entertainment portal through which you can watch all your favorite TV programs, shows, and movies anywhere in the world and whenever you wish to watch the same. At present, the Spectrum TV app lets you enjoy over 200+ live TV channels and sports entertainment channels. You can also surf over 40,000+ high-quality movies and shows using its on-demand features.
What is the Spectrum TV app?
As mentioned above, Spectrum TV app refers to a specialized TV program app, which helps you enjoy your favorite TV programs and shows without any barriers of geographical location, time, or IP rules and regulations.
Simple install the Spectrum TV app and enjoy plenty of shows and programs uninterruptedly.
Top Spectrum TV app features
If you miss your favorite TV show from start, restart it using the app.
Instantly watch on-demand movies and TV serials.
Get full information about TV serials and movies in the TV Guide.
Add some TV shows to your favorite list to watch them repeatedly or get alerts.
It supports iOS and Android devices using an HDMI port.
You can use the parental control option to keep the device out of reach of kids.
[Read more: Disable Article Suggestions in Chrome Using: chrome://flags/#enable-ntp-remote-suggestions]
Top Compatible Devices for Spectrum TV app? 
Apple TV
IOS-compatible phones
Android smartphones
Samsung Smart TV
X-Box one
Roku
Why Install the Spectrum App on Firestick?
Amazon Firestick, a tiny USB device, helps you plug it into your television set using its HDMI port. Once both are connected, you can easily watch plenty of Amazon Prime content, including the latest movies, films, OTT-based web series, music shows, and many more.
Usually, the availability of Amazon entertainment services is strictly reserved for its paid customers. But with a firestick and a spectrum app, you can easily watch all Amazon premium shows and entertainment programs without any cost. That's why there's such a huge demand for firestick and spectrum apps among movie lovers.
How to download the Spectrum TV app on Firestick?
If the Amazon app store allows you to download the Spectrum TV app in your country, download it now. But Amazon doesn't provide spectrum TV app for downloads everywhere. In such cases, you need to use third-party apps to download the same.
Step-by-step process to allow 'apps from unknown sources on your firestick
Step 1: Click on Amazon settings
Step 2: Go to My fire TV
Step 3: Choose the developer option
Step 4: Tick on the 'apps from unknown sources.'
Step 5: Save changes and restart your device.
[Read more: How to Fix DNS Not Resolving Xbox Server Names Error?]
Download the Spectrum TV App on Firestick by Using Downloader App?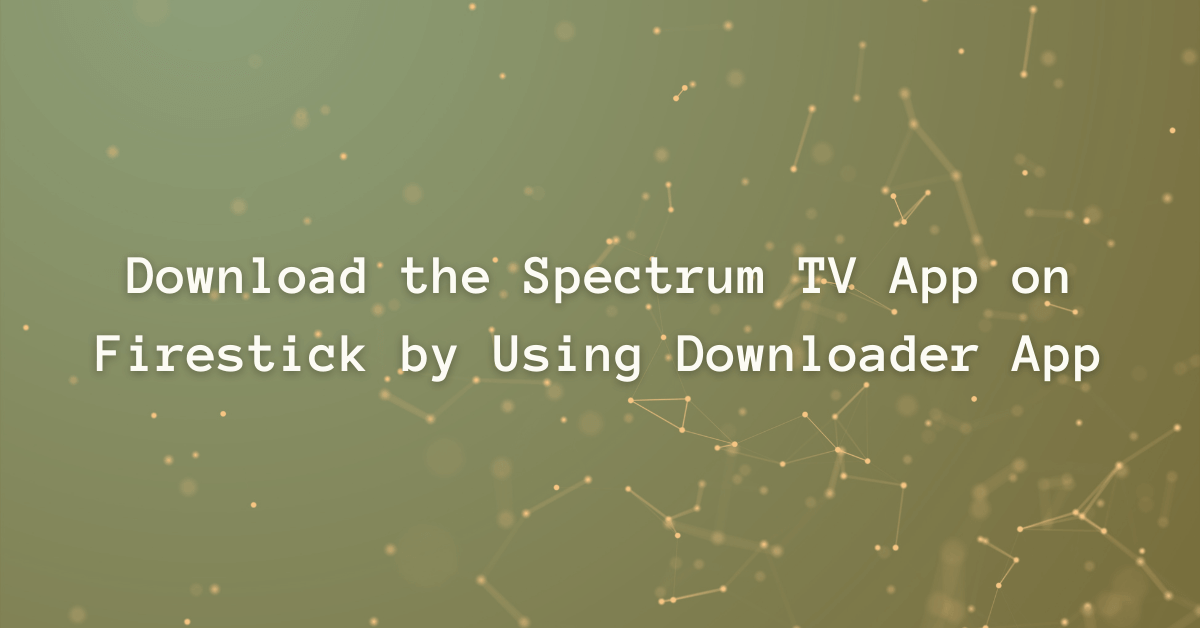 Step 1: Go to the Amazon store
Step 2: Search for 'downloader app'
Step 3: If you get the download and install link, execute the same.
Step 4: Use the app's APK link from your smartphone
Step 5: The app's downloading process will start
Step 6: Once the downloading process is complete, you'll get the app on the Firestick's installation section.
Step 7: Click 'install now' to initiate it
Step 8: Double click on launch and open to view the Spectrum TV app
Step 9: Now you can use Spectrum TV App Firestick the way you wish to.
How to Get a Spectrum TV App on Firestick Using ES File Explorer?
Another method is by using ES file explorer. You can try this method if the above option doesn't work.
Step 1: Check all options on Firestick and look for ES File Explorer
Step 2: Download it now using its dedicated download icon
Step 3: Enter the' New' option once
Step 4: Now, you will get an option to enter inside the Spectrum TV APK
Step 5: Search for a download option and press the same immediately.
Step 6: Wait for at least four-five minutes to let the installation process finish.
Step 7: When the installation is over, you can double click on the open file
Step 8: You can now start using Spectrum TV App on your Amazon Firestick.
How to Create a Login Username and or Password to Sign in to this App?
Step 1: Go to the Spectrum TV app homepage or its web version.
Step 2: Select the Signup or register button
Step 3: Use a valid email address or smartphone number to confirm your registration.
Step 4: Confirm your user id and password
Step 5: Once the automatic verification process is complete, your username and password will get validated.
Step 6: You can now normally use the spectrum app.
[Read more: How to Fix WDF_Violation Blue Screen Error on Windows 10?]
How to Update the Spectrum App on Firestick?
If any spectrum app update is pending, it won't work. You should install any latest relevant updates as and when they are released online. When installing any update is not possible or it takes too much time, just uninstall the app and reinstall again using file downloader or Es file explorer.
Why Spectrum TV app not working on Firestick?
App Upgradation Issue: Uninstall and reinstall the app again. It will work properly.
Internet connectivity: If the internet connection is unstable or doesn't have enough speed, the spectrum app won't work.
Hardware Error: If any connected hardware has any technical flaws or parts errors, the spectrum app will not start.
Software Corruption: If any patches of the goes missing or weren't downloaded for any reason, the Spectrum TV app not working on Firestick.
In Conclusion
In this article, we've provided as much information as possible about the spectrum TV app and firestick. Once you have connected the spectrum tv app on your firestick, you can enjoy several TV shows, live events, and movies without any cost.
You can keep this article as your ready guide. Next time, you want to download the Spectrum TV app, just go through this article from beginning to end—you will understand everything. You should connect your device to a VPN before downloading the spectrum App.