Planning to buy a bike for a road trip? Here is why you should consider the Royal Enfield Classic!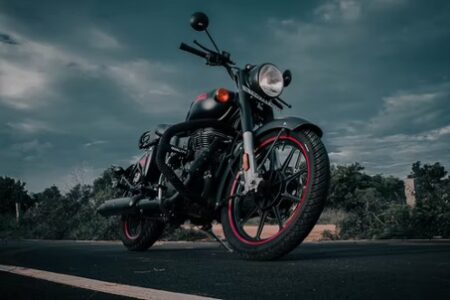 Are you looking for an ideal companion for a road trip? The perfect combination of a robust engine with classy looks- The Royal Enfield Classic is the answer to all your needs. Road trips are exhilarating and create memories lasting for a lifetime. A road trip on a bike is an adventurous plan, but you have to face all the sun and rain. The topography of India encompasses plateaus, mountains, plains, and rivers. Your bike should be of constant support throughout these features.
Thank you for reading this post, don't forget to subscribe!
Also Read – 7 Easy Steps to Choose a Loan for Two-Wheeler
Let us take a look at why you should choose Royal Enfield Classic as your road trip companion.
Safety features of the bike – Safety is one of the essential features you need to look at while heading out on a road trip. The Royal Enfield Classic has a few basic and important safety features. The brakes have larger disc brakes that ensure you don't lose control even when you have to apply the brake suddenly.
The strong reflecting head-light ensures you can see the road clearly while riding at night. The warning sign flashing means you need to head to an authorized service centre as your engine may have some issues.
 Add an extra layer of protection for your bike with a bike insurance
Protecting yourself on road trips also means having a backup for when unfortunate incidents occur, and things take a turn for the worse. In such scenarios, Royal Enfield Insurance can cover damages, helping you to save money on the services.
This insurance offers protection against theft, accidents, fire, natural calamities, and third-party losses. The cashless repairs and faster claims are just some of the reasons you should purchase this insurance before starting your road trip.
Also Read – How To Find The Best Full Face Mountain Bike Helmet
Comfort for the rider and the pillion – The rider is occupied and focused on keeping the bike on the road. The pillion rider often suffers a worse fate and the monotony causes physical and mental fatigue. Unlike most bikes, the seat for the pillion rider is just as comfortable as the main rider in this gem of a bike.
A bike with a robust engine – You are going to be travelling long distances through remote areas. The infrastructure might vary in different parts of the country, and hence the power of the engine will be more important than the speed it can travel at. This engine has a single cylinder that churns 350cc of power and has a fuel capacity of 13 litres. Investing in such a bike is a mindful investment, and you can enjoy the life of this bike for years to come.
Bike for adventurers and the free-spirited – The adventurer in you might find the road not taken alluring. However, it may not be easy to ride your bike on this road. The strength of the engine and the design of this bike promotes long-distance travelling The lighter weight coupled with an excellent performance makes it the perfect bike for road trips.
Also Read – How to Make Car insurance Claim After An Accident
Fuel efficient with easier maintenance – A bike is more economical than a car for road trips as the fuel consumption is much lesser. Whenever you wish to enter a narrow lane or take a narrow path, a bike is more accessible to manoeuvre than a car. Every person who has been on a road trip will warn you about the inconveniences that might occur. Hence, choosing a fuel-efficient bike and low on maintenance such as the Royal Enfield is a great option.
Customizations available – Right from the colour of the body, making, body, and designs on the bike to the pillion rider seat, everything about this classic bike is customizable, just like the way you want. You can view these at the dealership or check them online
Also Read – Want to Make a Home Insurance Claim? Understand the Proof of Ownership
Adaptable to the terrains of India – Rocky Mountain paths to the streams, India is a topographically diverse gem that has it all. Royal Enfield Classic is sure to give you safe passage through the jungles and ghats because of its stability and powerful engine. The grip of the tires will allow you to reach your destination safely every time.
This majestic and comfortable bike has been around since the early 1900s and is one of the most popular bikes worldwide. The timeless looks and engine of this bike have won hearts, which leaves you to buy a Royal Enfield to avail all of these benefits in one go.
Consider a two-wheeler loan option if you cannot afford to pay at one shot
Now you have enough reasons to buy a Royal Enfield classic. If you are facing any financial crunches, you can consider opting for a two-wheeler loan and pay your EMI's through the help of a  bike loan EMI calculator online.
This will help you estimate the amount according to your budget every month. The loan amount will be distributed across a period that you find convenient. With benefits like this, you don't have to wait to get started on your dream trip!
Also Read – Consider These 4 Factors Before Buying Travel Insurance