How to fix the issue of gboard has stopped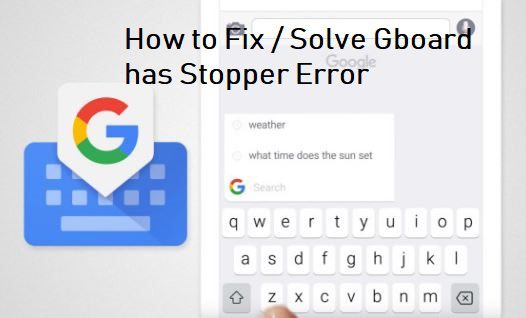 Before getting into this issue let's make sure what is Gboard and why it being so popular all over the world and what are its interesting features, Gboard means it is an application that is about virtual keyboard. This Gboard main interesting feature is all about browsing in Google, where we can easily get into this app by just typing about what information we need to get that from google which includes all web results in Gboard simply, here in this application we can easily go with searching for GIF's and also we go for sharing them along with some interesting emoji content available, we are also having a comfortable predictive typing search engine where it can automatically show the word we are typing in the box, so by showing some suggesting words while typing in the google box can be an excellent and reducing of effort can happen in Gboard.
Why gboard keeps stopping
We are more comfortable of using this Gboard, and this can be an excellent application and we can just feel it like the google is at our fingertips to get valuable information more easily without effort, and as we are using them more often and got many work easier with its interesting features of Google services like maps, search, and translate as it integrates all of them with a host like connectivity for our comfort.
So during some time, we used to get the issue as gboard has stopped and to deal this issue and fix it back to work we just needed some technical knowledge of dealing it, so we got some of our colleagues asking why gboard keeps stopping then we got to know why is it like that and we are sharing some of the useful tricks that worked out for us to deal with why gboard keeps stopping.
Need to Restart:
Here we got some unknown problem about why gboard has stopped is the main issue we mostly worry about, sometimes the solution might be so easy and simple like just hitting the power button by just choosing the option to restart the device like android, this can be so easy to just restart the device and so this can be again about restarting the working apps back to sleep and again instantly waking up by skipping the struck.
Setting updates off:
As we all know that applications will be very frequently updating with different reasons, and so due to heavy updates of apps can arise incompatibility issues to deal with and we need to make sure that to stop this unnecessary process as it can damage the app, so we can manage that by just getting into settings and hitting on apps there can be 3dots on top right to change the option for uninstalling updates and just make it. This can really work to fix the issue of gboard has stopped error in our devices by just making some simple changes in the settings to stop updating the application.