What Do S, D, and R Symbols Mean in Kik Messenger?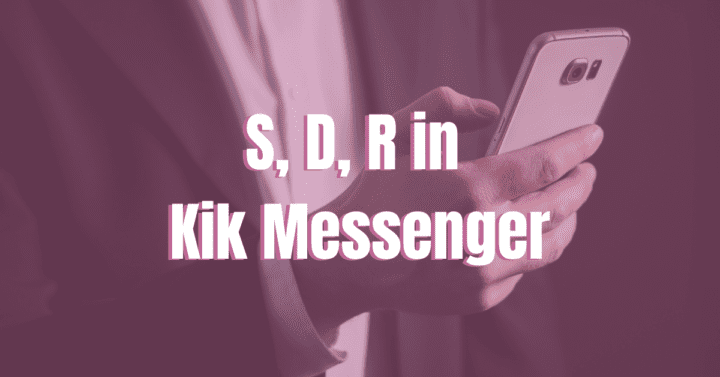 Kik is an instant messaging program for online communication by adolescents and young adults. Because children want to communicate with strangers, Kik has a poor reputation.
Thank you for reading this post, don't forget to subscribe!
Kik first, like any other instant messaging application. You register using an email address and password, eliminating the need for a phone number. If you want hands-on experience, it is free for iPhone and Android users.
Then, you may connect with relatives and friends by searching for their Kik usernames, scanning a Kik code (which resembles a circular QR code), or granting access to your address book.
Kik transmits and receives messages using mobile data or a Wi-Fi connection. It resembles SMS services like iMessage and WhatsApp, but Kik offers additional advantages. The software allows users to effortlessly communicate a variety of multimedia, including photographs, emoticons, doodles, and GIFs. Similar to Skype, live video conversations are also available.
What Does "S" Mean in a Kik Chat Message?
S stands for Sent in Kik Messenger chat. If you compose a message and transmit it to a buddy through data or Wi-Fi that is particularly fast, the letter S will appear in the chat message within the first second. It ensures that your message was sent to the server successfully. It occurs when the server transmits the message to the recipient successfully. After the recipient successfully receives your message, the S will transform into a D.
Your message gets stuck on S if the recipient's phone is not connected to the internet when it is sent. It may also occur if they have not enabled Kik message notifications on their phone. It may also occur if the recipient logs out of Kik. Your message will be delivered, and the indicator will change to a D when the recipient returns to Kik. The server verifies successful message transmission by replacing the letter S with D. If you don't keep it secure, cyber criminals hack Kik account no survey with tools like Spyic, Cocospy, etc.
What Does "D" Mean in a Kik Chat Message?
Both a bold and faded D indicates that your message or phrase has reached its target and been sent successfully.
D stands for Delivered in Kik Messenger conversation. When you send a message to a friend, the message is sent to the server, which then forwards it to the recipient. When you have successfully sent a message to a friend, the letter "D" will appear next to the message in your buddy's chat window.
[Read more: How to Encrypt or Decrypt an SD Card?]
What Does "R" Mean in a Kik Chat Message?
R stands for Reading in Kik messaging conversation. When you send a message to a buddy, the Kik server will transmit it, and the S sign will transform into a faded D.
Also, when your buddy opens the Kik message, the faded D will transform into a bold D. When your buddy reads your message, you will see the letter R, indicating that your message has been read.
[Read more: 15 Best Vlog Ideas You Need to Know]
What Does "…" Mean in a Kik Chat Message?
"…" stands for "typing message" in Kik Chat Message. This symbol is also known as an ellipsis. In some applications, an ellipsis might imply either that your buddy is now composing a message or that your message has not yet been transmitted to the server.
In the Kik chat message, an ellipsis indicates that your message has not yet reached the Kik server, and there may be many reasons for this (…). You may take a few measures to troubleshoot and resend your message when experiencing this issue.
Check your Internet connection and speed.
Relaunch the Kik application and resubmit the message.
Restart your wireless phone and router.
Update your Kik app.
If you continue to see the ellipsis after completing the procedures above, please get in touch with Customer Care Service.
[Read more: 12 Best Android Scanner Apps You Should Know]
What Does "!" Mean in a Kik Chat Message?
! stands for transmitted message error. If you see "!" after sending a message to a friend, it indicates that the message could not be transmitted to the server due to an issue or bug.
Suppose you see an ellipsis (…) for an extended period after sending a message to a friend. In that case, this indicates that Kik determines if the connections are enough to relay your message successfully. If the message or connection has any issue, a red exclamation mark (!) will appear next to the chat message, indicating that the message cannot be transmitted.
So, to correct the mistake, please follow the bullet points listed below.
Restart the Kik programme.
Attempt a resend of the message
Log out and log in to the application.
Verify your Internet connection and speed.
The Kik communication app has been updated.
Conclusion
We've covered all you need to know about the alphabets and symbols in Kik Messenger's conversation, how to solve the issue and the meaning of ASL. I hope you like this essay and find it to be useful.
FAQs
How to know if your friends have blocked you on Kik or not?
It is straightforward to determine if a buddy has blocked you. Open the Kik application and attempt to include them in a group conversation. If you are unable to add them, you are blocked. And if you can add them to the group, it may be a technical error.
Does "Faded or Bold D" mean your blocked on kik?
No, the fading D icon on Kik Messenger does not indicate that you have been banned. Faded D means that the server has delivered your message to your buddy, but your friend has not yet received it. It might occur if they are unavailable.
They may see your message when they get a push notification and return to the Kik messaging conversation. At that point, faded D becomes bold D. Bold D indicates that your message has been sent and your buddy has received a push notification, but the message has not yet been opened.
What Does ASL stand for in a Kik Chat Message?
If a new user or acquaintance asks you about American Sign Language, they want to know your Age, Gender, and Location. ASL is the right method to begin a conversation introduction. They are just interested in your age, sexual orientation, and residence.