How To Make Tumblr Load Faster On Android?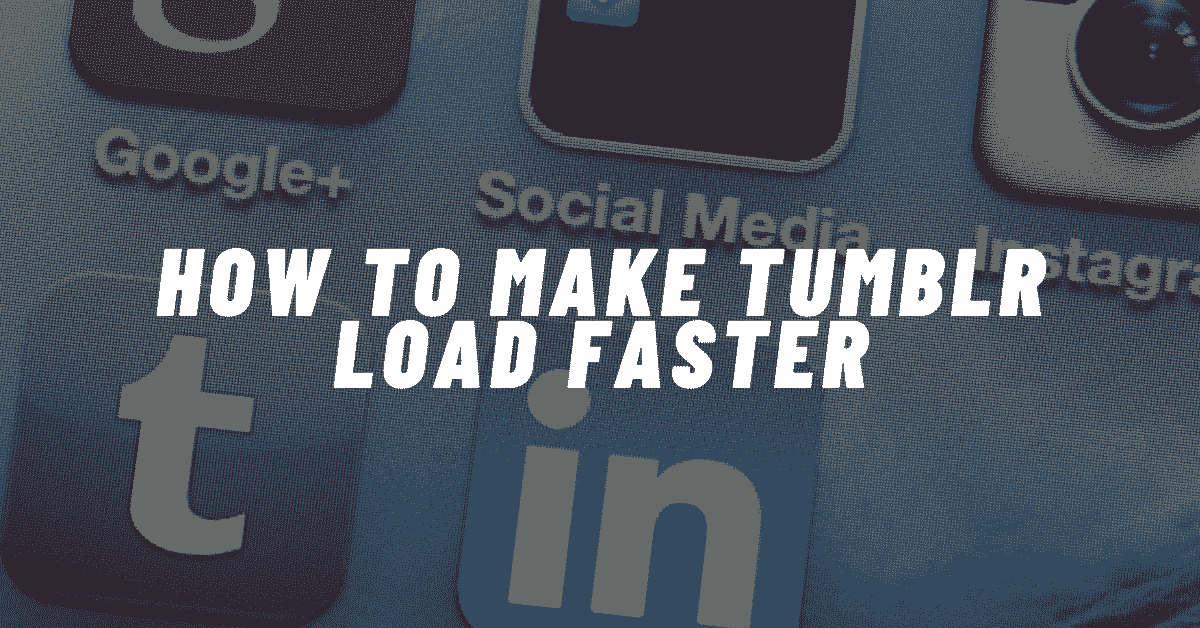 If your browser gets overloaded by the volume of material it is attempting to load at once, Tumblr may begin to load slowly. A similar problem might occur if too many browser extensions are installed. Tumblr is adaptable; nevertheless, adding too many extra features might significantly slow down page load times.
Thank you for reading this post, don't forget to subscribe!
Why Is Tumblr So Slow on Chrome?
Chrome takes longer than usual to load Tumblr pages due to the often excessive quantity of material on each page. In addition, it features extensive customizability, which might backfire and increase reaction time. In addition, despite having a massive user base, Tumblr is notoriously poorly managed.
With just around 500 staff, Tumblr is not the most optimized website available. If you have ever gone through their procedure for reporting, you will know that the answers are anything from prompt. Similarly, the scripts are not sufficiently streamlined to keep up with current Chrome versions.
[Read more: What Do S, D, and R Symbols Mean in Kik Messenger?]
Why Is Tumblr Not Loading Properly?
As you browse, Tumblr dashboards are constantly updated with new photos, GIFs, text posts, and other media. Although this feature contributes to the spontaneity of the experience, it is a difficult task for browsers.
Additionally, you have previously browsed through are not removed from the cache. And when more articles are added, Chrome has abundant codes to use. As a result, Chrome becomes slower, as shown by frequent scrolling delays.
In addition to unoptimized code, Tumblr provides unnecessary customization options. It may often overload Chrome as it attempts to load the user's preferred content.
While Chrome extensions for Tumblr have benefits, installing too many of them might slow down the average page load time. Tumblr may be difficult to load on computers with inadequate hardware, but you can Disable Tumblr Safe Mode on PC.
Why Tumblr Images Won't Load?
If you cannot load photos on Tumblr, its servers are overloaded due to a large number of users on the site at once. To determine whether Tumblr servers are down, you may utilize the Down detector, a server status tool, by visiting server status. However, if the server is down, there is nothing you can do to remedy Tumblr not loading photos other than wait until the servers come back up.
Disable U-Block Extension and Use A VPN
Start the browser.
In the address bar, paste the following path and press Enter.
Search the list of extensions for the U-Block extension.
To deactivate the extension, toggle its switch off.
Relaunch your browser for the updated settings to take effect.
If you have trouble loading photos on Tumblr, utilizing a VPN may help. A VPN enables access to the platform in restricted regions. Install the VPN and configure the image loading parameters.
VPNs are software that conceals your IP address, enables you to circumvent limitations, and safeguards your privacy. A VPN may alleviate these concerns by connecting you to a superior server, and it can also circumvent ISP-imposed traffic limits.
[Read more: How to Encrypt or Decrypt an SD Card?]
4 Easy Ways to Get Tumblr Load Faster
There are numbers of reasons to going down tumblr slow. In this segment, we will discuss the different types od solution that you can easily implement to get better output. A similar problem might occur if too many browser extensions are installed. Tumblr is very adjustable; nevertheless, adding too many extra features might significantly slow page load times.
1. Disable GIFs
Your Tumblr dashboard probably has far too many GIFs. Although it is possible to hide GIF-containing articles individually, this is not the optimum option. Unfortunately, Tumblr does not have an in-built option to deactivate GIFs.
Therefore, you may install a Chrome extension to prevent Tumblr GIFs from automatically playing. They will only play when clicked on. There are many of these extensions available in the Chrome Web Store, including Disable GIFs for XKit and Safe Dash.
[Read more: Tumblr Safe Mode Disabling Tricks]
2. Disable Repetitive Scrolling
Instead of sorting the information on a page, Tumblr's endless scrolling continually loads them on a single page. This option is sometimes useful, although it increases load time. You may disable it using the Dashboard option in the settings menu.
3. Use Default Dashboard Theme
Tumblr allows you to customize your dashboard, including the ability to change themes. Additionally, you may add animated third-party ones to customize your dashboard. However, this comes at a price, in this case, a slow loading speed.
Try reverting to the default Tumblr theme for a less personalized but faster experience. Best of all, Tumble allows you to choose from twelve predefined colour palettes.
[Read more: 15 Best Vlog Ideas You Need to Know]
4. Disable Unnecessary Extensions
The Chrome web shop has extensions for Tumblr that allow you to customize minute aspects of the site's functionality. Feature-rich extensions include XKit and Missing e, for example. They will even darken the posts you have previously engaged with.
When many Tumblr utilities are activated, the loading time will suffer. Whenever you load Tumblr, Chrome will attempt to implement all extensions simultaneously. If you want Tumblr to load more quickly, you should remove extensions you seldom use or deactivate some of its functions.
Conclusion
The sluggishness of Tumblr on Chrome is due to extensions and user-applied themes. Consequently, not using any of them may save load time. However, add-ons such as Tumblr Optimiser may assist Chrome in loading Tumblr more quickly by eliminating latency.
FAQs
1. Why is Tumblr Not Loading?
Tumblr could sometimes experience annoying errors. Restart the browser and sign in again to solve Tumblr not functioning on Chrome. Clearing Tumblr's cache files is an additional option. Chrome's ad-blocking add-ons should be disabled. Lastly, disguise your location with a VPN and browse Tumblr from a foreign server.
2. Why Was My Tumblr Account Terminated?
The Tumblr blogging site is free to use so long as you adhere to the community standards. The rules exist to safeguard other Tumblr users and the service. If your blog violates the terms of service or community guidelines, you may receive an email requesting an explanation or correction.
Inappropriate Content.
Copyrighted Content.
Spam.
Harassment.