SIX MOST EFFECTIVE LEAD GENERATION STRATEGIES IN B2B MARKETING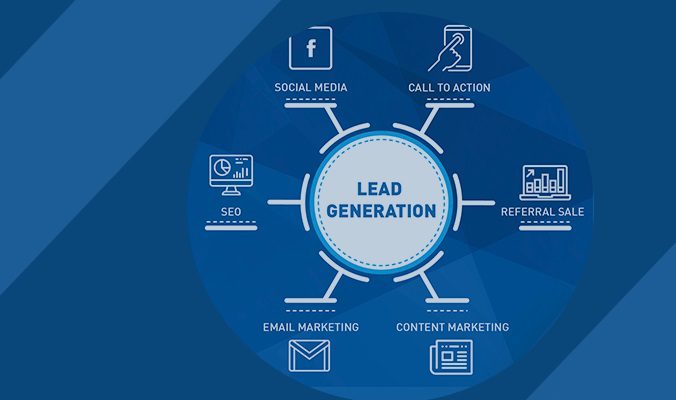 Many of us are more online buyers instead of going outside and searching for shops to find our desired product. Lead Generation while we are scrolling our Facebook, we see many sponsored ads that intrigue us to check it out, and if we find it interesting, we look for reviews. Once we check the reviews, we then decide if the source is reliable for spending our money or not. If we analyze advertisements that appear on our newsfeed, most of them are animated or moving ads, while others are video ads. The first thing that grabs our attention is how the product gets represented. If they use some interesting content, even if we don't make any purchases, we will still click on the ad to find more information about it.
Thank you for reading this post, don't forget to subscribe!
The world has shifted the majority of its income resources online, thus crowding the digital world with more competitors and buyers. With increased competition, every business strives to grab the attention of as many customers as possible. The attention-grabbing fight is not an ordinary one, and it is a fight of a brain's creativity and how you pitch out your product in the market.
To stay ahead of the curve, many companies have their online marketing managers. These managers are responsible for finding the best marketing strategy for their product, suggesting its price, analyzing demand and supply funnel, and selecting the perfect target audience. Many companies are now pacing up their marketing campaigns by incorporating lead generation strategies and B2B marketing. These strategies include tactics to attract interested prospects and convert them into potential leads. The word lead in marketing refers to a person who has shown interest in your product by taking some action. That action can be clicking on your advertisement, reading the locked content by filling out a form, or other sources that might be interested in doing business with you.
If you want to excel in your marketing campaigns, utilizing marketing resource management is important, in addition to these few suggestions that might prove useful for marketing your product. Here are a few suggestions that might prove useful for marketing your product.
Email marketing campaigns
We might have been using emails since our teens, but it got launched 23 years back. This figure itself speaks for the fact that email has been standing through times. In B2B marketing, automated marketing email has proved to be useful for marketers. Automating marketing emails cut down the manual workload, like catering for a segmented list of users, selecting targeting addresses, and many other tasks. Email automation, if done strategically, can increase sales by five times.
Free giveaways
Will you not get tempted if you buy your favorite stuff, and you get a free goodie?  We all get excited about free giveaways. Another way to pave your way in marketing is to spare something free. Emails are adequate, but not many brands pull it off. Since we are marketing in digital realms, we cannot send them goodies that will not be worthy of anything. Along with your email automation, giving away free templates for websites or free proposal templates might intrigue users to click on it. This way, you can turn free users into paying customers.
Social media campaigns
A more significant part of the world's population can quickly get searched on social media. As it allows more excellent coverage to people, social media is now one of the essential components in B2B marketing. As compared to traditional ads, ads on social media often do not cost much. Social media campaigns can give better conversion rates than any other medium. If you want a fruitful campaign, use LinkedIn and facebook ad marketing. LinkedIn is the go-to lead generation marketing strategy with the highest yield of 94 percent. Be sure to keep all the necessary tactics in mind while you are launching your campaigns on these two social media forums.
Pay-per-click strategy (PPC)
When we search for something on Google, we often see links embedded with ads. They are highly paid advertisements endorsed by the companies for their marketing. The most popular forum for paid advertisements is GoogleAdwords, but you can also use other B2B compatible channels like social media marketing, trade media ads, and affiliate marketing. The conversion in the pay-per-click option depends more on the type of your company and target audience.
Gated content
A product without description will not cover the maximum reach the way you might expect it to generate the range. Gated content is online material that is accessible to users upon filling a form. The locked content, unlike many other blogs or pages, requires a user to complete a lead capture form to access the content. It is useful in providing users something valuable for free while attracting potential customers that are interested in your offer or product. You can use e-books, guides, courses, and worksheets as gated content.
Live chat
Live chat is another preferred option besides automated emails by many company owners. They believe that customer representatives, delivering thousands of messages at the end of the month, make a firm's best lead generation channel. Live chat allows direct interaction with consumers, thus building trust and generating more traffic.
Conclusion
A lead is not like a random potential customer, but it is a step away from you to grab their attention, reflect the value, and make them believe that your service will solve their problem. Quality lead generation is the backbone of B2B marketing.  Every business requires a firm ground to stand on and strive to grow further. Effective B2B marketing strategies by using a combination of inbound and outbound techniques will help you to maintain a steady pace necessary for growth, keeping sales, and profits funnel intact.