Reasons Why Parents Should Use Parental Control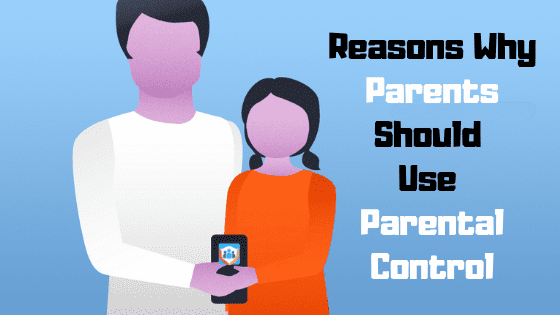 We are living in the digital era with information overload where toddlers use tablets and teens text to communicate. Educational institutions have integrated computers and tablets in their curriculum. Most of the times, it is inevitable to keep a kid away from technological gadgets.
Thank you for reading this post, don't forget to subscribe!
It is important to make kids equipped with smartphones and tablets to shoulder with the world.
Parents face a challenging task in weighing the pros and cons of their children that are enjoying the liberty of digitalization. Naturally, this bothers parents and will seek some control over monitoring child's online activity. Best Child Monitoring Apps is the need of the hour!
There are variousbenefits of using child monitoring software. Here is a list of reasons showing why parents should use parental control app.
Read Also: Keeping Kids Safe from Inappropriate Content
Reasons why parents should use parental control
Avoid Addiction:
The fast pacing technology comes with a whirl of wind and tempts children towards the use of different platforms of entertainment and other distractions which adversely impacts other activities that need to be prioritized.
Kids prefer gaming on the internet over playing outside; they are glued to social media sites like Facebook, Instagram, YouTube, and many more over healthy discussions with family and friends. They are connected virtually rather than emotionally.
To avoid such addictions, parents seek parental control to save their children from drowning in the world of digital distractions.
Cybercrime security:
Cybercrime is a threat towards data protection and is best at exploiting people's poor cyber habits.
A child's quest in exploring internet may lead them towards cybercrime activities unknowingly. They risk their and other's safety by inadvertently disclosing too much information.
Your child is exposed to such distracting websites which they are not supposed to and became the victim of cybercrime. Parents should guide their children and responsibly show them the right path.
Hence, to put your child's data and themselves safe, parental control app is unavoidable.
Read Also: Why Parents Should Keep A Check On Their Child During Lockdown?
3. Controls internet usage:
Parental control manages your child's time spent on the internet. Over access to the internet will spoil their habit, and their valuable time gets swallowed.
Parental control app allows you to control the usage of the internet and make them understand time management. You can set the screen time on your kids' device and restrict them with the usage of equipment.
Time is, and to be used wisely. Hours and hours could be spent on surfing or gaming that hampers the core activities of studies, projects, reading, meeting friends, playing outdoor games, taking rest, and many more.
Protecting children from inappropriate content:
From the ocean of cyberspace, it is essential that your kid is using the appropriate content. If a child accidentally stumbles on an inappropriate website, about which parents are unaware, parental control app helps in setting restrictions.
It is necessary to keep your child away from certain contents that they are not allowed to see at a certain age, otherwise, they quickly get influenced by such contents and unknowingly drive themselves in wrong directions.
Certain apps and its installation can be blocked with the help of a parental control app.
5. Children saved from accidentally abusing parent's money:
Many a time, your kid is tempted to buy online games or in-app purchases on their favorite smartphones and tablets without knowing its consequences. It is easy for kids to drain your bank accounts by randomly pressing a few buttons on the device. Hence, it is highly advisable to apply parental control locks.
These locks force the child to take permission before they make purchases on their smartphones and tablets. Despite all these, your kid will also understand the importance of hard-earned money and become responsible in life.
It may not be possible for you to remain around your child to keep a watch on his online activity hence, parental control app is the best means to safeguard your child's interest.
Bit Guardian Parental Control App is an Efficient Parental Control Software for Android Phone to install in your smartphones and tablets to cure all your pains. It is a user-friendly and easily downloadable app.
Read Also: 7 Common Reasons for Stress in Students
Bit Guardian Parental Control App provides all in one solution. Catch a few glimpses of this:
App Block: It control's kid's attraction towards inappropriate content.
Panic: It ensures the kid's safety in remote locations.
App Install Block: It enables you to block the downloads of certain undesirable and unwanted apps.
Kiosk Mode:  Parents can control the entire function of a kid's device and restricts its usage. It creates a new launcher in kid's device.
To get a more and deeper insight about Bit Guardian's premium products, kindly visit the website: https://2019update.com/apps/android-apps/bit-guardian-parental-control-app-review/