5 Things to Know Before Buying Your Next Wireless Earphones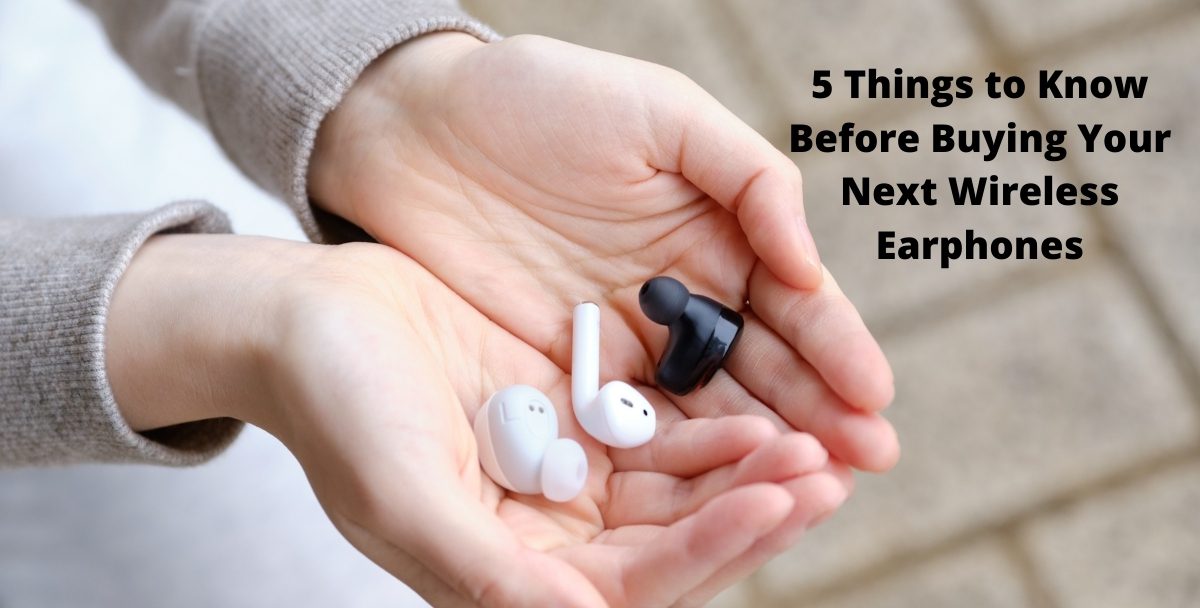 Wireless tech accessories make your life a lot easier. Today, a large number of people prefer wireless headphones over their wired counterparts. According to experts, too, there is no greater convenience than a pair of wireless earphones. They seamlessly connect to a variety of devices and give you a completely wire-free experience.
Thank you for reading this post, don't forget to subscribe!
With so many wireless earphone models in the market, choosing the best one can be daunting. The five basic things to look out for when selecting wireless earphones are as follows:
[Read More: Important Tips To Think Before Purchasing A Handset]
1. Usage Related
Some people have a habit of using earphones for hours at a stretch. If you also fall in this category, comfort is an essential factor you should consider. The earphones should fit comfortably in the ear canal and stay in place.  They should not cause any discomfort or pain to your ear after wearing for a long time.
The earphones should be ultra-light, and it should not give you a feeling you are wearing something on the outer part of the ear. Models like HUAWEI FreeLace come with 28° ergonomic design that ensures earbuds comfortably fit in the ear canals.
If you're a fitness enthusiast and love listening to music while exercising indoors or outdoors, you need to look for earphones with an IPX5 rating. It will ensure the device will not get damaged even if you are caught in the rain when you go jogging in the morning.
Wireless earphones need to be paired with a smartphone and other devices for using them. Top wireless earphones feature the latest Bluetooth technology that allows for faster detection and easy pairing.  Since most devices like laptops, smartphones, and tablets have Bluetooth functionality, you need to choose earphones compatible with them.
2. Noise Reduction
Earphones have multiple uses. People use them to listen to music and also while responding to calls. A regular phone captures all background noise along with your voice that affects the clarity of the call.  Hence, top wireless earphones have a noise reduction feature that cancels unwanted noise in the background and improves call clarity.
If you are wearing wireless earphones and talking to someone outside, the wind noise and surrounding noise can cause disturbances. Models like HUAWEI Freelace come with a Bluetooth noise-canceling algorithm and Wind Noise Reduction technology that enhance the clarity of your calls.
3. Battery
Unlike their wired counterparts, wireless earphones need a power source, provided in the form of rechargeable batteries. Some wireless earphones are notorious for battery consumption and need frequent charging. Top models, though, are known to provide long battery life and features like:
18 to 20-hour playback on a single charge
A 5-minute charge gives you 40 minutes of music playback
The standby on one charge is 12 days
A wireless earphone with a long battery life will allow you to enjoy music for long hours without worrying about fast battery drainage.
It is an important feature that ensures your earphones stay at charging for a minimal time. Top wireless earphones come with fast charging features that charge the earphones in 70 minutes.
4. Durability
Wireless earphones are expensive, and you would be using them for a long time. Hence, you need to look at the build quality and ensure they are durable. Most wireless earphones come with a limited warranty against manufacturing defects. Make sure the earphones can withstand vigorous activity and last for a long time.
5. Style
Wireless earphones are a style statement. The earphones you purchase should have a chic design and ultra-sleek style that goes well with sportswear and corporate look. The earphones should draw attention and make you stand out in the crowd.
To sum up, wireless earphones offer you excellent listening pleasure without annoying cables connecting your device. The points discussed above will help you focus on important factors and choose the best wireless earphones that fits your budget.