All That You Need to Know About Troubleshooting QuickTime MOV and MKV Errors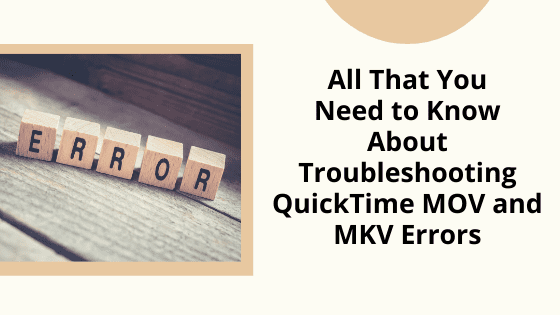 Are you unable to play your favorite video? QuickTime can't open. MOV and MKV files for you? A bunch of error messages is causing you a headache? Maybe your file got corrupt! Read on to know how to resolve the video playback issues.
Thank you for reading this post, don't forget to subscribe!
Though the MKV and MOV files are popular video formats, they too are liable to damage. Be it a recorded video, downloaded from the Web, or transferred from a source- neither of them is prone to corruption. Thankfully, the damaged MKV and MOV videos can indeed be repaired.
Common Causes of QuickTime MOV and MKV errors
Before going into the repair process, let's look at the possible cause of your video corruption.
Malware attack
Is your antivirus up-to-date? If not, then this can be the reason behind your favorite video getting corrupt. A virus or malware residing in your device can create a complete havoc in your system. It can damage your video severely. In order to repair .MKV files under a virus attack, you might have to take some help from a professional MKV repair tool.
Using unreliable media applications
Try to remember, did you recently pass your video through a file convertor or an editor? Most of the victims neglect this point that you must always use the popularly known media applications. The substandard ones do more damage than good.
Every file format is not compatible with every application. Hence, if you forcefully pass a video you may be left with your video in an incompatible format.
Improper ejection of memory cards and transfer cords
If you are in the practice of forcibly removing your memory cards and cords, you may regret later. When you don't go for the proper ejection method, the MKV and MOV files stored on the memory card may get corrupt.
So, you must always eject the digital device from your device securely.
Incomplete downloads
If your downloaded file gets stuck after playing for a while, then it must not have been downloaded completely. A video file is made up of a number of current signals. When an interruption occurs during the download, the signals are not downloaded completely.
This may happen if your internet connection was weak or if you were simultaneously downloading a couple of files. The good news is that instead of going for MKV and MOV repair of this type, you can simply download the file again. Make sure that your connection is strong this time.
Corrupt memory space
Do you know how a computer stores a file? It splits the file into several small chunks and stores them all over the hard disk. Though this is an excellent use of memory space, this also means that even if you have one bad sector in your hard disk, the entire file would get corrupt.
To uncorrupt the hard disk, you might have to format it.
Sudden power failures
If your computer shuts down unexpectedly while your videos were still playing or transferred, they may get corrupted. In order to avoid such mishaps, you must always keep a battery backup.
How to repair MKV files and MOV files
Though QuickTime is an advanced media player with a number of in-built tools, if your file is corrupt, even QuickTime won't play MOV. Or sometimes you will face an error Quicktime player can't open .mov. Hold on a second before deleting it. Gone are the days when repairing MKV files and repairing .MOV files seemed impossible. In today's time, a perfect MKV and MOV file repair takes just a few clicks.
MKV and MOV file repair using a software
Using a professional video repairing tool is perhaps the quickest way to fix MKV. However, the challenging part of this repairing MOV files process is finding a suitable software. You need to find a software which is capable of fixing all video playback issues along with maintaining the video's original quality.
Repair MKV files and MOV files using Wondershare video repair by Recoverit. Be it the frozen frame problem, or out of sync videos, or the vague 'QuickTime can't open .MOV' errors- this repair tool can fix it all. You just need to add your corrupt file to Wondershare and hit the 'repair' button. Wondershare will automatically start analyzing your files for errors.
To repair .MOV files which are severely damaged, try Wondershare's advanced repair option as a great MKV fix. You just need to add a sample .MOV file and leave the rest to Wondershare. With this digital repair tool to repair MOV files, your hunt for an appropriate video repair software may come to an end.
Repair corrupt MOV file using VLC
The VLC media player has an automated video repair mechanism which is capable of repairing all corrupt .AVI files. If your video is not in AVI, not to worry! VLC also lets you convert your videos into AVI.
If you are still frustrated because of your broken video, you can also refer to the solutions mentioned in this guide to fix MKV files.
Conclusion
Sure, MKV and MOV repair is totally possible, it is best to avoid getting into the panicky situation. You can avoid the damage just by taking a few preventive steps. For instance, refrain from shooting videos when the battery is flashing red. You must also not turn off your machine without properly closing all running apps and files.