Tally Alternative: 10 Key Features to Consider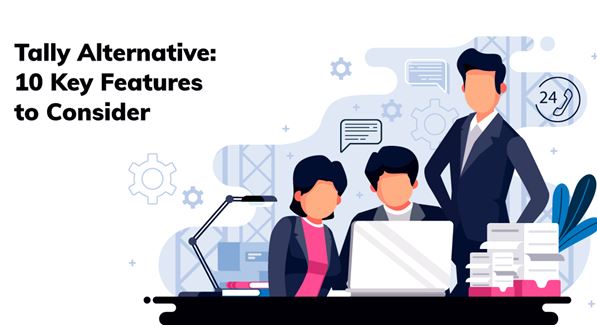 Tally has always been an essential tool for calculating and managing the finances of any business in the industry. But as we move ahead in time, new alternatives to Tally are coming in place. One of the best Tally alternative is using the Cloud, as it can actually help you get all the features of Tally but with a better and sophisticated upgrade.
Thank you for reading this post, don't forget to subscribe!
Using the Cloud can help businesses to access their data and other files easily from anywhere and at any time, making it the best alternative software for Tally. If you're wondering why Cloud can be a great alternative to Tally, we have elaborately discussed it in this blog. Let us take a look.
Features to Consider in an Alternative
If you're planning to take the help of the Cloud as a proper alternative for Tally, then you must consider some of these beneficial features.
Anytime, anywhere access – If you're taking the help of a Cloud solution for an alternative to the Tally ERP 9 alternative, then make sure that the software comes with remote access. That means you will be able to access it from different places without any problems. Tally is not a web-based and real-time software, unlike Cloud, making it much more convenient and efficient to use for efficient handling of data. You can get your work done without any disruption.
Security – Even though Tally comes with a simple security feature, it does not promise the same level of assurance as that of Cloud systems. In a Cloud system, you can actually select and decide which aspects of the software can be accessed by certain associates of your business. So, you have the ability to personalize the access controls and restrict others from using features they actually do not need at all. This increases security and ensures that accounts and other aspects are secured.
Read Also: 10 Easy Ways You Can Expose Your Phone to Security Risks
Backup – Cloud accounting software actually provides the ability to backup your data over Cloud servers. This makes it beneficial because Tally ERP 9 cannot do that. With the help of this feature, you can safeguard your data and all other confidential files from any physical disaster and prevent the loss of any crucial data.
Multi-site – When compared to Tally, one of the best features you need to consider in a Cloud system is the multi-site ability. All the users you have allowed can gain access to the data in real-time and synchronize the same over different sites as well. This useful feature is missing from Tally and can be a game-changer.
Voucher – Cloud solutions can help provide you with a simple and easy to understand audit trail. With this, you get to know who edited the data and the time of edit as well, allowing you to track any changes or mistakes made. This feature is also missing when you choose to use Tally.
Sales – Sales analytics and data analysis are much better and to the point in Cloud software. It provides you with better graphs and pivot user tables, which leads to a better understanding of your business and its different aspects. Being a Tally ERP 9 alternative, this is a brilliant feature in Cloud software.
Advanced Handling of Foreign Currency
Nowadays, businesses are not limited only to their countries and have expanded themselves over the globe. That is why even the smallest of companies may have international clients now. That is why you can consider the Cloud as the best alternative because it handles foreign currency and all its calculations effortlessly. With Tally, you must have already seen; it is not possible.
Balance Sheets and Other Templates – Cloud accounting software comes with user-defined templates, and it is valid in all the cases for sheets, invoices, and P&L statements. This is a must feature which you have to consider right now!
Mobile-Enabled – Possibly one of the best and most beneficial features of Cloud software over Tally ERP 9 is its ability to support mobile devices. It offers more flexibility and efficiency when you are traveling around. Just use any device with the internet, and you are good to go.
Connectivity – Cloud computing systems feature much better connectivity, unlike free accounting software like Tally. Cloud systems can easily integrate with other software hassle-free. Tally, on the other hand, has its own restricted XML export feature. However, seamless connectivity with other third-party software is not possible.
A lot of people still prefer Tally Erp 9 as their favorite financial and bookkeeping software in many cases. But, as technology is improving with every passing year, Cloud computing systems are increasingly becoming popular also. You can quickly check the amazing features that it offers in a more sophisticated way over Tally. Check them out online and let us know if Cloud computing software is indeed an alternative or not.