Why Does a Small Business Need Robust Digital Marketing Strategies?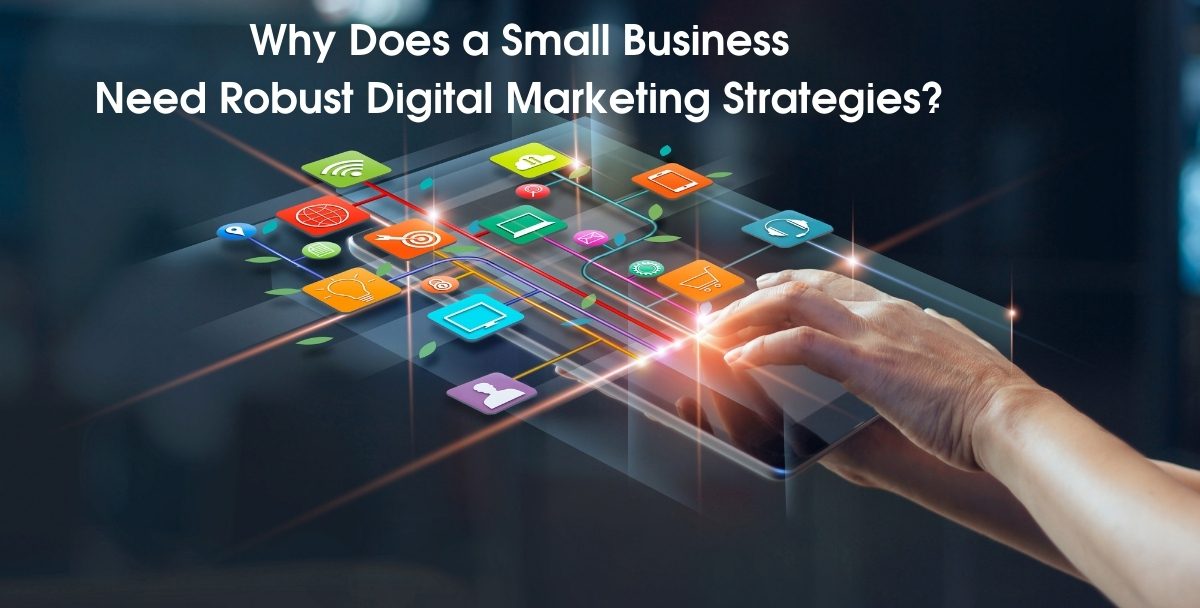 A typical marketing myth suggests that online marketing is way too expensive and may not work. Therefore, it is common for small businesses to rely more on flyers, coupon advertisements, etc., to attract large customer groups.
Thank you for reading this post, don't forget to subscribe!
The traditional ways can help one acquire a small amount of business, but they fail to deliver justice to your investments in the long run.
Remember, digital marketing can serve you in a much better and easier way.
Tradition vs. Digital—What's the Difference?
If you are a small business owner and looking for effective marketing strategies, then you will be surprised to learn that more than anywhere else, it is the digital plane where 97% of people come to know about local businesses.
It is not that the conventional ways leave no impact at all; however, that might be temporary. On the other hand, online gives you the leverage to build a strong brand presence and credibility to earn customer faith and loyalty and increase your visibility by at least ten times.
A bunch of online marketing ideas is available everywhere, and you can consider them for your business. But it is always the experts that can devise a plan that can get you the ROI that your business much deserves.
Also check: inbound marketing
The Advantages of Digital Marketing for Small Businesses
If you are still under the market myth that online marketing techniques will cost you a fortune, then it's time to bust it! A robust marketing scheme can offer your small business numerous benefits, and the following are some of them:
Cost-Effective
When the budget is your primary concern, you must know that a few channels are completely free to use. For instance, Google My Business, where you can enlist your company's name or social media platforms, like Facebook, Instagram, Twitter, LinkedIn, and more.
You can always invest in paid advertisements to gain more exposure. The paid ones are labeled as 'Ad' or 'Sponsored,' and on Google, they are placed on top. But unless you have a solid SEO strategy in place that determines your ranking, the paid ads can only gain you short-term results.
It has been found that about 80% of people find the advertisements less reliable and avoid them.
Qualified Leads
One of the boons of digital marketing is targeted marketing. The professionals would run in-depth research on your competitors and potential consumers, keeping in mind the demographics. This largely helps to eliminate irrelevant leads.
Your business services and products will successfully reach the portion of people who are genuinely interested. Such marketing strategies also widen your customer base, offering opportunities from any part of the world.
Campaign Monitoring
Another reason why users find the digital ways more convenient is that it aids with the monitoring tools. For instance, if you have launched a Facebook campaign, you can measure its performance on the front end by looking at the number of 'Likes,' 'Reactions,' 'Comments,' and 'Shares.'
Additionally, you can track it in more detail from the back end. It will show you the metrics revealing the peak hours of engagement, the average age, and gender of your visitors, geographical area from where your campaign is gaining maximum popularity, etc.
You can use Google Analytics to gauge how your site is functioning on its own and in line with the third-party sites.
Measurements and Adjustments
As the performance metrics reveal your ongoing campaign's real potential, it also guides you to make adjustments thoroughly. If you find your campaign gaining too many negative responses, you should, instead, decide to stop it immediately and take an alternative path.
You might also find yourself in a tricky situation where your campaign is gaining high CTR or click-through-rate but not leading to enough conversions. This would also indicate that there is something wrong with the campaign, and although it is attracting visitors, it is failing to convince them to purchase your products or services.
You may also try A/B testing, where you will have two versions of your campaign tested in two small groups. Before launching any campaign with high stakes, this testing method can help you save a lot of effort, time, and money.
Improved Conversion
Digital marketing is way more result-oriented. As the benefits mentioned above make evident, you can achieve higher conversion and impressive profit margins when partnering with a dependable agency.
Small businesses often need that extra boost to stand out amid the vast marketplace full of prospects. Online marketing is a smarter and economical path to draw optimum attention, even more than TV, radio, or newspaper.
[NOTE: We welcome authors/bloggers to contribute articles on Webtechmantra related to Digital Marketing Write for us at guestpost@webtechmantra.com]