Top 5 Sites to Do Reverse Address Lookup & Search (FREE)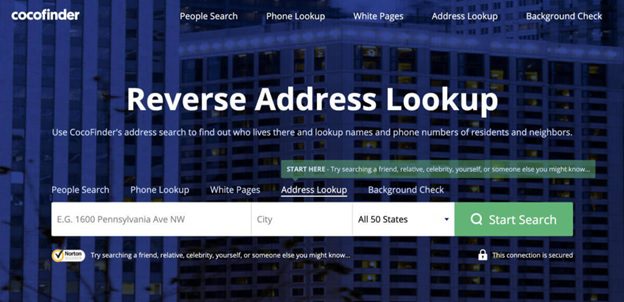 There are times when you need to know who owns a particular address. You may not have a name or a number that relates to the address. That is where the reverse address lookup comes to the rescue.
Thank you for reading this post, don't forget to subscribe!
We want answers on who lives there and anything else about the individual. With an address lookup site, you can solve all of that using the address only. You need factual information during the research, and that's why recommendable sites are essential.
Keep reading to see the top five sites you can use to get more details about that unknown address. Once you find out the name associated with it, you can use it to get more information. For now, it's about reverse address lookup and the platforms that can help you do so.
CocoFinder Reverse Address Lookup
CocoFinder is one of the web-based platforms you will want to look at when it's time to search for that address. It will give you everything related to the address, from the owner's name to if they are a felon or not.
Some of the information retrieved via this website includes the full name, phone number, social profiles, former addresses, and criminal records. The address may also be associated with the property which the address owner has.
With that, CocoFinder will show you the surface area size, when the building was constructed, the area code, market value, and the tax information. You can also know more about the neighborhood.
Such information may not be readily available, but you will get the value of the homes around, average income, and demographic information. You can also know if criminals are living in the area.
To get all this information, what you need is the CocoFinder site and the unknown address. Once you enter it, input the city and then select the state, that's it. It will take about two minutes for CocoFinder to pull out everything associated with it.
Whatever the information you get, there is an option to download it, and CocoFinder will not keep your search history. So, nobody will trace you in case the owner researches who are looking up their address.
Since you don't need to be a member or subscribe, that makes this site a favorite among many. If the address does not give you ample information apart from the owner details, you can still use the info you get to search for more, still via the website.
That's how fantastic it is to use CocoFinder for the reverse address lookup.
How Can You Get the CocoFinder Address Lookup?
Here is how you can start this address lookup:
When Buying a New Home
If you want to buy a home but you are not sure about it, the address lookup will help you know more about the property and its history. You will also get more details about the neighborhood and see if it's a safe place to live in or not.
Finding of the Past
Do you remember your childhood home? Do you remember any of the immediate neighbors? If you want to find out who lives there now and if the neighbors are still around, all you need is to type the address and get the information.
Knowing Those Around You
In your location, new neighbors are coming or people interested in buying property. You don't know who they are, but you may want to find out. Typing the address on CocoFinder will give you more facts about the newbies.
Reconnecting for Special Events
If you are organizing a meeting or a party, you may realize that some of your addresses are not updated. You can use the lookup tool to get more information about them to invite the right people.
Instant Checkmate
More websites you can use for a reverse address lookup include Instant Checkmate. Through inputting the unknown address on the website, you get the personal information associated with the address.
Some of the details that you can view are the name, current and other addresses, criminal records, current location, and more. The database here is vast, and it depends on the public records to retrieve what you need.
You can also get more information about the neighborhood and those who live there too. The only flaw with Instant Checkmate is that it may take longer to give results.
Intelius
Intelius also has a reverse address lookup tool. All it requires is for you to feed the address and then hit the search button. Since we are always around people, we don't know much about having a website like Intelius can uncover more about them.
Once you enter the address, the website will show you the name associated with the address, background history, criminal records, etc. It's, therefore, a perfect site that you can use to investigate.
Whether you are worried about new entries in the neighborhood or want to know where an old friend went, Intelius will help get the information you need to clear things out.
TruthFinder
TruthFinder is quite another competitive website that you will want to use if you need accurate information. It's also easy to use because you only need to enter the address to search for more details.
It will help you know more about the targeted person, from who they are to where they are currently residing. The records may shock, but that is the power of the algorithms embedded on the website for search purposes.
Some of the information provided may include name, relatives, age, birth date, education and employment history, current residence, and criminal records if any.
ZabaSearch
ZabaSearch can also help you find more information about addresses and the people associated with them. You will get names, education and employment history, arrest warrants and court case files, and anything else associated with the address.
You don't need any registration or payment to get the information. That tells you it's an entirely free site that you can run whenever you need more information about an address.
The flaw is that you may get limited information.
Conclusion
It's now time to get that unknown address and feed it on one of the websites we have reviewed above. You may be shocked by what you find out, but these platforms have other tools to verify what you view.
Whether you want to know more about a new neighbor or search for an old friend, reverse address lookup sites are the way to go. Start with CocoFinder to see what you discover about that address. You can also look up yours to see what information appears.