Offshore software development centers: Full guides for CEOs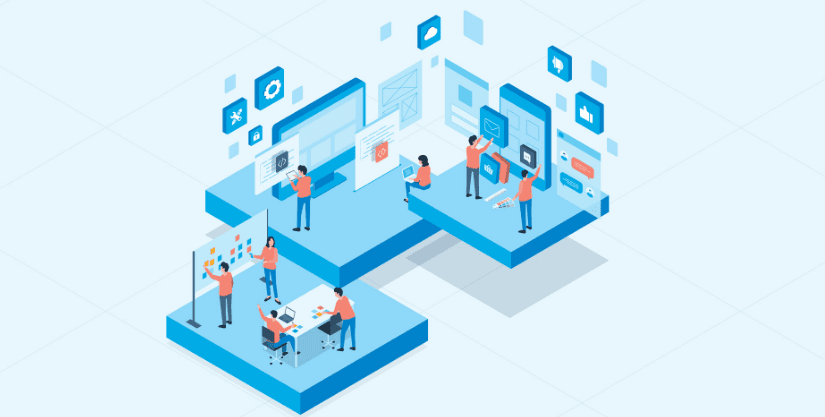 It sounds strange yet interesting anyway, 'Offshore software development center' is currently a concept playing a quite important role in the technology industry – software development – all over the world. In the past, the software outsourcing situation is becoming a saturated phenomenon in the international market, with the increasingly dense appearance of offshore outsourcing companies and fierce competition.
Thank you for reading this post, don't forget to subscribe!
Offshore software development services have now become a solution for Western businesses who are looking to stay ahead in the crowded and expensive market. But how can you leverage the model for your business? Amid the many energy-consuming options that did not bring much positive results, 'offshore software development centers' in Asian countries won the trust of customers more than ever thanks to their high-quality products, reasonable price and serious work ethic. Therefore, if you or your business is still wondering about some unknown things about this type of service, just take a look at some of the full guides for CEOs to get the most comprehensive view.
Offshore software development centers – things to note
Certainly among many people reading this article, this concept has never been too strange, because those who are interested in and work in the software industry, will probably at least listen to the medium once. At how fast is the offshore software development mind growing and making a splash. Unlike teams that specialize in seasonal outsourcing projects, this ODC concept has a difference on both sides – the customer side and the team side.
The first is on the customer side. When looking for help or when deciding to form an ODC team, customers will definitely put the 'quality' of their products first because they understand, the user experience is the goal. the end of the whole project.
Next comes from a staff perspective. The members of the team are considered to be "elite soldiers" with high expertise and knowledge. Often, the full makeup of a team consists of dedicated developers, designers, software testers, quality analysts, content writers – advertisers, project managers and delivery managers.
Furthermore, ODC is a form that is growing in popularity because the selected team will focus on project development for just one business – perhaps only. In other words, this form is seen as having a talented and complete team on hand from a distance without worrying about them getting messed up and distracted from other clients or projects. They just focus on you as well as your requests, or in other words, this dedicated team could be considered as a subsidiary of your corporation and that's all!
When should businesses consider using ODC?
It wouldn't be too subjective when the answer is 'whenever '.
Yes, indeed. However, here are 3 key factors for you to consider when to choose ODC as your powerful assistants:
When your business has a limited budget
If your organization has a limited budget for software development, then Overseas Development Center (ODC) is an effective model for significantly reducing your software development costs. In addition, it gives you the flexibility to engage with foreign developers based on your project requirements and the right recruitment pattern.
In general, you can build your software at an affordable price, and increase or decrease your team size whenever required.
When your business needs quick time to bring products to market
For non-technical companies, finding, recruiting and training an IT workforce is indeed not an easy problem. This process can take up a lot of time, money and even effort. Instead, you can save both time and money by using the full-service care provided by the ODCs, with available human resources, diverse expertise and serving only for your needs as an affiliated team. Why not?
When your business needs more than access to one country
The best way to reach a certain country is to use the human resources in their own country to get a broader and more accurate view. However, the ultimate goal isn't always just to reach the country. Businesses can even spread their business to countries and continents around the country where they use ODC services. This advantage is indeed not seen by everyone; But you know, cultural and lifestyle differences are a problem.
Plus, no matter where your business is in the world, you can choose to build your team anywhere. Flexibility is also a prominent feature when it comes to ODC, as it allows startups and SMEs to expand their teams and operations in global markets.
Where to go for ODC?
Without hesitation, the first name to appear on this list will certainly be Asia India, followed by Eastern Europe and Latin America respectively. In fact, there will be the top three factors that play a key role in becoming a reputable name for ODC, such as service rates, expertise and cultural disparity for regions.
India
Possessing the elite information technology resources – which can be said to be the world's leading, with not too expensive living standards, India during the past time is a name trusted by many international customers. and entrust many projects.
It is also no coincidence that this country achieves so much credit, in part thanks to the uniformity of English communication and communication between software engineers for international clients.
Eastern Europe
It is not necessary to consider the English language proficiency of these regional countries. While not particularly typical as India represents the entire Asia, since the country of Eastern Europe is seen as part of the 'old continent', thus, the number of young people of working age is not too abundant compared to Asia – for example India, China, or Vietnam. However, in terms of professional capacity, the countries of this region enjoy a high-quality, specialized education due to the small number of students per classroom.
Latin America
For the countries of this region, when a business from the US wants to place an order, the delivery will not be too much of a time difference because they are geographically close – and called nearshoring. However, developer standards are usually not as high as other regions, and you end up paying a premium for talented, experienced developers.
Working with ODC remotely, how to always achieve the best performance?
CEO of Saigon Technology, Mr. Thanh (Bruce) Pham, has shares and advice for businesses who are still wondering how to best manage and communicate with their team members at a distance.
Skillfully remove the culture gaps
It's a bit sensitive, but this is an urgent issue that needs to be done first to bridge the gap between two different cultures. If you are a European-based business and work with an ODC team in Asia, I guess the difference will come from very small things like talking style, time zone, way of thinking … So, just frankly expresses what you are thinking, and at the same time offers members a chance to say their feelings.
Pay attention to the security factor
Whether you are a representative of a small business or a large corporation, security is inherently a top consideration when entrusting a project to a partner. Please ensure that confidentiality procedures, regulations and principles are clearly outlined in valid legal agreements from the very beginning of cooperation to avoid undue consequences on after.
Don't over-control them
It sounds cliché, but in reality, engineers are also real artists in their own creative and product building fields. Therefore, asking them to explain every detail, step by step… is not really a good idea. On the contrary, I think both sides should work out a preliminary plan and detailed timeline from the beginning, then have a meeting after each completion stage to get the conclusions and the most concise information. Of course you can still present to them your requirements and thoughts, but not in the style of "command", but be skillful and sincere.
Thanh Pham (Bruce)