Tips to train hourly retail employees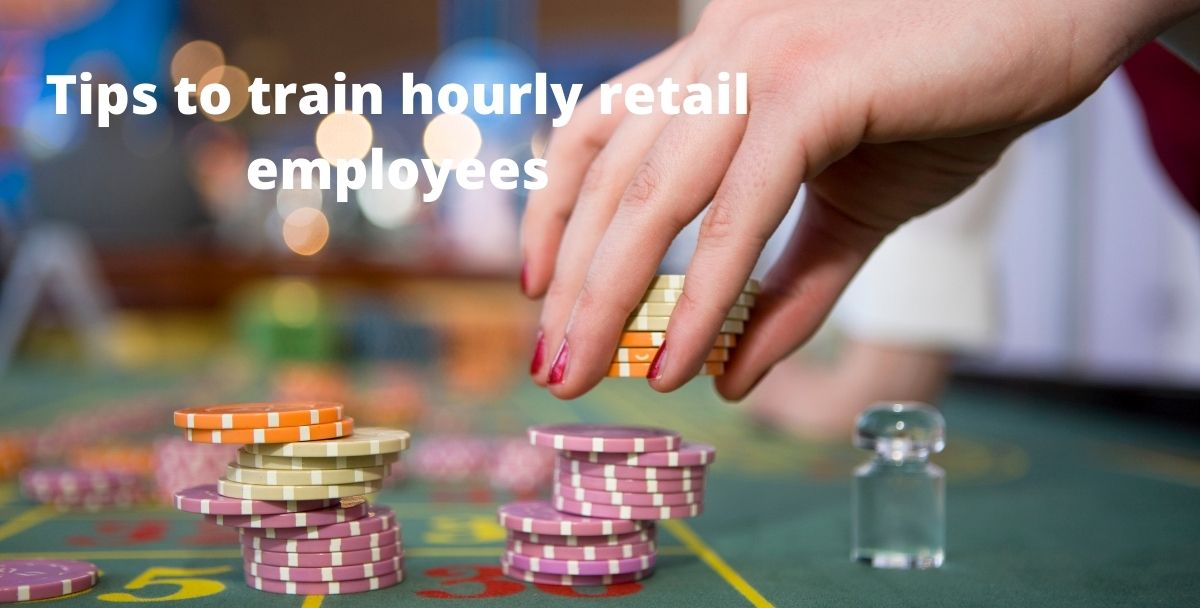 Ask the average retail store manager for his or her view on employee training and you will likely receive the reply, "Training? What training?" Many feel that the time and costs associated with training new, entry-level employees is too high to bear given the virtual non-existence of budgets and the overwhelming rate of employee turnover. It is asked as such: "Why should I spend a huge amount to train a $8.00 per hour employee?"
The logic seems sound, but even the most jaded managers of live casino house, manufacturing unit, automobile industry, etc. agree that trained workers are typically more motivated and productive than their untrained counterparts. So the question becomes, can employees be justifiably provided with quality low-cost training while at the same time, being enticed to remain in their current position?
Why Retail Employees Quit
According to Sally Wright, a performance consultant and training professional with The Knowledge Bridge, the answer is a resounding yes. "People rarely leave entry-level positions over money," says Wright in an interview. "More often problems with the work environment and an inability to see a clear career path lead to the decision to quit."
Wright maintains while such issues can include conflicts with superiors and disputes over work-related processes, the majority of career-ending complaints stem from a growing lack of purpose on the job. "People need to feel they are a productive part of the organization. To help facilitate this, managers should be involved in the performance process and consistently transfer job knowledge."
Signs of Low Employee Engagement
Wright advises retail store managers to watch for indicators including lethargy and poor customer service skills. "If you have a store full of apathetic clock-watchers, you know you're in trouble." According to Wright, quality, well-planned training initiatives with the added benefits of coaching and mentoring can give people a sense of purpose and start eliminating employee resentment that usually stems from barriers in communication and poor leadership skills.
Benefits of On-the-Job Training
Nancy Fallen, Store Manager of the House of Seven Gables in Salem, MA believes that consistent on-the-job training (OJT) is the answer for many smaller stores. "It lets me teach as things happen, on the floor, at the register…wherever," says Fallen in an interview. She believes that repetition is the key to making the process work. In her tenure she has achieved impressive results with her staff of twenty-one employees without incurring the financial expense.
Use Inexpensive Printed Job Aids
If you are willing to spend more than time but have limited training funds consider print material. According to Harry Bilodeau, Senior Manager of Retail Sales at The NewSeum Museum, there are a variety of publications on retail sales and customer service that can be passed to employees. "The Museum Store Association for example offers an excellent retail manual called MSA Guide: Remodel, Rebuild, and Expand the Museum Store," says Bilodeau in an interview. Other industries do the same.
Try Training Videos or Instructor-led Courses
Those with the technical wherewithal can follow the suggestions of Jim Coleman, Board Member of the Hay House in Macon, GA and opt for training videos. These items as well as various web-based courses, allow you to spread specific knowledge to many employees at a relatively low cost
Those with a larger training budget may want to take the advice of Valerie Pechenik, Director of HR at The Asian Art Museum in San Francisco, CA. She uses a combination of on-site classroom training and off-site subject-specific seminars to filter information to employees. Typically classroom training costs $1000 to $3000 per six-hour day with a 30-person maximum. Public seminars, which vary in length and content, are considerably less expensive.
Use Corporate Training Resources
Of course, there is no rule that says you have to spend your own money. Many mid-sized retail operations have a human resource department with a separate budget for employee training. If this is the case, reserve your store budget for specific retail-related courses, while passing the responsibility of more general training to headquarters. Typically, HR can be called upon to handle orientation, computers systems, and even some basic customer service training. Savvy store managers will always explore and exhaust these resources before dipping into their own pockets.
Rebecca Tavarez a HR Associate at the American Museum of Natural History in New York understands this concept from the corporate side. They conduct a series of 3-hour classroom training sessions several times per month. One of the staple topics is their Ambassador Training Program, which teaches employees about customer service and handling difficult people. They also offer classes ineffective communication, supervisory training and basic orientation. "Since this training is available to all employees it is run out of the main budget," says Tavarez in an interview.
Creative Ways to Stretch Your Training Budget
For those issues that are too specific to be covered by the general budget, Tavarez suggests opting for a series of one-hour lunchtime training seminars. Often for the cost of a meal and some publicity, local experts can be recruited to present on a variety of topics from financial management and cross-selling to stress reduction and customer service.
Steven Rostkowski, Manager of The Baltimore Museum of Art in Baltimore, MD prefers to establish a series of informal mentoring relationships with his employees. Several times each month he meets with the staff individually to impart a variety of customer service and sales skills. Rostkowski maintains that constant positive communication increases his level of rapport with his team and helps them operate at peak capacity. This results in a better work environment for employees and more sales for the store.
Bilodeau puts a different spin on this concept by hosting a 15 to 30-minute morning meeting, which covers a variety of procedure-related topics including ordering, stock and inventory control, markdowns, and the profit/revenue difference. To break up the flow of the meetings he also incorporates a variety of "soft skills" topics such as selling skills and communication. "The constant updates really keep everyone on the ball," says Bilodeau.
Training staff doesn't have to break your budget. Often, simple things like lunch-and-learns and career coaching discussions with one's manager will not only enhance skills but also drive employee engagement. Take advantage of these tips and reap the rewards that come from being a rock star manager.