Why You Should Start a Career in Marketing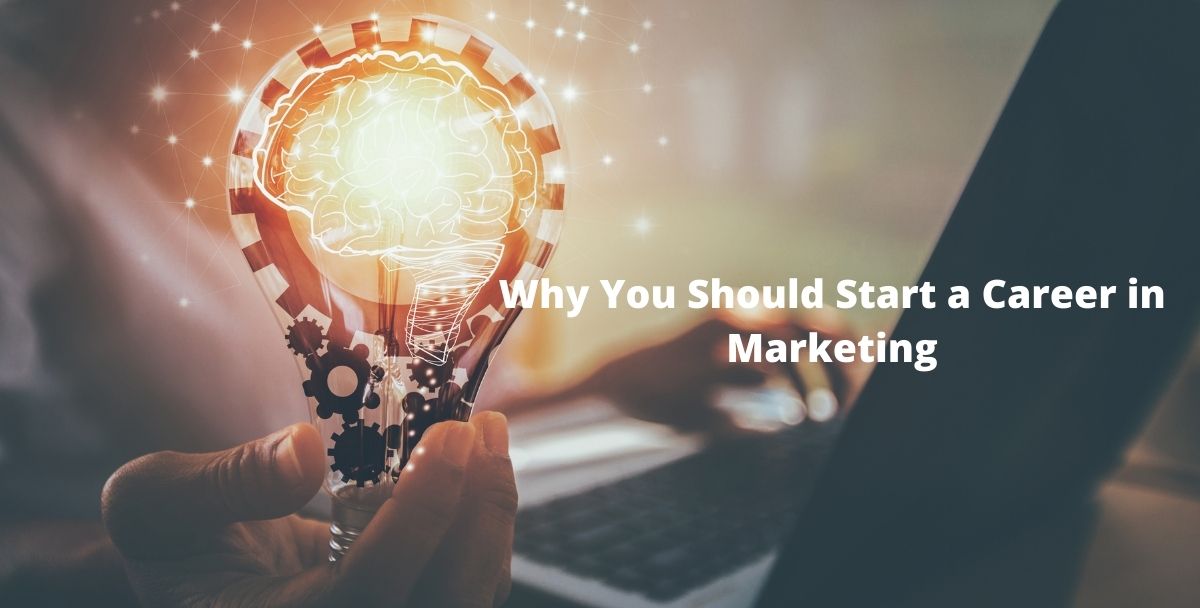 Marketing is all about increasing a brand's presence and reputation. It's not always an easy career, but if you are an ambitious, results-driven person, then the chances are you would do well in marketing. So, if you are deciding which career path you should take, here is why marketing should be your top choice.
Thank you for reading this post, don't forget to subscribe!
You Can Learn from Home
While many careers require you to attend a university physically, marketing doesn't. You don't even need a degree for many marketing roles. If you want to make a great impression and climb the marketing ladder, though, you'll want to pursue an online masters degree such as IMC (integrated marketing communication). By doing so, you will learn all about public relations, creative strategies, and digital media.
Some of the best benefits of studying from home include being able to work while you study, choosing your own study environment, and cutting down on travel costs. So, if you are interested in kickstarting your marketing career, you can do so without giving up your day job.
You'll Meet Lots of Different People
By entering the marketing field, you open the door to meeting lots of different types of people. You'll meet people while studying IMC, when you land your first role, and when you attend networking events. This won't only help you climb the ranks as a marketer, but it will also ensure you are rarely bored in your day-to-day life. Plus, you'll have a better chance of growing your social circle.
It's a Chance to Show Off Your Creativity
Having the chance to use your creativity each day is a massive bonus for anyone who has a creative mind. Marketing is full of opportunities to use your imagination, whether that is coming up with a new blog post or starting a series of YouTube videos. There truly is no limit to how creative you can be with marketing.
If you ever have an out-there idea that you don't think has been done before by another brand, go for it! Of course, the worst that can happen is a failed campaign, but the benefits include a massive boost in reputation for both the brand and yourself.
You'll Always be Striving Toward a Goal
"If you're bored with life – you don't get up every morning with a burning desire to do things – you don't have enough goals." –Lou Holtz
One of the most important components of human happiness is having a goal to strive toward, and a job in marketing provides just that. While some roles don't allow you to see visible results, marketing is a results-driven career that requires you to hit targets time and time again. This means an increase in motivation, passion, and effort in your career, and each time you reach a goal, you'll gain intense satisfaction. If that sounds like something you'd enjoy, take a look at marketing masters like IMC.
There is No Shortage of Available Marketing Jobs
One of the biggest factors people consider when choosing a career is what the demand is like. Fortunately, when it comes to marketing, there is no shortage of available roles. That's because all businesses need marketing, from the small start-ups to the biggest companies you know. As a result, a lot of what you consume is marketing without you ever really knowing it.
So, if you are after a highly rewarding role that will provide you with stability, look no further than marketing. For an even better chance at landing a long-term career, pursue a marketing degree like IMC for invaluable knowledge and proof that your marketing skills are second to none.
The Chance to Work from Home
As well as being able to study your content marketing masters or IMC from home, you can also find a career that doesn't require heading into an office. While some people, especially the extroverted types, would prefer to work in an office, it's also great that those who prefer to work in their own environment can do so.
If you are interested in starting a marketing role from home, some great benefits include –
. Cutting Down on Traveling Time
A lot of your time is spent traveling to and from work; by working from home, you get those hours back to do with as you please.
. Fitting Your Schedule Around Other Obligations
Some parents find it difficult to look after their children while working – working from home makes this a lot easier.
. Setting Up Your Own Working Station
If you have the space at home, you can create a home office however you want, a privilege you don't usually get in a shared office!
While it is not for everyone, marketing provides opportunities for both in-office and remote work means it appeals to anyone.
The Potential Earnings
With marketing, you get out of it how much you put in. That means, if you put in a lot of effort and work your way up, you could be earning six figures in your marketing career.
If you want to earn big money in marketing, you should focus on growing your skills, seeking higher education, and gaining experience. For example, an IMC masters would give you the skills and tools you need to conquer digital media, while a content marketing degree would teach you how to deliver the kind of content that engages audiences. The more you learn, the higher your potential earnings become.
The Skills Learned Are Transferable
Everything you learn as a marketer will help you in other areas of your life. Just a few of them include –
. Communication
Of course, communication is essential for marketing, but it's an essential skill for many situations, such as attending events, going for an interview, and meeting your new partner's family.
. Creativity
As mentioned, marketing is largely creative, so throughout your career, you'll find your creativity blossoms. Of course, this is great for plenty of other situations, such as personal hobbies and creative relaxation methods.
. Writing
Writing is used in almost every area of life, from writing social media posts to sending emails. As a marketer, this skill will only grow, as there will always be a reason to write.
. Decision-Making
Marketing is all about making the right decisions, so over time, your decision-making skills will become second to none.
. Planning
There is no marketing without planning. You can use these learned planning skills in your day-to-day life, too, such as scheduling your week or creating a healthy lifestyle plan.
With so many transferable skills, even if you decide to change career paths in a few years, you'll still have excellent experience to make you a great candidate for any career.
You Could One Day Run Your Own Company
While it might not be a goal for every marketer, the fact that it is an option is always a plus. With all the marketing skills you'll acquire during your career, you'll have the chance to start your own marketing business. This is perfect for people who are highly ambitious and love the thought of working for themselves. So, if you are interested in marketing and you like the idea of becoming an entrepreneur, studying for a marketing degree would put you on the right path.
The Fun Work Environment
Marketing is full of many different characters. With so much competition and ambition in the office, no two days will ever be the same especially once you have your IMC, and you'll find the office environment much more enjoyable than most other careers. While this might not seem like a big deal initially, you'll grow to dislike a monotonous work environment over time. After all, where you work is where you spend around a third of your life, so you might as well make sure it is a positive place!
There are Lots of Different Paths
Are you an excellent writer? Do you love creating content? Maybe you are better at planning than anything else? Whatever your skills are, marketing will have a career path for you, whether that's becoming a creative director or marketing strategist.
This variety is perfect for those who know they want to go into marketing but are not sure which area to pursue, as you can always have a change of heart further down the line. In addition, by pursuing a masters degree like IMC, you attain the relevant skills for many marketing careers so that you can spend your years of study focused on the degree material itself. Plus, it gives you the option to climb the ladder further on in your career.
There's So Much to Learn
Some roles only require a set amount of knowledge, and once you attain all of it, you're set. However, other roles, like marketing, require you to become a life-long learner. While this may sound more difficult, what it means is that you will always be expanding your mind, and you'll never grow bored of work. After all, who wants to be doing the same thing every single day?
You Can Work for a Variety of Companies
Every single business requires marketing. What that means is you have a ton of options when it comes to where you work. Are you politically motivated? Do you want to work for strictly cruelty-free companies? That's fine! With the marketing skills learned from your IMC masters, marketing degree, or work experience, you can assist any business with its brand development.
It is a Highly Satisfying Career
With so many challenges, marketing becomes a highly satisfying career. After all, you receive real-life, visible results because of your work, which means you can go home each day knowing your efforts positively affect you.
How to Know if Marketing Would Suit You?
Suppose you are now interested in a marketing career – great! The next step is understanding whether it is right for you, as it requires a certain number of qualities. For example, if the following applies to you, then the chances are you would make an excellent marketer.
. You Have Endless Drive
Marketing is not a career for someone who likes the easy road. To succeed, you must have endless drive. So, if you are interested in pursuing an IMC or digital marketing degree, first think about how motivated you are to reach your goals. If the answer is very motivated, then, by all means, go for it.
. You Have a Creative Streak
Creativity is an absolute must for many marketing roles. If you have a strong creative streak, you could use that to come up with unique marketing strategies and social media content.
. You're Great at Research
The research will be a huge part of your job. What audiences want changes day-to-day, and a piece of content that would've blown up a few weeks ago might get lost in the shadows now.
. You Understand People
Marketing is all about data and people. So, it makes sense that if you are someone who understands people and what they want, you will make a great marketer.
. You Have Confidence
Marketing involves taking risks, and that requires a lot of confidence. Plus, you'll need natural confidence to network well and deliver great speeches.
. You Are Driven by Results
If visible results are what drives you, then you would bring a lot to a marketing team. After all, marketing is all about producing the best results.
What You Need to Start a Marketing Career
While you don't necessarily need higher education to pursue marketing, if you don't have any previous experience, a degree will help you land your first role. Plus, it's always better to start a career with a base of knowledge.
From digital marketing to IMC, there are plenty of marketing degrees to pursue, so browse some courses and choose the one that suits your career path. Then, once you've completed your education, you'll have a much easier time landing your first role in marketing and climbing the ranks from there.
Whether you want to go into management, public relations, digital media, or advertising, marketing is sure to provide you with a long-lasting and fulfilling career.