Top 10 iPhone Gaming Emulators to Download in 2021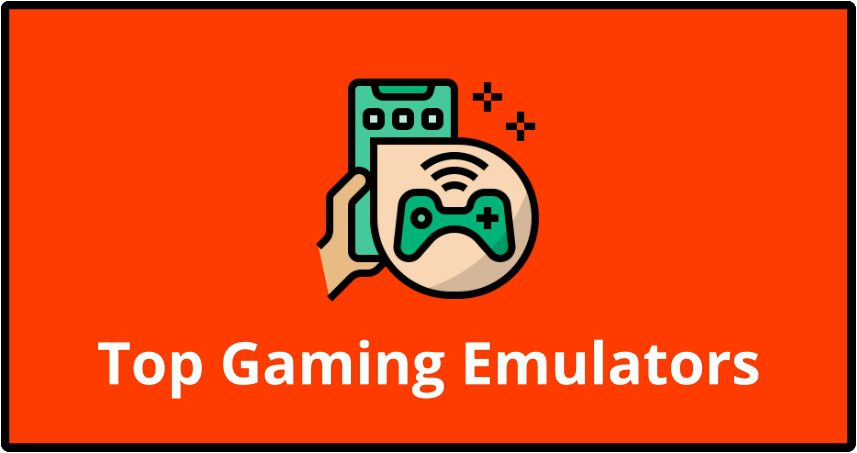 Given the situation the world has found it in just recently, it's not surprising that mobile gaming has become so popular. On average, we are spending many more hours at home, and gaming gives us something to get stuck into, to pass the time and relieve the boredom. Many people own game consoles but setting these up at home to play can cause more than one argument – somebody wants to watch the television and they can't because your console is plugged in, or arguments over which games to play, and so on. What if we were to tell you how you could play your favorite console games in peace? On your mobile device, for example?
Yes, you can, and all you need is the right game emulator for your favorite games. At one time, a jailbreak would have been required to do this but not anymore. Now there are plenty of game emulators that anyone can install on their iPhone or iPad easily, but you won't get them from the official app store. Apple will not provide support for emulators and, while Nintendo has produced ports of a couple of their more popular games, but they are not as good as the console versions. And yes, you can download emulators from the iOS app store, but there is a good reason why Apple has allowed them in – they don't work properly.
What are Game Emulators?
When you install a game emulator on your iPhone or iPad, you are effectively turning that device into a game console. The emulator is a small piece of software that emulates the hardware or software of another device, in this case, a game console like the Nintendo range or PlayStation, for example. While most emulators only really allow for retro gaming, some do support the latest games. So, with the right emulator, you can play retro games like Mario Bros, Donkey Kong, Tetris, and more, right up to some of the latest, such as Call of Duty.
Before we dive into some of the very best emulators available right now, let's answer one more question – why should you bother?
Why You Should Use Game Emulators
Why not? With an emulator, you can play your favorite games in peace, wherever you are, and whenever you want.
Turn your iPhone or iPad into a handheld game console.
Play your favorite retro games or the latest blockbusters
No technical knowledge is needed – these emulators work out of the box immediately they are installed.
All of them are 100% free and 100% safe.
Some emulators are for specific consoles; others offer support for several, with one-click gaming making it dead simple to play what you want.
Install one emulator on two or more devices, and you can transfer your game saves and data between them.
You get as near to a console experience as you would with a full-size console.
You can install as many games as you want – only your device storage will limit what you do.
Some have built-in games, and others require you to install your own – installing ROMs from the internet is simple.
With all that said, let's look at some of these emulators and what they offer.
Top Ten iOS Game Emulators for 2020
To be honest, there are hundreds of these emulators, but not all of them work as they should. We tested loads and narrowed the list down to these ten cool emulators, none of which need a jailbreak, and all are free.
Nintendo Emulators:
Given that the Nintendo games console range was so popular, it's no surprise that the bulk of the emulators support Nintendo gaming. These are the very best Nintendo emulators, supporting gaming for a whole range of Nintendo consoles:
1. NDS4iOS
As the name suggests, NDS4iOS is for Nintendo games. It doesn't have many games included, but it does offer a straightforward way to find and download external ROMs and load them into the emulator. It is packed with cool features, including Dropbox syncing, multiplayer online gaming support, cloud sync, in-app customizations, speedy downloads, and more. It has a user-friendly interface, and the emulation is very accurate. You can download this app from the TweakBox app store.
2. MeSMU
MeSMU used to be known as SIOS and was released by Lucas Menge as a Super Nintendo Platform. Now it supports only SNES and is an incredibly powerful emulator. It offers full-screen gaming support, external controller support, support for ZIP and SMC ROMs, and many more. Performance is excellent, and it works on iOS 13.
3. iNDS
Again, the name gives it away, and this one has some pre-installed Nintendo games with it. You can easily load your own external ROMs into it, as many as you want, giving you a great way of building up a huge game collection of all your favorites. Features include Dropbox syncing, in-app customizations, a built-in browser to help you find external ROMs easily, game recovery, and many more, and it works on iOS 13. You can download this app from the Panda Helper app store.
4. GearBoy
GearBoy is an incredibly accurate Gameboy emulator, offering a realistic gaming experience. It supports pretty much all Nintendo consoles but mostly the Gameboy range. Emulation capabilities include Mix Frame Support, giving you the ghosting you get on Nintendo console games, support for LCD controllers, compressed ROMs, and more. It is supported on iOS 11 and higher.
5. GC4iOS
GC4iOS is a unique emulator; it is the only one that supports Wii and GameCube gaming. There are no games included; it is only a repository, and it's up to you to download your ROMs and load them into the emulator. This is easy enough to do, and the emulator will guide you all the way.
6. GBA4iOS
Arguably the most popular Nintendo emulator ever launched, GBA4iOS comes to us from Riley Testut. This was one of the only emulators that never required you to jailbreak; the developer found a way of getting it into the app store legally via a loophole but, when Apple patched that loophole, he didn't give up. A bit of tweaking later, and the emulator can now be directly downloaded to your device, and it supports up to iOS 9. It supports Nintendo gaming for all consoles but more so the Gameboy range. It has a built-in browser to help you install external ROMs, high-speed downloads, multiplayer online gaming support, cloud server hosting, customizable game maps and controls, and much more.
7. Delta Emulator
Our last Nintendo emulator also comes from Riley Testut and is the follow-on from GBA4iOS. Delta supports iOS 10 and higher and offers emulation for the Gameboy range, SNES, NES, and N64. With many of the same features as GBA4iOS, this one also offers cloud syncing and split-screen support on the iPad. You can download this app from the TutuApp Store.
Multi-Console Emulators
There are a couple of emulators that support multiple consoles, making them a great go-to when your favorite games span two or more different platforms. They all have a one-click play, so, regardless of platform, a single click gets you into your game. These are two of the very best multi-console emulators:
8. Provenance
The first is called Provenance, and it offers support for all Nintendo consoles, PPSSPP, PS1, and a whole lot more. There are some built-in games, but a built-in browser helps you find and download external ROMs off the internet and load them into the emulator. Features include in-app customizations, the ability to record your gameplay and share it with others via Wi-Fi or Bluetooth, multiplayer online gaming support, and much more. It works on iOS 10 and above.
9. HappyChick
HappyChick supports gaming for more than 18 consoles, including most Nintendo consoles, PPSSPP, PS1, and more. It already has a large library of pre-installed games, but you also have the option of loading your own from the internet. This one offers support for retro and new games and, provided your device has 2GB or more RAM, you can play pretty much any game you want. Features include online multiplayer gaming support, LAN support for offline gaming, fast downloads, one-click play, cloud server hosting, and more. It has been updated to support iOS 13, and there are plenty of in-app customizations.
Other Emulators
There are loads more emulators, some good, some not so, and our final one is an emulator we think offers the best gaming experience.
10. PPSSPP
PPSSPP stands for PlayStation Portable Simulator Suitable for Playing Portably and is dedicated to PSP gaming. It works on jailbroken devices as well as those that aren't and offers tons of features, including external controller support, customizable on-screen controls, easy game restore, transfer games between your full-size console and the emulator, and more. There are no built-in games but installing your own is dead simple.
Ten game emulators offering some of the best and most accurate console emulations. You won't find apps like these in the iOS app store, but installing them onto your iPhone or iPad is simple. All of these offer cool features, a great gaming experience, and an easy way to play your favorite console games whenever you want. Try them today; you may never go back to your full-size console again.