10 Important Occasions To Name A Star After Someone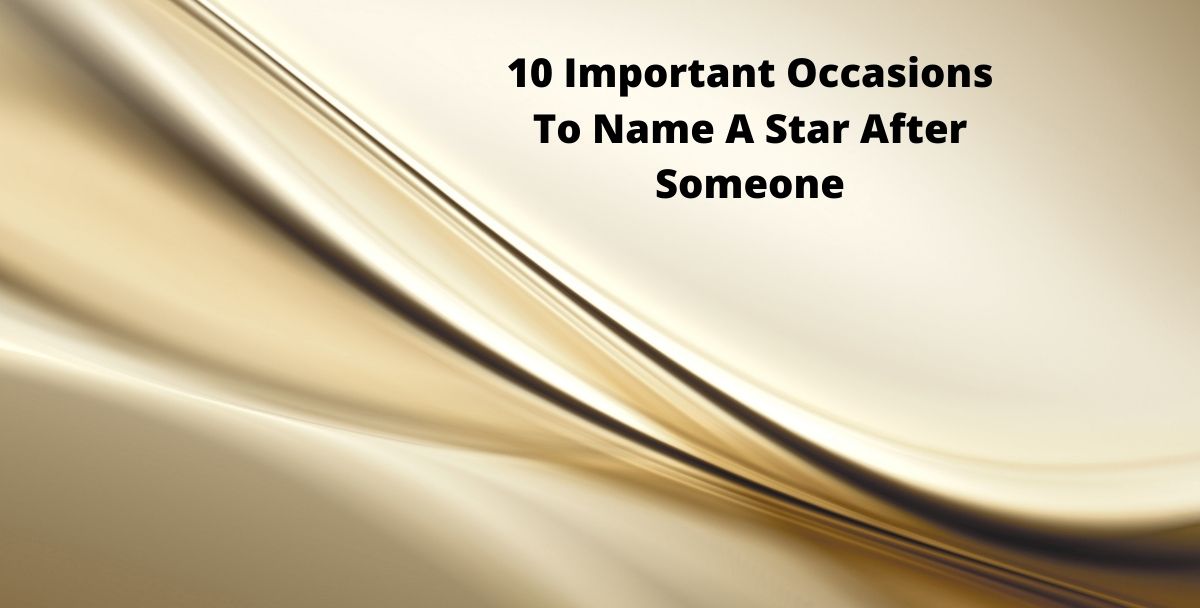 With technology, everything is changing rapidly. Gone are the days when you would visit a shop and select a gift for your loved ones. Numerous online sites provide you with various gifts in different categories. But still, you feel confused and overthink while selecting a gift. If you want to give a gift that is eternal, long-lasting, and memorable just like your love, then you must name a star after someone you love.
Thank you for reading this post, don't forget to subscribe!
Is It Possible To Name A Star?
The answer is "Yes". You can name a star with any name you want. Be it your name, nickname, loved one's name, your house name, or your pet's name. But you can't buy a star as it is a novelty gift. It is a beautiful gift from your well-wisher that will encourage you to look up at the sky every night and treasure the moments forever.
Some people also 'adopt' a star and make donations by selecting a star. It is a non-profit program where scientists are supported for their research in astronomy. It is the best gift to give yourself if you have a love for the galaxy in our universe! Many stars are waiting to be recognized and come into the limelight. Your donation will help the scientists to search more for such stars.
Today, many people are looking for some unusual and outstanding gifts and see their loved ones brim with joy. You can name a star after someone in very easy steps. Find the star naming website and fill in the details such as the package, star name, date of the record, constellation, and a personalized message. You can also choose the star constellation as per your location. After making the payment, you will get the registration number. Many star naming service providers have star gazing apps where you can locate your star. You can also view the star in 3D and enjoy the stargazing experience.
You will receive a certificate online as well as physical on an attractive paper with your personalized message. You can also get the physical certificate framed. You are provided with Photobook, celestial software with space pictures. Some services provide you with a special page where you can invite your friends to sign the guest book. The recipient also receives the gift set pack.
Thus you can see that to name a star after someone is a unique and unforgettable gift. If you think that it is an expensive gift, then think again. You can easily gift your loved ones within your budget.
10 Occasions To Name A Star After Someone
There are many occasions when you give a star-naming gift as a symbol of your eternal love. Following are the important occasions that are celebrated with the same enthusiasm every year.
Valentine's Day- The perfect gift of star naming to your partner. Giving the same boring gifts every year takes out the charm of valentine's day. With this eternal gift, your love will shine bright high up in the sky forever.
There is also an option of 'Binary Star Gift' where you can name a star after both of your names. A binary star is a system where the two stars share an orbit, a common territory, and have a relationship just like a romantic couple. This gift is most preferred by couples who are madly in love with each other.
Mother's Day/ Father's Day- Mothers and Fathers are the only ones who have showered their true love from your birth, without any expectations. Name a star after their name and let the stars glitter every moment with their love.
Christmas- Christmas is the special occasion where you can give this special gift to your children. You can choose the constellation as per their zodiac sign. Also, this is the perfect age where you can inculcate within them an interest in astronomy. They will surely enjoy and cherish this gift forever.
Wedding Day Gift- Wedding is the most beautiful day in the life of the couples and they cherish the received gifts from their well-wishers. So go ahead and gift a lovely couple the stars named after them.
Baptism Gift- Baptism is the most important day in the life. Give the baby to be baptized the eternal gift of naming a star after them. Let your love twinkle in their tiny eyes forever.
Graduation Gift- Completing graduation is considered a milestone in life. Name a star after someone who has completed his graduation and let their dreams touch the stars with a bright career.
Birthday Gift- Birthdays are the best times to surprise our loved ones with memorable gifts. Gifting them always with perfumes, chocolates, jewelry is outdated. Name a star after them and see their face lightened up with a twinkle in their eyes.
Achievement Gift- Achieving something great in life by our loved ones should never go ignored. Pat their back while being proud and gift them a star after their name. This will inspire them to aspire for greater things in life and fly high to reach the stars.
Silver/ Golden Jubilee Gift- Most people do celebrate Silver/ Golden Jubilee Anniversaries of couples with gratitude towards them. Name a star aftersomeone like your parents or grandparents, who are looking forward to adding more years to their married life and feel like love is in the air forever.
Corporate Gifts for Eligible Employees- Companies know that some employees are highly dedicated to their job and bring success to the business with their hard work and loyalty. Recognizing their efforts and motivating them for bringing their best ideas to the table ensures that companies acknowledge the potential employees. Timely rewards by the companies make a huge difference and make a positive impact on the employees. Name a star after someone in your organization who you feel should be applauded and make them a star in the eyes of others.