How to Design a Fruitful eCommerce App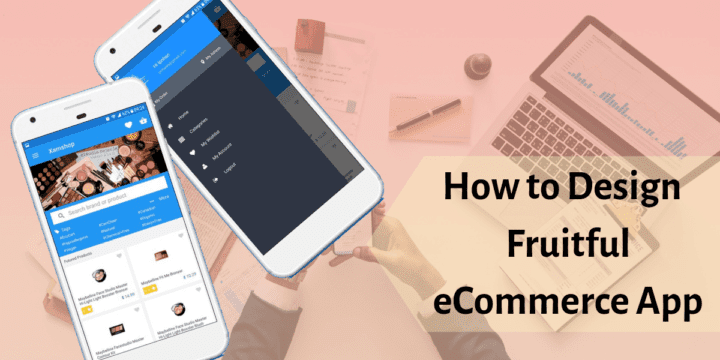 The number of global smart phone users is continuously rising. In fact, it is the perfect time to put your business in this digital world to reach the maximum number of customers without any limitation of the area. If you have your business website and mobile application to sell your product online, then you must gather some knowledge about an effective ecommerce application development for your online business.
Thank you for reading this post, don't forget to subscribe!
Attracting and responsive app design is an absolute necessity to draw the attention of the maximum number of audiences in the internet market. In this wide product selling the digital world, you might have to face the pressure of high competition. Everyone wants to take the top position and provide their customers with the best shopping experience through mobile apps.
Developing and designing a mobile application for your eCommerce business is the best way to stay ahead in the digital marketing race. According to a survey, more than 50% of all website and app traffic was generated through the mobile devices in 2018 all over the world and the number is increasing with the growing population of mobile users. So, an eCommerce App Design is the key factor to make your position among your targeted online customers.
In order to impress your users, here are some important points about eCommerce App Development which can help you to have the best app for your online store. So, let us have a quick look at it.
[Read More: 10 Things to Consider While Choosing a Theme For Your Shopify Store]
Intuitive design
Intuitive design is the key factor to success for an online eCommerce business. There are three points to remember while designing,
Navigation should be intuitive and effortless
Guide your visitors through the steps you want them to take
There should be no obstacle and glitches for your visitors
Intuitive navigation has a different concept for website designing. But when it comes to mobile apps, you need to remember some facts regarding users' behavior which differs from a desktop website.
Moreover, the mobile screen size is smaller than the computer. So, you need to focus on the readability and the size of the buttons accordingly. Always keep in mind that a smaller screen cannot show all of your effective contents in a single page. You need to create compact content to tell your visitors all of your offers and in a shorter format. Try to highlight your best-selling products and promotional offers in the home screen of the mobile app to lead users instinctively when they open the eCommerce app.
Appropriate Placement of Elements
Put all the key elements in the thumb-friendly (it's a space on the mobile screen in which a user can easily reach with his thumb while holding the phone with the same hand) zone to encourage users to take specific actions comfortably without any hassle. For example, since most of the mobile phone users are right-handed, the thumb-friendly zone includes the lower left corner and the center of the mobile screen. This is the most effective part of an eCommerce App Design to make the application easy to handle for its users.
Three-Tap Rule
It's very vital to keep the structure clear while designing an eCommerce business mobile app. According to the Three Tap Rule, it should not take more than 3 taps for a user to get any products he wants to buy. That is why you have to arrange your products in order as below:
Categories
Sub-categories
Products
A search bar is another important element for an ecommerce application development. Sometimes, the user directly types the product name to get it more quickly. If you want to give them a better service, you should include the Smart Search option for them. As users type in the first letter of their product, a number of suggestions should be there to choose from the displayed lists.
Minimalist Design
Simplicity is always the best option for an eCommerce App Development and design. So, while working on the eCommerce app, keep this point in your mind. Your mobile app shouldn't have complicated guidelines for its users to open. The interfaces should be easily understandable. Every mobile OS has its own styling guidelines just like – Material Design for Android and Human Interface Guidelines for iOS.
To stick to a minimalist design for your app, you have to maintain some factors while designing.
Use the simple colors- For this, go with the monochromatic or analogous scheme as this can be the best option.
Use only one typeface- Go for Roboto or Noto for Android and San Francisco for iOS devices.
Pay attention to spacing- Use blank space to give a breathing room to the design.
Sign Up and Checkout Process
Do not ask your users to sign up before you really need their personal information and other data for the checkout. Always try to keep it simple for your users and ask only the information which you critically need for checkout. We all hate a long multi-page boring sign-up and checkout process. As a mobile app user, they do not have the patience for all of this. So, try to keep it short and quick.
Alternatively, you can use the "One click – and registration" in your app through Facebook, Twitter or Instagram profile to save your users time and energy. You can enjoy additional advantages if your users share the product in social media with their friends. This will help you to get a chance of some free social media promotions from them.
So, thus to conclude, the above were some key ideas to design a fruitful eCommerce app like Amazon for your online business. Now, here is to recall the highlighted points from this article which can help you to increase your online sales.
Intuitive design for your mobile application
It should not take more than 3 clicks to get to the products
All the essential elements should be placed in the thumb-friendly zone
Stick to the minimalist design
Keep your Sign Up and Checkout process short