How to Change File Explorer to Dark-Mode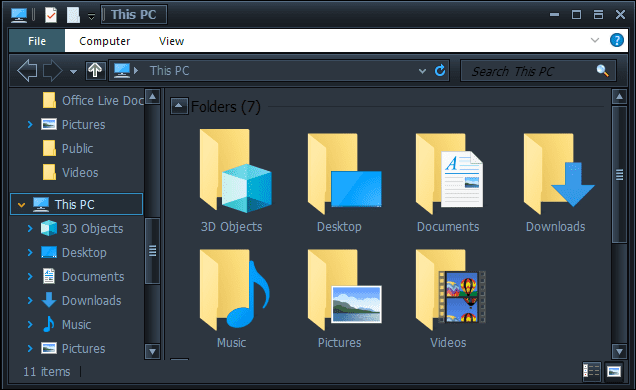 That would be very disturbing to work long hours without dark mode, and we are more happy to search the file out in PC through file explorer than using a shortcut through the menu or other mediums, and it was so comfortable as this is going to be with better with the user's eyes, this can't hurt our eyes even we hang on working with this long hours all the day and night.
Thank you for reading this post, don't forget to subscribe!
As we all know that Microsoft had made this dark mode released out with Windows10 on October 2018 with its latest update, as many of users were facing the issue of setting their file explorer to dark mode and now we shall have a simple view on setting up the dark mode for the file explorer to our PC.
Working for a long time with the PC can be more straining with our eyes, as they were more sensitive with dealing for the high intensity of light that is being emitted out from the screen of our PC, so we need to be more cautious while dealing with it and this can be easily fixed if we are going with the change of its color that is being displayed while we are working on searching for a file in the file explorer, so here we going to make that look in the dark mode so that we getting our eyes to get protected from the brightness that can create harm to our sensitive eyes.
Check Windows 10 update
So here to make the dark mode work well on your PC, we need to have latest Windows10 operating system updated and we just can't simply say that we are on Window10 already, but this can't work with dark mode because the Microsoft had made some implementations in the version as per some updated hardware configurations, so we just need to make sure about it in our PC by a small trick to check, this can be a simple process.
Step 1: First click on the start menu and type winver and press enter
Step 2: then here comes a dialogue box which read under the Microsoft Windows 1809 version
Step 3: if that version is like 1803 or lower version, then it shows that we need to update as it is an older version.
Update to default dark mode
And this can be simple to make sure whether the version is up-to-date or not then we have to go with the next procedure to update windows10, so here is the simple stepwise procedure to make the windows10 get updated with dark mode inbuilt version.
Step1: just click on the start menu and type windows update in the box and click enter.
Step 2: will get a panel titled as windows update configuration and then go to updates, if any of them were present go with that update to start the installation process.
Step 3: just be sure about making the update of Windows 10 might take some more time to get an update.
Step4: After completion of the update just check if the file explorer had been changed to the dark mode or not, as this can be set default with this version.