Google Pixel Slate M3: Full Specs, Performance and Review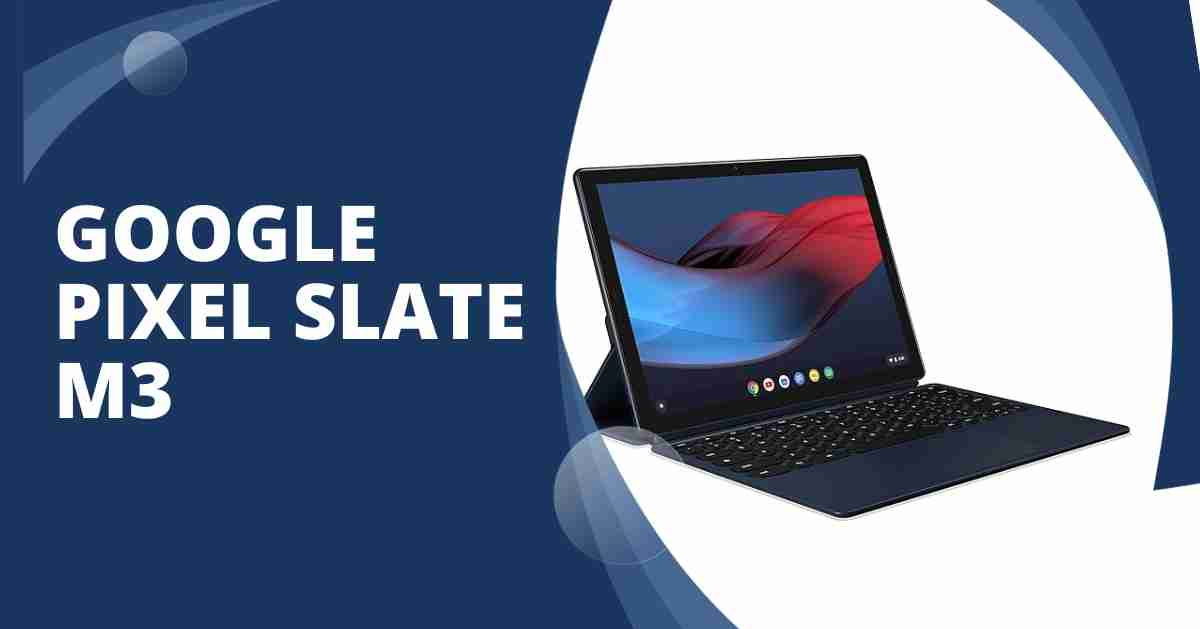 This month Google made the decision to discontinue the Celeron version of the Google Pixel Slate. As a result, they have now made the $799 Intel Core m3 model the starting option. This leads us to question whether or not the Core m3-powered Pixel Slate is worth considering. In order to answer this question I have dedicated the days to thoroughly exploring its performance. I will soon provide a review of the Pixel Slate discussing any improvements made since its launch.. For now, let's focus on examining the new base Core m3 model and why it is now considered an affordable choice.
Thank you for reading this post, don't forget to subscribe!
Google Pixel Slate M3 Specs
| | |
| --- | --- |
| Specs | Details |
| Screen | 12.3-inch 3000 x 2000 LCD touchscreen |
| OS | Chrome OS, Android 9 |
| CPU | Intel Core i5-8200Y |
| RAM | 8GB |
| HDD | 128GB SSD |
| GPU | Intel UHD Graphics 615 |
| Networking | 802.11b/g/n/ac (2×2) Wi-Fi, Bluetooth 4.2 |
| Ports | 2 USB-C ports |
| Size | 7.9×11.5×0.3 inches (202.04×290.85×7.0 mm) |
| Weight | 1.6 pounds (tablet only) |
| Battery | 48Whr |
| Warranty | 1 year |
| Starting price | $599 |
| Price as reviewed | $999 |
| Other perks | New fingerprint reader |
Google Pixel Slate M3 Specs 
Google Pixel Slate M3 Pros and Cons
| | |
| --- | --- |
| Pros | Cons |
| Sturdy, minimalist tablet design. | No Thunderbolt 3 ports. |
| New fingerprint sensor. | The keyboard case costs an extra $199. |
| 8MP rear- and front-facing cameras. | Pen costs an extra $99. |
| Round "hush" keys are easy to type on and fairly quiet. | No way to secure Pen to the Slate. |
| Improved handwriting recognition. | Somewhat buggy Split Screen feature. |
| Good battery life. | Terrible palm rejection in scribble keyboard. |
Google Pixel Slate M3 Pros and Cons
Pixel Slate m3 Performance
When it comes to productivity my experience, with the Pixel Slate made it clear to me that the Lenovo C630 is the standout among Chrome OS devices in terms of being a workhorse. While the Pixel Slate m3 has a chipset its performance is somewhat average.
I mainly used it as a desktop replacement connecting it to a monitor for work. It handled my daily tasks reasonably well. I usually had multiple tabs open streamed music through Spotify web app and occasionally used Android apps. Although the machine generally managed these demands I did notice screens and random pauses in Spotify playback. It's unlikely that the 8GB RAM onboard is causing these issues since I don't experience them when performing a workflow on the Pixelbook with the amount of RAM. The bottleneck is likely related to the m3 chipset.
However, for workloads, such as writing this piece with a few tabs open and no external monitor, the Pixel Slate m3 performs smoothly without any noticeable slowdowns.
When using the device as a tablet its performance is more, than sufficient. While I still prefer using Chrome OS with a keyboard and mouse this machine handles web browsing and Android apps
Although there can be instances of dropped frames and some lag when multitasking or using Windows the Pixel Slate m3 tablet is still capable thanks, to its upgraded processor and the software enhancements implemented by Google. While it may not stand out as exceptional it performs overall.
[Also Read: Google Pixelbook i7 Review: Next-Level Laptop For Productivity]
Google Pixel Slate M3 Look
The Pixel Slate has an elegant design featuring a navy all-metal back, with a lighter blue "G" logo in the top left corner. Positioned in the corner is an 8MP rear camera giving it a minimalist appearance.
While the back of the Slate tends to collect fingerprints it remains a tablet that's resistant to bending. The 12.3-inch display boasts bezels providing a comfortable grip whether you're holding it in portrait or landscape mode. The display produces colors. Achieves a maximum brightness of 362 nits.
The facing speakers deliver sound quality, suitable for small office spaces but may struggle to fill larger areas. Sleek and slim the device measures 7mm in thickness. Weighs only 1.6 pounds. It includes two USB C ports for charging and connecting peripherals; however, it does not have a headphone jack. Additionally, there are pogo pins, for keyboard cases and an added fingerprint sensor that enhances its functionality.
With the USB C ports supporting drive connections transferring data and accessing files through Chrome OS' Files app becomes effortless. While its design may be more understated compared to the Pixelbook Google's signature cleanliness and modernity remain evident with the Slates aesthetics. It embodies the concept of "lagom " delivering design elements to meet users' needs effectively.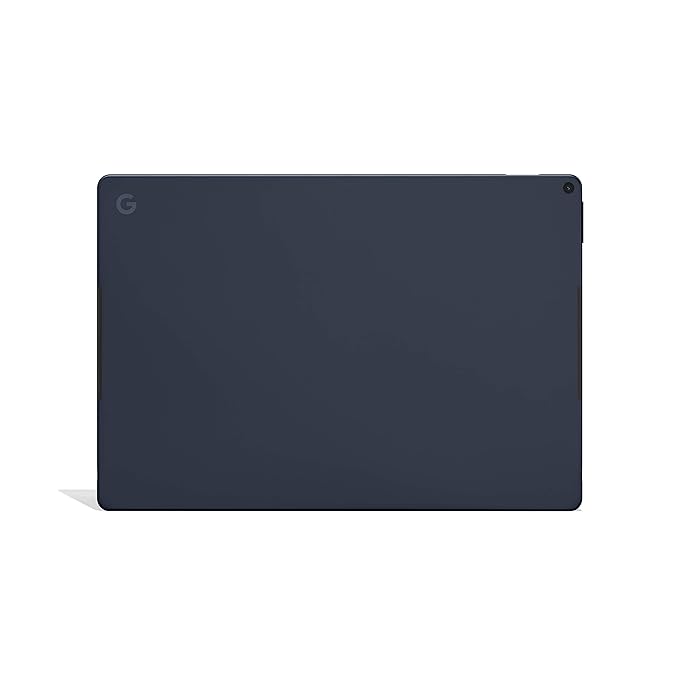 Biometrics
The Pixel Slate introduces a feature called "Pixel Imprint," which's the first fingerprint sensor, for Chrome OS. This addition is significant because Chrome OS didn't have support for login before. Despite having an 8MP front-facing camera for Duo video calls the Slate doesn't have an IR camera. However, the fingerprint sensor provides a secure alternative for authentication.
To set up the fingerprint sensor you simply need to press and lift your finger on the reader for a minute. Once recorded you can use your fingerprint to log in to your Google account similar to how it works on macOS or Windows devices. The fingerprint reader is integrated with the power button allowing you to press and hold it to start up the Slate.
One interesting aspect of the fingerprint reader functionality is that it can only unlock the screen from sleep mode; you need to create a PIN. During device setup, Chrome OS prompts you to set up the fingerprint reader but doesn't require you to create a PIN along with your fingerprint and password. Before using your recorded fingerprint make sure to enable either PIN or password login option in settings.
Contrary to what some may assume you cannot use your fingerprint after recording without setting up a PIN. This design serves as a security measure, for Made By Google devices.
This measure is designed to prevent logins, from the moment the device boots up. Although there was some confusion the addition of fingerprint authentication is a move for Chrome OS and significantly improves the overall security of the Pixel Slate.
Furthermore, the incorporation of the Titan C chip specifically developed for Chrome OS devices greatly enhances its security. Similar to the Titan M chips found in Pixel 3 devices the Titan C chip assists in ensuring a boot process storing and safeguarding the version of Chrome OS while preventing any downgrades to less secure versions. It also offers screen protection by imposing limits on login attempts and provides security features such as, on-device encryption.
Google Pixel Slate M3 Keyboard
At first, I was a bit skeptical, about the $199 keyboard case for the Pixel Slate. What caught my attention were its keys. Surprisingly typing on them turned out to be quite comfortable and the full keyboard provided a typing experience. The important keys like Back Enter and Shift were of a size and in their positions, which definitely added to the overall comfort while typing.
Although the round shape of the letter keys didn't significantly slow down my typing speed there were errors because my fingers instinctively looked for the sides or corners of a key that weren't there. However, I appreciated that these round buttons (referred to as "keys by Google) offered a typing experience. Additionally, they included a custom top row of keys for Chromebook users with functions for full-screen view app listing and accessing menus. It's worth mentioning that Google also added an Assistant key for access to Google Assistant.
The trackpad that comes with this keyboard case may not be the one there; however, it does its job well enough. With dimensions measuring about 2.9 x 4.0 inches, it supports gestures like pinch to zoom. Allows clicks as well as light taps for selecting things on the screen.
In terms of design, this keyboard case deviates from the clamshell structure we often see. Its sturdiest part is actually a plastic strip, with nodes that attach to the edge of the Slate.
The remaining aspects of the case may feel a bit weak. When typing quickly the keyboard section tends to have a shaking sensation. The Slates back features a flap that allows for flexible tablet positioning providing choices compared to certain detachable devices. However, it does require more handling and maneuvering than a typical laptop or detachable device, like the HP Chromebook x2.
[Also Read: Google Pixelbook 12in Review: Everything You Need To Know]
About Pen
The Pixelbook Pen, which can be used with the Pixel Slate has not undergone any changes, from the Pixelbook stylus. If you already have a pen you can continue using it. However, Google now offers a model for $99 for those who don't have one.
When it comes to responsiveness the stylus performs in Google apps like Google Keep and Chrome for handwriting recognition. In apps like Autodesk Sketchbook, there might be a slight delay.
One of the stylus features is a side button that allows users to highlight or capture sections of the screen and get information from Google Assistant. Although it works effectively with images and some text its performance can be inconsistent. For example, while it accurately recognized a meme from The Office it produced results when dealing with an image of Vladimir Putin.
On the downside, the Pixelbook Pen is a stylus that comes at a high price without many standout features to justify its cost. At $99 it doesn't magnetically attach to the Slate. Is there any way of securing itself to the keyboard case?
Considering all this if we include accessories like the stylus in our calculations the overall cost of owning a Pixel Slate increases by $300. This might not align with what Chromebook users expect since they are accustomed, to budget options.
Although Google intends to place the Slate in the category of high-end devices such, as the Surface Pro and iPad Pro this change might not be well received by Chrome OS enthusiasts. Chrome OS, widely recognized for its simplicity and browser-focused functionality may not warrant the cost of a device and its accompanying accessories that exceed $1,000 for users whose main priority is efficient internet connectivity.
Google Pixel Slate M3 Battery life
The Pixel Slate, equipped with a 48Wh battery, demonstrated commendable performance in our tests. On the Wi-Fi test, it averaged 693 minutes, just shy of 12 hours, surpassing Google's estimated 12 hours of battery life. In the graphics-intensive test, it averaged 362 minutes, approximately six hours. While these figures outperformed the Pixelbook by nearly one hour in both tests, the Pixel Slate fell short of the HP Chromebook x2, which excelled by almost an hour in each scenario. Overall, the Pixel Slate's battery life proves reliable for extended use, offering a satisfactory balance between performance and longevity.
Is it Worth Buying?
When it comes to the performance of the Pixel Slate m3 it's a device, for most tasks. However, if you're looking to do anything than basic work you might want to consider a more powerful model. In my opinion considering its price tag of $800 ( $1000 with a keyboard), the Pixel Slate doesn't quite live up to expectations. If productivity is your concern I would suggest looking into options like the Pixelbook or Lenovo C630 instead.. If you're in the market for a tablet specifically it's hard to argue against an iPad with the upcoming improvements that "iPadOS" will bring.
While the Pixel Slate may not have appeal it's perfect for a type of user – someone who is always switching between different work environments. This kind of user needs a device that can smoothly transition from being docked with a monitor and keyboard setup to being used on the go or even in worksites. For users like this, there's really nothing that compares to the Pixel Slate.
In comparison to the Celeron model, the Pixel Slate m3 is definitely an improvement. Serves as a base model from Google. It would be more tempting if there was a $100 price drop. If you're thinking about purchasing one you can find the Pixel Slate m3 at places such, as Google Store, B&H Photo and Amazon.
[Also Read: Lenovo Ideapad 720S-15 IKB Laptop Review]
Conclusion
After spending a day with the Pixel Slate I've formed some opinions, on its hardware. Stephen Hall will soon provide a review.
The display of the Pixel Slate is excellent. I don't feel like I'm missing out on the 120Hz feature that my iPad Pro 10.5 has even though the Slate is a bit bulky for tablet use.
Google has done a good job with the quality. The facing speakers produce rich and loud sound, which is a significant improvement compared to the Pixelbook. However, it doesn't have as much bass as Apple's iPad.
The official keyboard accessory for the Pixel Slate has its pros and cons. It's not very practical to use on your lap, which is a downside. On a table surface, I initially had some trouble typing quickly and accurately due to its keys; however, I've been gradually getting used to it. Despite these drawbacks, the keyboard's key travel, responsive trackpad and adjustable angles are worth noting. Alternatively, you might want to consider using the Brydge keyboard.
Battery life seems impressive. After using the device all day without charging it and even running a monitor, without a power connection, I never completely drained the battery.
During a test, we decided to use the Pixel Slate as a tablet, for watching videos. We found that it lasted 6 hours on about half of its battery charge while streaming video and music, at volume.