PDF Bear Online Tool: The Best Way to Convert Word Files to PDF Files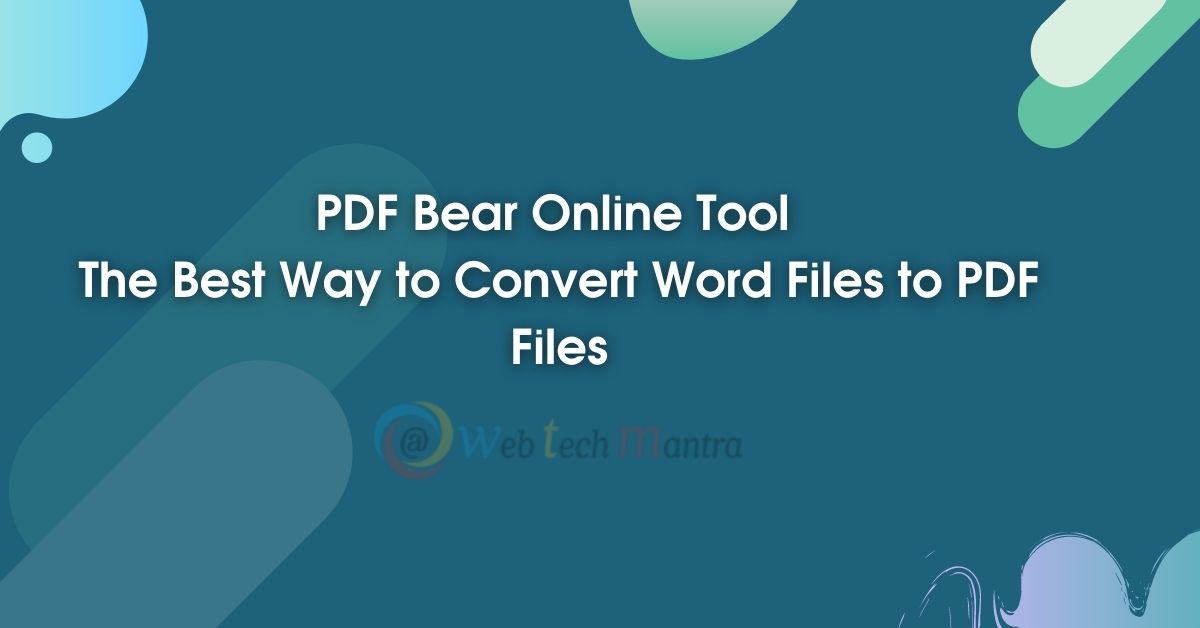 Before we dive into our main topic, which is converting Word files to PDF files, let me tell you first the history of the PDF. If you're not familiar with this PDF, it stands for Portable Document Format. The person behind it is an American computer scientist and businessman John Edward Warnock.
Thank you for reading this post, don't forget to subscribe!
Dr. John Edward Warnock, one of the co-founders of Adobe Systems Inc., launched the Camelot Project in 1991; the goal of this project was to allow anyone to photograph documents from other applications, send files anywhere without any hassle, and view and print them using any machines. The Camelot Project then developed into PDF a year later after it was launched.
Since we're done with the history of PDF files, let's now proceed to our primary goal, which is the conversion of Word files to PDF files. Before, converting files was a little bit hard, but worry no more for we got your back. These steps below are pretty simple and won't consume much of your time, buddy!
Benefits Of Converting Word Files to PDF Files
Perhaps you're wondering why there's a need to convert Word to PDF well, there are lots of advantages when using this kind of format. Some of the benefits are, your document format is maintained even if you share it from one computer to another, your file can be protected by password, works on different operating systems, and it doesn't eat a large amount of your storage. Pretty good, isn't it?
Spot The Best Word to PDF File Converter
Finding the best converter is the hardest job because there are many tools out there that don't work so well. If you haven't spotted the best one, you can try the PDF Bear's online tool; this tool will help you convert Word files to PDF files without any difficulty.
The Process
If you're not familiar with the PDF Bear tool, we will teach you the process; set aside your worries because the steps are easy to follow. Firstly, click the Select Files button located at the center and hit the desired file to start uploading. After that, wait for a few seconds until our PDF Bear finishes scanning and converting your word document. Once the conversion is done, immediately click the Download button to save the PDF file in your device.
Why PDF Bear Online Tool?
I know you're wondering why I chose this tool over other converters out there, well, its features hooked me big time! The process of converting doesn't eat much of your time, and you can reduce the size of your PDF file with two choices: Medium Compression or Strong Compression.
There's more, buddy! If you're thinking about your safety and privacy, this tool provides you tight security by automatically deleting the documents you've copied and pasted on their website.e If you still have questions on your mind, you can directly visit their website and read the Privacy Policy to clear your doubts. By the way, this tool is also accessible using Mac, Windows, and Linux Platform.
Read Also: How to Edit a PDF File?
Premium Version Vs. Free Trial
The disadvantage of settling with a free trial is that you only have limited access to its features, whereas, in the Premium version, you can do unlimited tasks without getting worried it might stop performing. If you opt for PDF Bear's premium version, you can do endless tasks with great file sizes, have the maximum compression of files, plus ads will no longer pop up that annoys everyone most of the time.
PDF Bear was a costly tool before; its original price for a one-year subscription is 299.99 USD, today, they give it for as low as 99.99 USD. If you're not yet ready to avail of their one year offer, you can have their monthly subscription for as cheap as 14.99 USD.
Takeaway
Converting files is so easy if we have the best converter! Gladly, technology provides us a reliable and worth risking converter; through the PDF Bear online tool, we can now turn our files into PDF files without any hassle. Enjoy converting, Buddy!