The Best Way to Maximize the PDF Features for Your Electronic Files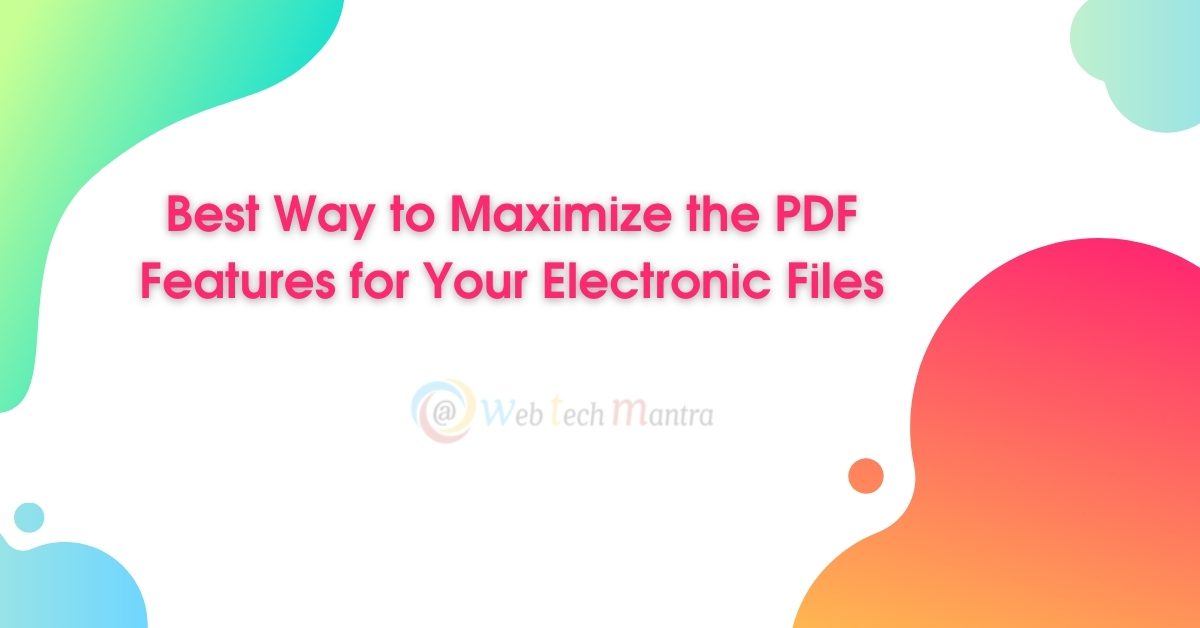 You might be dealing with tons of electronic files at work or school every day. It could be tiring to manage these files for any updates and possible revisions. PDF features you may find it exhausting sometimes to retrieve a particular document from a disorderly folder in your hard drive. Thanks to pdf, and you can get rid of this trouble next time.
Thank you for reading this post, don't forget to subscribe!
PDF technology has been widely used in different industries around the world. It has different helpful features that will surely give you useful management and organization assistance that you need for your digital documents. Read the details below to know the best way to maximize the advantage of using pdf features for your electronic files.
View and Update
Files in pdf have small storage and don't consume much memory on your hard drive. That's why pdf files are ideal for downloading on your smartphone. If you have many files that you need to access almost every day, it'll be better to convert them to pdf and save them on your phone. Accessing these files will be much more convenient using your smartphone.
Moreover, if you have files that need you to apply some revisions, pdf technology will let you process some changes and save anything in your hard drive. File conversion is also available. You can convert a particular pdf document to a different format that you need. You may convert word to pdf, pdf to png, or pdf to jpg free. It depends on what file format you'll need.
Read Also: How to Edit a PDF File?
Combine and Uncombine
Another important thing that you need for your electronic files is an effective organization. Sorting all your files in an orderly manner will make your job done efficiently. Hence, pdf technology has a unique feature in helping you out organizing your electronic files. The first thing you need to do is to process file classification.
You need to group files based on the date they were created, or according to their purpose. After a thorough categorization of your files, you can start merging similar ones. You can combine up to ten similar documents into one single file.  If you have thousands of files, it'll surely become hundreds and save much space in your folder.
If you want to take one file out, you can also process that with pdf technology. You can also delete a particular page on your document. These organization skills are made possible due to pdf technology. Hence, you can maximize this pdf feature to apply for your existing electronic pdf files for your convenience.
Save and Protect
Among all your electronic files, there might be some documents that have high importance and confidentiality. These files must not be shared with anyone, and only selected people must be given access to these files. Hence, you have to create passwords for security purposes, and pdf technology has a feature for file protection.
Pdf allows you to set up a personalized password for documents that have sharing restrictions. That's why you won't be apprehensive next time if you accidentally shared these files with anyone. Pdf won't allow any person to access the files without the password. Hence, your files are safe and significantly protected because of the password set by pdf technology.
Read Also: HTML to PDF
Takeaway
Whether for school or work, documents are important properties that must be managed well, organized efficiently, and protected at all times. If you have many documents that you deal with every day, it's recommended to use pdf. Many people have used the technology and successfully managed and organized their files effectively and efficiently.