4 Collaborative Technologies and their Benefits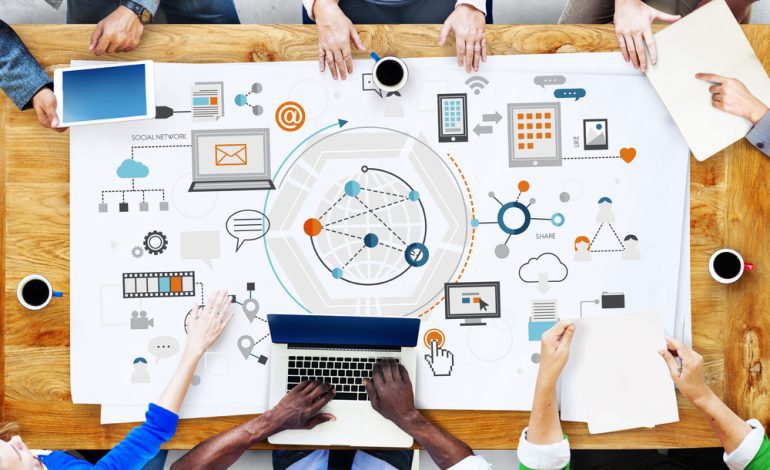 The quest to leverage effective communication and collaboration within a workforce is compelling businesses to explore Collaborative technologies to maximize the benefits. And with the recent COVID-19 pandemic, the shift to remote work has compelled workers to join forces virtually!
Communication is one of the components of collaborative technologies that a business requires along with a few more. The technologies not only include messaging tools but also knowledge management systems, resource management tools, cross-functional team formation, maintaining client relations, etc.
Understand which collaboration technologies aid you in maximizing their benefits;
Benefits of Collaborative Approach
Collaboration fuels teamwork enthusiasm and establishes an atmosphere where the contribution from each member collectively empowers an organization to achieve success. It fuses a cohort of workers and lets them devote their creative and strategic thinking towards the planning and execution of work, as opposed to spending more hours on laborious work.
The collaborative approach blends individual efforts from diverse talents across the organization resulting in continuous innovation i.e. Kaizen, which is Japanese for improvement. As a matter of fact, recognizing diverse talents from different teams in your organization itself requires collaboration between the teams as a prerequisite. It binds everyone in a chain that aligns with the organization's goals.
Further, when everyone strives to achieve a common goal in a well-defined network, the communication gap is eliminated resulting in higher productivity. Also, timely guidance from senior delegates improves the clarity of performing the tasks and individual performances.
Know About: remote team management software
Collaborative technologies have improved the lives of the telecommuters who work from a distant location. It allows them to check-in at their convenience without having to endure long commutes. That too, with the robust knowledge management systems eliminating silos from the organization. Telecommuters can access vital information with the help of knowledge management systems and strong communication.
Types of Collaboration Platforms
To enjoy every aforementioned benefit, the proactive use of collaboration technologies mentioned below is a pragmatic solution. As promising as these benefits sound, it comes down to finding the right mix of tools that not only promotes data migration but also ensures no important task or update is missed by concerned team members.
Resource Management Tools
For large enterprises consisting of thick layers of hierarchy and a huge workforce, collaboration is easier said than done. Assessing the resource engagement onto different tasks and tracking progress may require several resource managers and assistants. Not to mention, with the adaptation of agile project work-frame, the formation of cross-functional teams has become a norm that's extremely difficult to manage sans a powerful collaboration tool.
Once you start using a resource management software, you'll find it much easier to find and assign tasks to competent employees whose availability across the calendar is already synced to the schedule. Knowing what available members are working on lets you gauge the workload by size, priority and deadline, helping to improve the operation workflow efficiency.
Communication Technology
Messaging tools are pivotal in collaboration by creating the facility to interact on a one on one, group or team-based channel. Moreover, messaging softwares are designed to establish informal communication within an organization emphasizing on the work routines, innovation, and team bonding. Messaging tools like Slack are primarily asynchronous technology connecting people from any part of the world to a network that remains functional for all the time zones.
In large enterprises, filling the communication gaps itself becomes a task without a proper messaging tool. Hence, the purpose of using the messaging tool is not only limited to informal engagement but in also aligning the task-oriented discussions to dedicated threads so that everyone in the team remains on the same page. Following a similar approach, you can establish an enterprise-wide interaction channel in everyone, from top-level management to authorized members can participate. Look for these features to get the maximum benefits from a messaging tool i.e. email integration, task alignment, multiple thread creation with access authentication, responsive interface, etc.
Conference Technology
Conferencing tools are more inclined to the synchronous collaborative channel establishment than asynchronous. For example, Zoom or Google Hangouts are useful for conducting the real time audio/video conferences which makes them of the synchronous type. However, no one can deny the latest development in conferencing tools that allow asynchronous communication eliminating the need for messaging tools altogether. Hence, organizations that extensively operate on real-time presentations, conferences, discussions, and meetings prefer this technology.
Implementing conferencing tools in your work environment can have considerable benefits if you require a synchronous collaboration network. For this reason, teams working in different time zones have to schedule conferences in a tight window of time when their work hours coincide.
Knowledge Management Systems
Organizations essentially need collaboration to establish the team working which is complemented by knowledge sharing. Members in the position to teach and guide others enable a culture of learning that prevents old issues from seeping into new, future work. After all, a previous mistake is a lesson learned! In earlier times, every project plan or the business ideation required manual efforts of drafting the information on a paper. This format of documentation required extensive maintenance to keep it intact and usable over a long period of time. However, sharing the information in that form often consumed more time and questionable discrepancies.
Fortunately, we have advanced knowledge management technologies that not only promote information transferring but also maintain security. You can easily utilize the knowledge management system to your benefit with its key features like capturing, categorizing, extracting, assessing and delivering the information. Additionally, these software technologies majorly function on the content distribution principle by abiding by data security requirements with end to end encryption. In this manner, you can simplify digital content transfer processes with access limited to authenticated users. Ultimately, this technology is developed to eliminate the silos and reduce time being wasted unnecessarily for information transfer processes.
We have all learned and experienced the power of working together as a force. With an ever-growing workforce, it is essential that enterprises get used to the collaboration technologies.
In the wake of the current Corona pandemic, social distancing is the only option we have. And while we can't practically bring everything to a halt, a better alternative is to go remote and collaborate online to keep up with our work and colleagues. How beneficial have some or all of these tools been to your firm? Let us know how work management got easier to manage from the remotest of locations!
Author Bio: 
Mahendra Gupta is a PMP certified consultant for Saviom Software. His experience in technical project management, workforce planning and consultative sales improvement has enabled businesses around the globe to capitalize on resource efficiency. Follow his work here.