Best Action Camera Microphone Attachments in 2023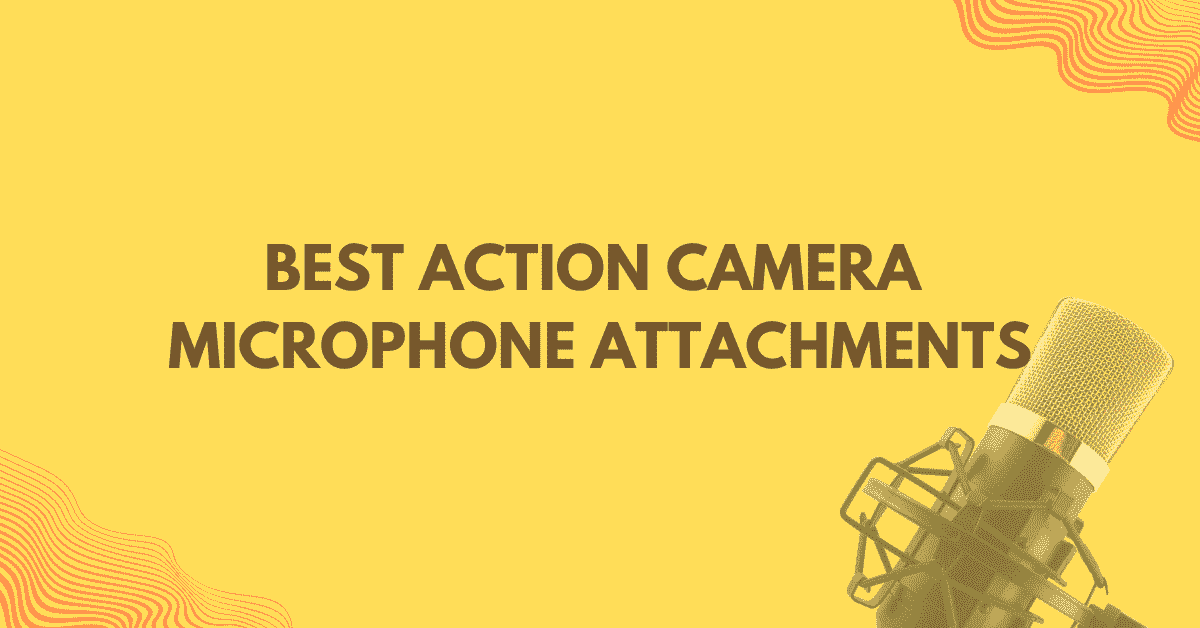 DSLRs and action cameras can produce great video and produce high-quality audio. Due to the rapid growth of social media, videos are becoming more popular. Action camera microphone attachments are becoming increasingly popular. Compact action cameras are a great option for budget-minded users. It is similar to other cameras but not bulky.
Thank you for reading this post, don't forget to subscribe!
While you can always start with your smartphone camera, the versatility of an action cam is far greater than that of a smartphone. Action cameras are more durable. Many action cameras come with waterproof cases. It also has great stability.
How to Attach an External Microphone
First, you need to get an audio jack. Your audio signal must be connected to your action camera. Most of the action cameras lacking in an external microphone input port. To use an external microphone, you'll need an adapter for your microphone. However, some action cameras are older and less expensive, so there might be other options.
Compact usability is the priority of action cameras. These external microphones can all be connected to an audio recorder. But that's not the main focus.
[Read More: Bose Noise Cancelling Headphones 700 Review]
How to Choose Action Camera Microphone Attachments
Power Supply
When choosing your camera microphone attachment, choosing the right power supply is important. There are many options available:
Batteries – Inbuilt batteries are the best choice for recording short outdoor sessions, especially in areas without electricity.
External power supply – Microphones with an external power source work well for recording long sessions.
Connector Plug
There are many types of connector plugs.
Tip Sleeve- There is 1 Pin for mono signals
Tip Ring Sleeve- There is 2 Pin for stereo signals
Tip-Ring-Ring-Sleeve- Also, used 3 Pin for mic and audio signals
Budget
The features you want and the amount you are willing to spend will determine your budget. A basic microphone might be $30, and an advanced mic with wind reduction or directional audio may cost $100.
Choose the best microphone attachment for your action cam based on your needs and budget.
Best Action Camera Microphone Attachments
We will discuss the top 7 action-on-camera microphone accessories in 2022. We'll be looking at the specifications and how each microphone attachment performs compared to other attachments.
1. Sennheiser MKE 400 Shotgun Microphone
Sennheiser MKE 400, a lightweight, small shotgun microphone, is designed to be used with camcorders, DSLRs, and portable audio recorders. It's lightweight and portable, so it is easy to transport. The super-cardioid pattern helps reduce background noise. The low-cut filter reduces wind noise.
Features of Sennheiser MKE 400:
Pattern for super-cardioid pickup
Frequency: 50-2000 Hz
Connector: 3.5mm
Dimension: Diameter: 126x67x37 mm
Built-in filter
Max Sound: 132dB
Lightweight and small
Price: Rs14,850.00
2. Boya BY mm1
This mic is the most affordable shotgun microphone on the list. This microphone is a cardioid. This microphone is available for around $30, but it's an incredible microphone. This is even comparable to the rode micro. The battery is not required to run Boya by mm1. It's easy to plug and play as well as ideal for vlogging. It works with smartphones, camcorders, and DSLRs.
Features of Boya BY mm1:
Use smartphones, DSLRs, and PCs to work.
Consumer camcorders etc.
Ideal for video-making, vlogs, and other purposes.
Portable and compact
Polar pattern with a cardioid
Plug and play, no battery needed
Included: 3.5mm TRS/TRRS cable, furry windshield, and carrying pouch
Price: Rs1,489
[Read More: How To Choose The Best Microphone For Your Smartphone]
3. Rode VideoMic GO
The Rode VideoMic Pro VMP professional shotgun microphone fits perfectly on any DSLR or action cam. Although this mic is expensive and a bit more expensive, it's well worth the investment for its incredible quality and features. This mic is essential for recording high-quality audio for your videos and recordings.
Key Features of Rode VideoMic GO
Frequency: 40Hz – 20kHz
Connector: 1 x 1/8" / 3.5 mm TRS
Wired Connectivity Technology
Batteries: 9 V
Dimensions: o. 3.94 x 6.69" / 100 x 169.93 mm
85g
Price: Rs6,999
4. DJI Mic
The DJI Mic was explicitly made for the DJI Osmo Action. DJI Mic comes with a cold-shoe adapter that allows you to use it with any other camera, including your action cam. There are two microphone units and one is the receiver. Also, they can be stored safely in a sturdy charging case. This makes it easy to transport, pair, and charge the units.
The transmitters can be attached to clothing. They also come with a magnetic mount if that is not possible. The battery lasts for 15 hours and is far more durable than any action camera. The dead cats included will reduce wind noise. DJI Mic allows you to record audio that is equal in quality to your videos. This mic is ideal for creators who want to get an edge over their competitors and raise the quality of their content.
Key Features of DJI Mic
Dual-Channel Recording
250m Wireless Transmission
You can have up to 14 hours of onboard memory
Compact and portable
Wide Compatibility
Battery life of up to 15 hours
Price: Rs34,990
5. Sairen VM-Q1
Positive reviews are being given to the VM-Q1 microphone. It is very affordable. It's compact and includes a shock mount, dead, and foam windshields. The sound quality is mixed. At least one reviewer noted that the microphone's cables were too noisy. However, with an upgrade to the line, the sound quality is excellent for the price.
Remember that even a budget mic such as this can significantly improve the audio quality of your video recording. You won't be able to listen to the sound while on the move because the Sairen VMQ1 doesn't have a headset jack.
Key Features of Sairen VM-Q1
Electret condenser microphone.
Signal-to-Noise Ratio: 70 dB A-Weighted.
Frequency Response: 100Hz20kHz
Includes shock mount, windshield, and some cables
3.5mm TRS Connector Jack.
No battery is required.
Price: Rs1,558
6. Synco G2
The Synco G2 A1 wireless lavalier microphone is designed for action cams and other camera systems. You will need an adapter to connect the TRS microphone input to the Mini USB adapter to use action cams. To connect the sound from your receiver to your camera, you only need an adapter for 3.5mm jacks.
The transmitter clips to a piece of cloth that the user is wearing. The transmitter is small and lightweight, so it doesn't feel bulky. However, you can opt to not have it recorded. An external microphone can be used and plugged into the microphone input port.
Key Features of Synco G2
Best economy wireless microphone
Transmitter range greater than 100 feet
You get value for your money
Price: Rs21,999
7. Movo VXR10 Pro
Movo VXR10 Pro shotgun mic is shock-mounted and compact. You can connect the mic to an action camera or smartphone using cables. The mic also includes a pouch for travel and a dead cat windshield.
The Movo VXR10 Pro produces a richer sound and has a lower high-frequency response than its Rode counterpart. This downside is that Movo can pick up wind noise in windy conditions. It's not surprising that the product doesn't have a high-pass filter, gain control, or other controls at this price. However, you have a headphone socket to monitor your recording.
Key Features of Movo VXR10 Pro
Supercardioid polar pattern
20Hz-18kHz frequency response
Sensitivity 36dB
78dB signal-to-noise ratio
Connections: Headphones out, line out
Price: Rs5,695
[Read More: All You Need To Know About Video Conferencing]
FAQ's
What is an Action Camera Microphone Attachment?
The action camera microphone attachment serves as a compact, on-camera audio solution designed to enhance and amplify the audio quality of your action camera recordings.
Why You Should Use an External Microphone Attachment with Your Action Camera?
To connect a camera externally, an additional microphone adapter is required, as most action cameras do not come equipped with 3.5mm audio input ports. This adapter enables the use of an external microphone by connecting a USB port to any action camera.
Conclusion
An action on-camera microphone attachment can improve the quality of your recordings. There are many attachments to choose from, so make sure you have the right one for your camera.