Types of Memory cards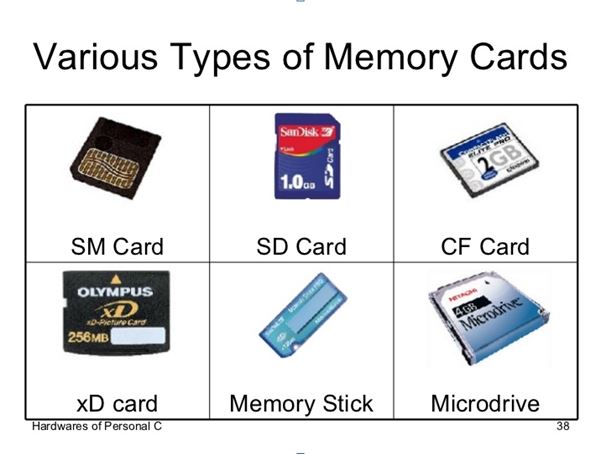 Memory cards
While memory cards are important for storages, they are available in different types and kinds.  Confused? We have you covered with different types of memory cards in the market.
Most of today's electronic devices like cellphones, digits cameras, handheld devices, and more use memory cards as a storage medium. Memory cards are non-volatile, meaning that none of its data will be lost even when you remove it from the device, and you can erase, reuse, and reformat the card. Now there are many manufacturers providing wholesale cards, Hugdiy is one of the best suppliers, if you want to bulk SD cards from the manufacturer, Hugdiy will give you the best service.
Memory cards are available in a few significant types and commonly used in electronics like a digital camera. Each type comes in different sizes.
Below are the most common types of memory cards.
CompactFlash (CF)
Launched in 1994 by SanDisk Corporation, the compact flash supports 3.3V and 5V operation with the option to switch in between both, unlike another flash memory card that can never operate at two voltages.
The manufacturer designed the CompactFlash card based on the standard of PCMCIA PC Card and supported a PCMCIA slot. The card has two different types that can accommodate several capacities:
Type I cards come at a 42.8mm x 36.4mm x 3.3 mm thickness
Type II cards feature a 42.8mm x 36.4mm x 5.5 mm thickness
Secure Digital Card (SD card)
You can use SD cards in several portable devices, including digital cameras, handheld computers, video camcorders, mobile phones, and audio players. Available since 1999, you can now find SD memory cards in ranges of capacities between 16mb- 1GB, with more to come.
Most SD cards typically weigh 2 grams and measure an estimated 32 mm x 24 mm x 2.1 mm.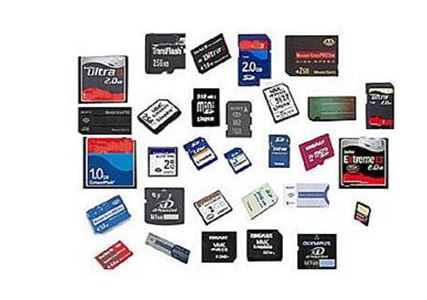 MiniSD Card
After SD cards (secure digital card) came into limelight, the manufacturer introduced the miniSD Memory card to meet the mobile phone market demand.
MiniSD card delivers the same result with the SD card; however, it is smaller than the typical secured digital (SD card).
You can generally find the MiniSD cards in most new phones that come with features like downloading and games, digital cameras, specifically the mobile phones that need these MiniSD cards to meet their data storage requirements. They mostly provide storage of between 16MB-256MB.
MicroSD
Most common among users of mobile phones and hand-held devices, MicroSD card comes at a capacity of up to 4GB, and it is estimated at 1/4th of the SD card sizes at 15mm W 11mm W 0.7mm.
This card is also the smallest memory card you can ever find on the market.
You can buy card adapters to your Micro SD cards, which allow it to support SD and miniSD slots.
MultiMediaCard (MMC)
In 1997, SanDisk and Siemens introduced the MultiMediaCard, which comes at 32 mm x 24 mm x 1.4mm is usually used as an alternative to SD.
MMC features transfer speeds of around 2.5MB/s and usually inserted in SD card readers.
Sony Memory Sticks
This type of memory card is light, portable, and supports a variety of devices like recorders, digital cameras, and more. You will need an adapter to use Sony Memory sticks with all products that are compatible with Memory Stick PRO.
Memory Stick PRO: 50 mm x 21.5 mm x 2.8 mm.
The Memory Stick PRO format features an 8-bit interface with a 480Mb/s transfer rate. They are commonly found in digital camcorders and high MP digital cameras.
SmartMedia
Launched in 1995 by Toshiba, SmartMedia cards have now become obsolete even though it has been popularly used for over five years. They come in size 45 mm x 37 mm x 0.76 mm and are available in
16MB, 32MB, and 128MB versions. Although it has become obsolete, many users of old devices with 128MB.
xD-Picture Card
Also called 'Extreme digital,' xD-picture card is a flash memory card commonly used in digital cameras. It is available at an ultra-compact size of 20mm x 25mm x 1.7mm. Fuji films developed the xD-Pictures, which are now used in several digital camera models from Fuji film and Olympus.
Secure Digital High Capacity Card SDHC
With a maximum of 2GB capacity, the standard 2GB was no longer enough, so the manufacturers decided to with the latest specification with a larger capacity card. The new standard came into limelight in 2006. Not only were they developed to increase card capacity to over 32GB, but also to improve the overall performance, especially in terms of faster write and read speed.
The standard was called "Secured Digital High Capacity," which refers to the card's increased capacity. Unfortunately, many older SD card readers could not read SDHC cards, until manufacturers updated Ghent firmware to support the SDHC standard. Meanwhile, SDHC memory cards can read both SDHC and SD memory cards.
You can reasonably find SDHC cards on the market, although the higher SDXC cards may dominate the market.