Things to need to increase website engagement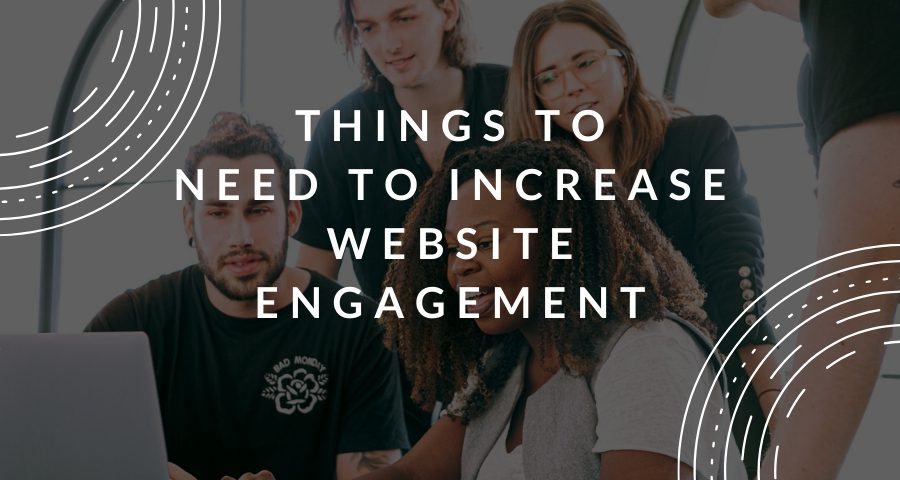 Marketers cannot do without the website these days. When you are using your website as a primary means to gather leads, you must always be mindful about user engagement. You would not want the website visitors to bounce off your site right away. Instead, using enticing content, you would like them to understand your message and use the social sharing buttons and share the content with their friends. It would be best if you interacted with them using forms and CTAs.
Thank you for reading this post, don't forget to subscribe!
Keeping the website visitors engaged is a big challenge faced by content managers. And content does not follow any set formula. It is more of a hit and trial method accompanied by a constant assessment that the content managers deploy. Having an overview of the number of users who continue to stay engaged is also an indicator of how engaging the website is with the target market. In this article, we will learn about some of the strategies that need to be deployed to increase website management.
Make the website trustworthy
Visitors to a website feel that consistent social media activity makes the website credible. Again, companies that are active on Instagram are known to be more reliable than others. Other ways to prove your trust is by having trust seals and testimonials from your clients. Content managers must also investigate the aspect of grammar and composition as visitors abhor websites with plenty of grammar and punctuation mistakes. If you are an e-commerce website, you must ensure that you include a variety of payment options.
Having an SSL certificate helps
Being an HTTPS website ensures that the visitors to your site know that it is reliable. The HTTPS protocol ensures that the communication taking place between your web server and the web browser of the visitor is encrypted. For this, you need to procure an SSL certificate. You need to do online research and understand which certificate is best for you.
Moreover, if you have an e-commerce website, you need to adhere to the PCI/ DSS guidelines. According to these guidelines, you need to have proper checkpoints in place to prevent a data breach. To adhere to the guidelines, your website must have an SSL certificate. If you have multiple domains and its unlimited sub domains than Multi Domain Wildcard SSL Certificate is a preferable solution for your website
Create a storyboard for your webpages
Before creating content for your website, your content manager must assess the target personas of the website visitors. Based on the demographics of the target personas, you must create the content strategy. It must have content that will be able to entice the target market to your website. Apart from bringing new visitors, the content should be gripping enough to keep the visitors on the website for a longer time. Your content writers must have a friendly easy-going overtone based on whether your website can have fun content.
Is it easy to navigate your website?
We do know that having a great UX will ensure there are more visitors to our website. But, do visitors have any problem navigating through the site? It is time we ensure that website visitors have a seamless journey through the website and can find the answers to their queries quickly. The global best practice for websites is to have a simple navigation menu. Besides, related webpages must be grouped under a single header. For blog pages, you must divide it into various categories to organize the information that is requested.
Is the website user-friendly?
These days, most visitors use their smartphones to visit your website. The website must be mobile responsive, and it will improve your SEO rank also. Else the visitors will also be driven away. You must also ensure that the website loads fast too. Users are known to abandon visiting sites that take too much time to load. According to a study, around 40% of visitors will not proceed to a website if the site takes much time in loading. Websites are increasingly using a chatbot feature to allow users to quickly get a response to their queries. At least, you must have someone online to promptly respond to the questions from the website visitors. Most of these queries usually come from new leads.
Have more interaction with visitors
Having a robust search feature allows visitors to get to the bottom of their search very quickly. It also improves the reliability of the website and ensures visitors return to the site. You may also hold contests and sweepstakes that could probably open the floodgates of website visitors. You may give out special offers for social media activities, referrals or writing testimonials and product reviews.
Conclusion
Website engagement occupies centerstage for marketers as it proves to be a goldmine of leads. If you have gripping content, visitors will return to your website. It all starts with having an SSL certificate to enhance the trustworthiness of the site. Make the website attractive but do have a robust content strategy.