Top 14 Temporary Email Generators | Free Disposable Emails
Quoting your official email address to one and everyone is not the right idea. You may never know the intention of the other people. Many companies start spamming emails with offers and other promotional information once they come to know about your email ids. It is always advisable to use a temporary email instead.
Thank you for reading this post, don't forget to subscribe!
You can quote it at all places without any worries. But it is not recommended to display your official email id everywhere. When your email inbox is full, you might miss out on tracking important official communication or other sensitive emails that come from your bank or office.
It's better to quote a temporary email id at all places while you should use your official email id only for professional purposes. It doesn't matter whether your temporary email address is bombarded with spammy emails, mailing list emails, newsletters, or other useless stuff because you know that your official email id is still safe and without any unwanted emails.
Why Use Fake Email Generators?
Fake email generators offer a one-stop solution to staying away from unwanted emails while protecting the official email inbox. Using any fake email generators, you can easily create a temporary email id and use it wherever you want to for non-official and non-professional purposes.
At present, there are hundreds of fake email id generators through which you can also create your own throwaway email id to serve an immediate purpose. Temporary email id generators are in great demand when it comes to email marketing or newsletter subscription requests.
In this article, we will explain the top reasons why you should also get a fake email id along with other relevant information on top temporary email generators. At the end of this article, you will understand how temporary email ids work, how you can create one for yourself, and which fake email generators will be most suitable for your needs.
4 Reasons to Create Your Temporary Email Id
As mentioned above, a fake email generator refers to a useful tool that helps you obtain a temporary email id to serve an immediate purpose. It helps you hide your name and company info.
Email Testing: Using a temporary email id comes in handy when you wish to check the utility of a certain software feature or app. For example, if you want to know how your newsletter subscription will be intimated to your users, you can use a fake email id to test such details.
Apart from a newsletter subscription, you can also use a fake email id for various other web app functions like downloading data, signing up, troubleshooting, and quality assurance purposes.
Privacy Purposes: While accessing some features online, you may require using an email id. In such cases, you can create your own fake email id, and use it for email confirmation, form submission, or various other purposes like downloading PDFs or e-book. Instead of using your actual email id, you can use a temporary id for such purposes.
Online Security: It is not always a good idea to give your personal email ids to strangers or persons who you may be meeting for the first time in your life. You can instead use a temporary email id for a variety of reasons like anonymous forum posting, registering yourself on dating websites, publishing your classified ads online, and other reasons. It helps you stay safe and secure while ignoring the effects of spammy emails.
Unwanted Emails: Temporary email ids reduce loads of spam in your actual email id. You can give your temporary email ids to everyone. Even if online marketers flood your temporary email inbox with hundreds of spam, still your personal email id remains safe and secure. Using a temporary email address is a good way to minimize the amount of spam that you may receive in your actual email id inbox.
[Read more: What Is MIS Webmail? | Managed Internet Service Webmail]
Best 14 Fake And Temporary Email Generators to Use in 2021
Temp Mail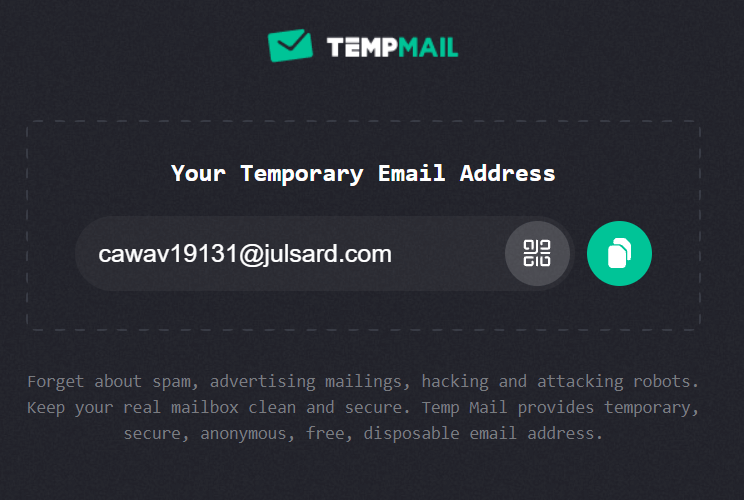 Temp Mail is one of the popular fake email id generators. Anyone irrespective of their geographical region, age, gender, and occupation can easily use it to get a temporary email id.
Features at a Glance
It's completely free.
Get a professionally sound domain name with your email id.
A temporary email id stays active for 60 minutes.
You can easily sign up on social media sites like LinkedIn, Instagram, and Facebook using its email id.
It comes with a simple user interface.
Its QR code-enabled verification system helps you get back to your email id again if required.
You can get access to TempMail on your iOS and Android handsets.
Subscribe to its paid features to obtain premium services like customized domain names, external email storage, and multiple inbox options.
Website URL: https://temp-mail.org/en/
Guerilla Mail
Over the last few years, Guerilla mail has earned a lot of new customers. It is one of the oldest fake email generators in the market. Guerilla Mail was launched in 2006 and has kept on increasing its users.
Features at a Glance
It is safe and reliable.
It has over 15 years of experience in this field.
Slightly outdated interface, but still workable.
It is absolutely free to use.
Allows you to create unlimited fake email addresses.
You can even send and receive emails with attachments.
Additional Features
It allows you to create your own personalized domain names.
It automatically deletes emails after one hour for data privacy purposes.
You can save certain email addresses to get back to them later.
Website URL: https://www.guerrillamail.com/
[Read more: Best Budget Smart Watches in 2021 ]
TrashMail
Trash Mail comes in handy if you are looking for a dependable fake email generator. It not only comes with a simplified user interface but it also allows you forward all emails to your actual email id as well for future use, if required.
Features at a Glance
It was launched in 2002.
You can use its upgraded version to use its premium features.
Use it for unlimited emails and messages.
Website URL: https://trashmail.com/
OwlyMail
Owly mail is an advanced temporary email generator. It is also fully compatible with subscribing to various OTT platforms, including NetFlix, Disney Hotstar, and others. You can even use it with Twitter, Instagram, and Facebook to open your new social media profile.
Features at a Glance
Get a notification and alert for every new message you receive on your temporary email id.
The temporary email id is reusable and you can even use it later.
You can browse it on Google Chrome and Mozilla Firefox.
Website URL: https://owlymail.com/
EmailOnDeck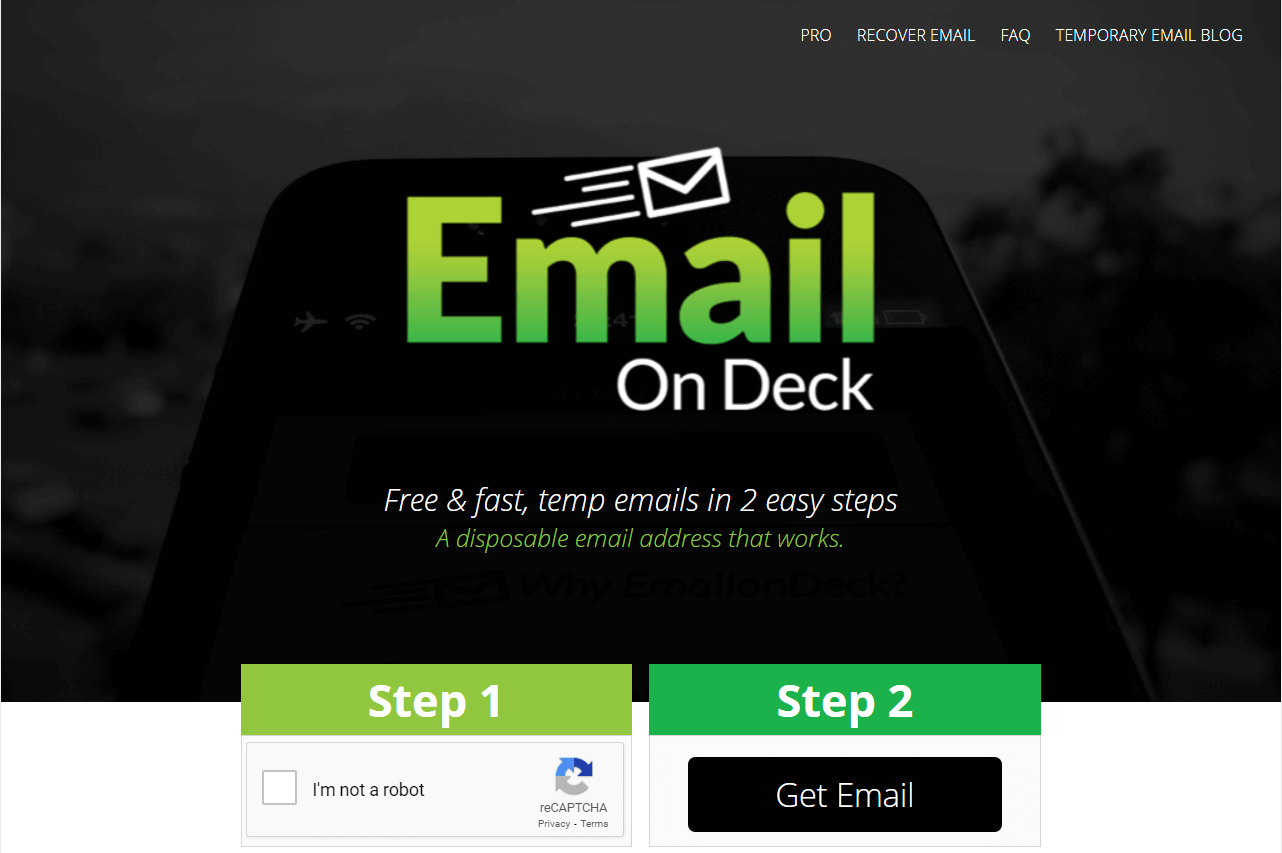 EmailOnDeck is a free temporary email id generator. You can get your new temporary email id within just two-three minutes. It offers a superfast method of getting your own temporary email id.
Features at a Glance
Get an advanced technical user interface for superfast communication.
It has more features and functions.
All your old emails are deleted automatically.
Subscribe to its paid subscription plan for enhanced services.
You can buy its premium services by making payments through Bitcoin or cryptocurrency from your cryptocurrency wallet.
Website URL: https://www.emailondeck.com/
10minutemail
If you are looking for instant email generators, use 10minutemail. As its name already indicates, using this email address, you can do everything that you want to within 10 minutes. It is a disposable email id that is useful to get sign-up confirmation messages while subscribing to any online newsletter or social media updates.
Features at a Glance
It randomly generates email ids with attractive domain names.
You can extend the countdown to another 10 minutes if needed.
Use it normally like any other email id.
Website URL: https://10minutemail.com/
Fake Mail Generator
Fake Mail Generator is useful for marketers and people who expect to receive an email reply within the next 24 hours. Unlike other burner email addresses, this email id stays active for 24 hours.
Features at a Glance
You can activate it instantly.
Country-specific domain names are available.
Get a feature-enriched home page with various options.
Website URL: http://www.fakemailgenerator.com/
Throwaway Mail
Throwaway Mail is a temporary email service provider, which generates a temporary email address instantly for you. Once you visit its homepage, you can receive an email address.
Features at a Glance
Get a temporary email id instantly on the home page.
The email id will belong to you only. Nobody else can use it.
It stays active for two days.
Website URL: https://www.throwawaymail.com/
[Read more: How to Fix Outlook pii_email_5ea5904f0f81c6bf4718 Error Code]
Mailinator
Mailinator is an instant email id generator, which companies use to check their web applications and other key functionalities. You can even use it for signing up on websites and even interacting with your customers. The email id works normally like other email services with both sending and receiving options.
Features at a Glance
Send mails to your recipients or customers instantly.
No registration is required for using it.
Use its domain name @mailinator. com anytime with your temporary email id.
Website URL: https://www.mailinator.com/
MailCatch
MailCatch is a disposable email service provider. It has a super intuitive mail creation system. Simply use your username and use @mailcatch.com to get your new email id. Though its general services are free, you can obtain its premium services by subscribing to its paid plan.
Features at a Glance
Your username must be up to 25 characters.
It removes email ids where there's excessive load on its servers.
You can add its extension app on the Mozilla Firefox browser.
You can use it as many times as you need—absolutely free.
Website URL: http://mailcatch.com
Email Generator
Email Generator creates random disposable email ids for its users. These email ids stay active as long as the email window stays open. However, you can also use your own username to create an email id.
Features at a Glance
The system automatically intimates you when you receive a new mail.
Get the option of choosing your own domain name easily.
You can even receive incoming calls while handling this email.
Website URL: https://generator.email/
YOPmail
If you are tired of constantly getting spam messages in your email inbox, try YOPMail for all non-essential communication purposes. You can use its email id for any sort of registration or sign-up process. All your email messages stay intact for eight days.
Features at a Glance
Get your disposable email id within a few minutes.
It doesn't delete cookies and caches.
You don't need a password to open an email id here.
All its services are absolutely free.
Website URL: https://yopmail.com/en/
Emailfake.com
Emailfake is a good option for opening additional social media profiles or receiving confirmation emails for any other online subscriptions. Using a disposable mail id from Emailfake.com helps you keep your personal email address safe and away from spam and unwanted messages.
Features at a Glance
Use a username and domain name as per your own choice.
Use its service to create multiple email ids.
The email id can be used for signing up or logging in purposes.
The temporary email address stays active for 230 days.
Website URL: https://emailfake.com/
Dispostable

Dispostable is a good fake email alternative. It creates a disposable email id in just a few seconds. You can use any email id and username as per your choice with @dispostable.com as the domain.
Features at a Glance
It offers an attractive user interface and navigation option.
You can generate multiple fake email ids using its services.
It suits both beginners and experts for handling multiple email profiles.
All users can use it for free without any cost.
Website URL: https://www.dispostable.com/
BLUR System
The BLUR system is an application that makes it simple to conceal your email address, credit card number, and cellphone number. Your personal data is organised by this programme so you don't have to keep track of it.
Features:
You will receive calls from the hidden-phone either as a voicemail or text message.

Your mail address will be privately routed to a site with a disguised email.

Keep your identity safe while easily carrying out online transactions.
It offers a natural user interface.
Website URL: https://dnt.abine.com
FastMail
You can use a special temporary email account using FastMail to protect yourself from spam and data breaches. FastMail and 1Password sync, allowing you to receive mail at your new address right away.
Features:
Gives you the option to make masked email addresses for each website.

Allows you to turn off emails from undesirable websites.

On macOS, iOS, Windows, Android, Linux, Chrome OS, and Command-Line, it can be downloaded.

It has a sophisticated security mechanism that includes PAKE, authenticated encryption, etc.

Offers customer help 24 hours a day.

offers a 14-day free trial.
Website URL:https://1password.com/
How Can I Open a Fake Email Id?
Follow this step-by-step tutorial to get your fake email id.
Log on to any of the above fake email generator URLs from your Google Chrome browser.
Confirm your identity as a human and proceed.
The fake email generator site will instantly offer you an email id containing a domain name too.
Use the fake email id for the specific purpose up to a certain period after which it will automatically expire.
As long as the email id is active, you can send and receive emails.
How do I Recover Temporary Mail?
You can't. Temporary emails can be used for a specific period only. You can't use them after the expiry of the said period. Once you close the tab and delete your cookies, it becomes impossible to retrieve such an email id.
However, if you have the "email token" you can try logging on to your account as follows:
Every temporary email id comes with a 32-digit alphanumeric token.
Email token will appear at the bottom of your page.
Note it down and keep it safe to get back to your temporary email id again.
Next time, when you have a problem logging into your temporary email id, simply enter the token number to recover your email id.
But this feature won't work, if the temporary email server has already updated its database.
The Conclusion
Considering the number of spammy emails that we receive every day, it would be ideal to use a fake email id for general purposes. You can strictly keep your actual email id confidential and for official purposes only. If you want to get a temporary disposable email id, choose any of the above temporary email generators as mentioned above. Mailinator, Trash Mail, Dispostable, Guerilla Mail, and YOPmail are some of the best fake email generators in 2021.
FAQs (Frequently Asked Questions) 
How long does a temporary email last?
Temporary email ids last from 10 minutes to 48 hours depending upon the service providers. Some fake email service providers allow users to retain their temporary email ids up to 230 days.
Are temporary emails safe?
Temporary emails are fully safe. However, you should not use the email id to trouble others. As long as you are using it for legitimate purposes, it's perfectly alright to use a temporary email.
Can I use a fake email generator for personal and official purposes?
No. It is not recommended. These email ids expire within a few hours to days. They don't provide unlimited validity that other email service providers like Yahoo mail, Gmail, Gmx, Microsoft Outlook do.