How to Share Your System Screen Remotely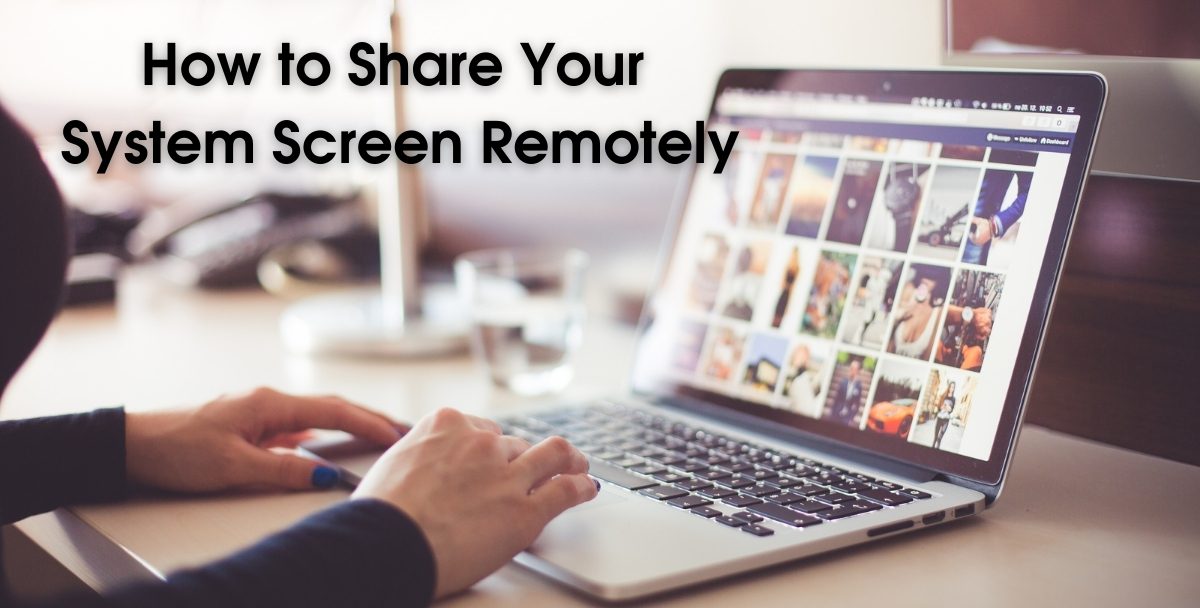 Screen sharing is the most efficient and simple way to integrate the company's areas at work, in a video conference session or while having training. Users can enrich their experience by sharing what is happening on a computer's screen to take the information or specific data they need, or even find a person specialized on the topic they are in, and there are ways to do it without sacrificing privacy. An unexpected system failure? Help and security were never so easy to get!
Thank you for reading this post, don't forget to subscribe!
Making Remote Screen Access Impact on Cybersecurity
Online screen sharing software systems are communication channels between employees and attendees who connect to a meeting remotely to access their PC or Mac screen to see what they are presenting in real-time with the purpose of virtually accessing audio-visual content in high definition. Is this yet a reliable channel?
System screen sharing is definitely a feature to prioritize pointing to IoT and, as is the case with any technology at fast upgrade path, support must go along with it; as you know, pc technicians have several ways for gaining remote PC access to troubleshoot issues. This fact raises one doubt in many users: Does remote access imply any risk on cybersecurity? The direct answer is: Yes. Data Leak causes are a common topic in forums nowadays, due to the increase in remote work and the expansion of online activity, a scenario that calls on companies to apply their remote marketing ready to squish the juice out of it, serving the end-user but harvesting many data as well. So much data on the fly for so many interests.
By following the right and safe remote screen sharing method, not only you are diving into an amazing integrative state, a dynamic workspace, but you are reaching a next level of optimization, sharing cohesive participation among the company's areas. Tailored solutions and features are on their way to you; in the event of system failure, you can get effective help from the support area by handing off control of your desktop and pc to a specialist on the other end of the live connection. This grants you the possibility of finding and fixing once and for all whatever the issue or malfunction is happening on your actual session. By safely extending remote control to your pc, you will be calling to an end those headaches while saving you and your company lots of money on the drain.
Taking Your Work Experience from workplace to workspace
Businesses are now benefiting from an entirely new online sharing concept to face the new dynamics in the workplace, it has been brought by systems like WebEx Meetings, a very popular tool that goes a mile ahead in terms of efficiency, proficiency, flexibility, and collaboration between workers. In this way, screen-sharing professional systems have upgraded the virtual collaboration concept to fix the demand for practicality through fast materials exchange making a decisive difference, leveling up from workplace to workspace.
This difference comes as an entire novelty forming before our eyes, based on the way employees should behave from now on. The new profile of the employee for the new digital workspace. Documents are no longer need to be printed and sent out for a quick check out. Everyone's eyes can go to the requested document on a shared screen and lively cooperate with their workmates with no need to be bothered by opening the document on their own computer. Welcome to the new dynamic era of live enterprise collaboration!
These profile guidelines, simply put, should be:
Mindset: feel comfortable having your computer on another's hands trusting the solid grounds of the new dynamic's security level, which is benefiting the company with a never-seen efficacy level, a true dream come true. Top-notch integration of everybody's skills on new data-transfer channels is the new value and core.
Master your System Screen Sharing software: every system comes with its own features; you must know the basic similarities and differences. The most important feature is the control panel to start and end the session.
Do not open any secondary program: while in your session you must consider your computer as a community tool, in order to enhance the proficiency of this virtual environment you must close any program unrelated to your actual System Screen Sharing session.
Set up your Desktop: Your computer environment is shown on your desktop, keep it in order, avoid showing saturated elements on it, keep it sober and professional, use simple wallpaper, select and organize just the needed files, directories and documents, so that you know the exact location of your work data. Remember to move any unrequired data out to a new location, until they are required.
High Performance and Private Screen Sharing Systems
We recommend safe, effective, and private screen sharing platforms, so get ready for the best data connection flow rates while keeping your connection private, at our advice. We have three big screens in this matter:
Personal screen-sharing with family, friends, and socials (apps like Zoom, FaceTime, are good alternatives from the ones in free social networks like Facebook).
The employee at work screen-sharing, in the labor field (apps like ConnectWise, Zoho Assist, Splashtop, Remote PC, and TeamViewer, which are Remote PC access software).
The system failure screen-sharing, which involves everybody.
Before taking the matter on screen sharing, we need to point out how online content data packages must be armored, in order to gain exact knowledge the brief on the ExpressVPN vs Private Internet Access will give you a straight answer on core topics like IP leak protection or kill switches with our Nr°1 choice to get your data packages channeled through the most secure tunnel. The job of a VPN, in case you do not have it clear, is encrypting your IP address so you can wear your online persona in solid armor, and now you are all set for your screen sharing session.
When showing our screen remotely at work, we must use a professional platform. Particularly, when we are going to make a big exhibition where there will be many people watching. The objective is to avoid data leaks, keep data from filtering so no other content than the intended will end up on someone else's machine. If you are on a Mac, sharing your screen will be amazingly simple with the GoToMeeting software, just touch the screen icon on the toolbar of this great and simple software.
Finally, when it comes to securing your connection once your Screen Sharing Software is turned off, let us remind you to turn on that VPN!