Reasons about Facebook Error this Content isn't Available Right Now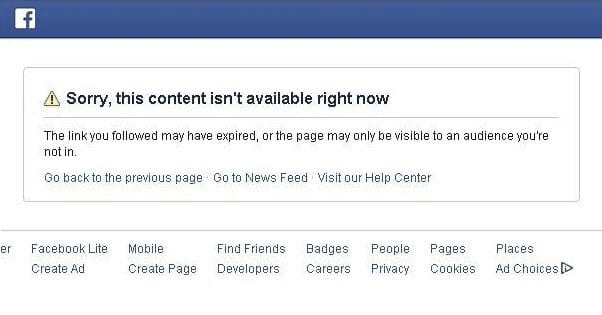 When having a Facebook account we used to get a lot of notification about different thinks about some x had to share the post, y tagged you in this post, z liked your post and 'a' comment on your post, these can be like normal notifications that indicate about what's happening in our Facebook friends network, but sometimes some weird things can happen like we will get notification about something about and suddenly if we login to our profile to check that content, we will be getting like this content is not available for now, so why did I get the notification to waste all the time in my with interest to know what my friend had shared in his timeline.
Thank you for reading this post, don't forget to subscribe!
So these types of situations can be irritating and finally, we can't say to it like "am I joke to you", of course, we can't because this is not a Facebook fault, then what can be the true reason behind this Facebook this content isn't available right now. So we can simply check out the below
Did someone just blocked me
Yes! We need to know first that did someone blocked me or the Facebook is kidding me with this error so-called this content isn't available right now facebook, so initially, we need to be clear about this, because when some block us on Facebook, we just can't see their profile, so this is clear that no one had blocked, oh I feel better after knowing this, okay we can be better with feeling than getting disturbances in the relationships.
So now we can confirm this by just getting directly to their lovely profile and if you can see your beautiful/handsome friend profile, yes they didn't block you.
 If we are out of Facebook
This doesn't mean standing out at the main gates of Facebook office, it was like if we are logged out, yes sometimes it happens automatically by our Facebook, then when we just see that there is this content isn't available right now Facebook can be like, yes to view it we just need to sign in again back to view this content isn't available right now Facebook.
Error might be true
Error this content isn't available right now facebook might be true with its meaning, as the content is truly got deleted on Facebook, as the person who posted it might be having some other realization of going to be removed, and so the content got deleted by him/her, so we need to know the cause why did that person went for deleting the post or status, also sometimes we can see that the post is being shared to many groups and after making them circulate all over the network, there will be some issue or the situation may arrive to delete it for some reason, then after deleting the content on his timeline, we can see the shared links in the Facebook with this content isn't available right now facebook errors.