Top 6 Powerpoint Templates For Business
Presentations are crucial for your business. If you aim to spread your word far and wide in a corporate environment where the entire world may be reached immediately, communication is essential.
Thank you for reading this post, don't forget to subscribe!
Powerpoint Templates Is a Must For Best Business Presentations
When creating a professional business presentation, PowerPoint is usually the first program that comes to mind. It is a powerful application with a variety of features for building an effective business presentation or pitch deck that can be used on both PCs and Mac machines.
Even though PowerPoint is quite efficient, the default presentation templates may need some improvement. Because there are so many PowerPoint templates accessible online, you, fortunately, don't have to worry about creating a presentation that looks just like everyone else's.
These templates feature all the slides required to display your statistics and corporate information, and they can be simply adjusted with your brand's colors, fonts, and design components. Add your material, add your photos, and customize as needed. Your presentation will be completed quickly.
In this article, we've gathered 6 PowerPoint business presentation templates from MasterBundles, so you may have them on hand anytime you need to produce a presentation for your firm.
5 Benefits Of Powerpoint Presentations For Your Business
Presentations are used by businesses and professional organizations to inform, educate, inspire, and convince internal and external audiences. Using the strength of words and visuals to captivate their audience and hold their attention, they include presentations into sales, training, and internal communication initiatives.
A well-designed presentation also communicates professionalism and supports the brand identity of a firm. By putting more focus on the significance of appearance in a company, you could be able to attract the appropriate consumers, employees, and shareholders.
It's simple to customize PowerPoint presentations
Powerpoint modifications and redesigns are available for businesses. A PowerPoint presentation may be improved and changed for different purposes and in different ways.
Presentations in PowerPoint make an impression
It is essential to leave an impression on company stakeholders, clients, and investors. Powerpoint presentations express the brand identity of the firm.
The audience is receptive to brand rules, which include marketing collateral, corporate vision, company logo, and company goods.
Powerpoint presentations encourage idea sharing
Powerpoint presentations let team members work together on suggestions to enhance the design or flow of a presentation. The presentation then gets more organized.
The PowerPoint settings may be used by any team member to contribute insightful commentary.
PowerPoint templates save time.
They provide space for concentrating on other pressing duties. Because Powerpoint templates come with images, fluid animations, applicable charts, unique fonts, and color schemes.
Visual impact
A PowerPoint presentation that is interesting to the audience will include visuals, animation, and multimedia. The concepts are then transformed into successful commercial communication. The flawless combination of audio, film, and visuals impresses audiences visually. The incorporation of animation, graphics, and text allows the presenter to connect with the audience.
6 Best Business Powerpoint Templates
Whether you're making a sales pitch to potential clients, presenting ideas to coworkers, or pitching investors, a clean, attractively designed template can be the missing piece that puts an end to your presentation difficulties. So, here we've selected the top 6 business Powerpoint templates.
You may effectively complete the assignment with the assistance of our bundle of business PowerPoint templates. With this bundle you'll be successful regardless if your goal is to boost sales, engage prospective investors, or communicate concepts to your staff. You may quickly and easily build the most captivating presentation with the corporate PowerPoint templates package.
Here are 30 animated Business infographics designs for creating professional presentations. Microsoft PowerPoint, Adobe Illustrator, Adobe Photoshop, and Keynote may all be used for editing. Also, all of the slides are completely animated, and a dark version is offered. All file elements are organized and easily customizable.
Make the finest business presentation you've ever given to impress your clients, partners, or bosses. The template's minimalistic style draws attention to your explanation and description. It also adds an aesthetic touch, making the display more gorgeous and eye-catching. Deliver the greatest corporate presentation to gain more trust from your bosses, clients, or partners. These templates are editable and add text and color.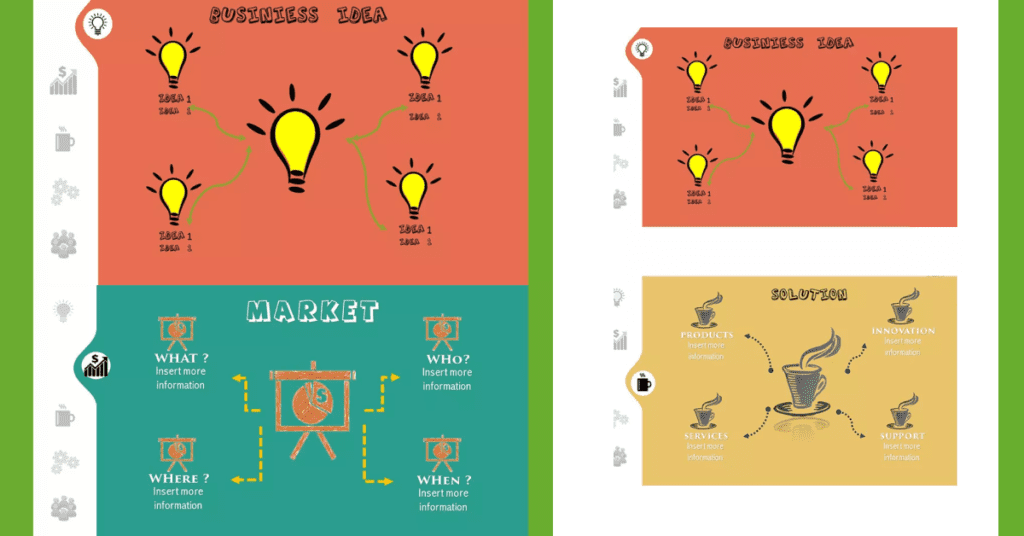 Use the Business Plan Presentation Template to represent your work in a professional and clear manner. This is a basic, modern, yet strong design that elevates your work and corporate profile to a new level. All components are completely changeable.
This presentation template is very simple to use, and it will help you support your presentation so that it attracts a lot of consumers. Believe us, the design of your presentation is a crucial aspect in your business. There are 60 total slides, 30 of which are light and 30 of which are dark. It is also simple to customize.
The first one is ideal if you want an outstanding clean and simple appearance. As as soon as you open it, you notice that this template is done with flair and beauty. The presentation is properly arranged with an intro, numbered lists, icons and charts, team and portfolio parts, and so on. The second template is significantly simpler and has less information. It still appears professional, but it is more vibrant and not as basic. Almost every page has images that are perfect for any business project.
Conclusion
As you know from this article, the key to a great presentation is to make it visually pleasing. Now, with the help of customizable business PowerPoint templates, you can quickly prepare your presentation. However, if you can't find the perfect template for your project, you may consider enrolling in a Microsoft PowerPoint Course. These courses offer valuable guidance and training to help you unlock the full potential of PowerPoint and enhance your presentation skills.
Remember, the key to a great presentation is to make it visually pleasing. By combining your newfound skills from a Microsoft PowerPoint Course with the use of customizable business PowerPoint templates, you'll be able to create engaging and professional presentations that effectively convey your message.