Everything You Need to Know About Air Orbs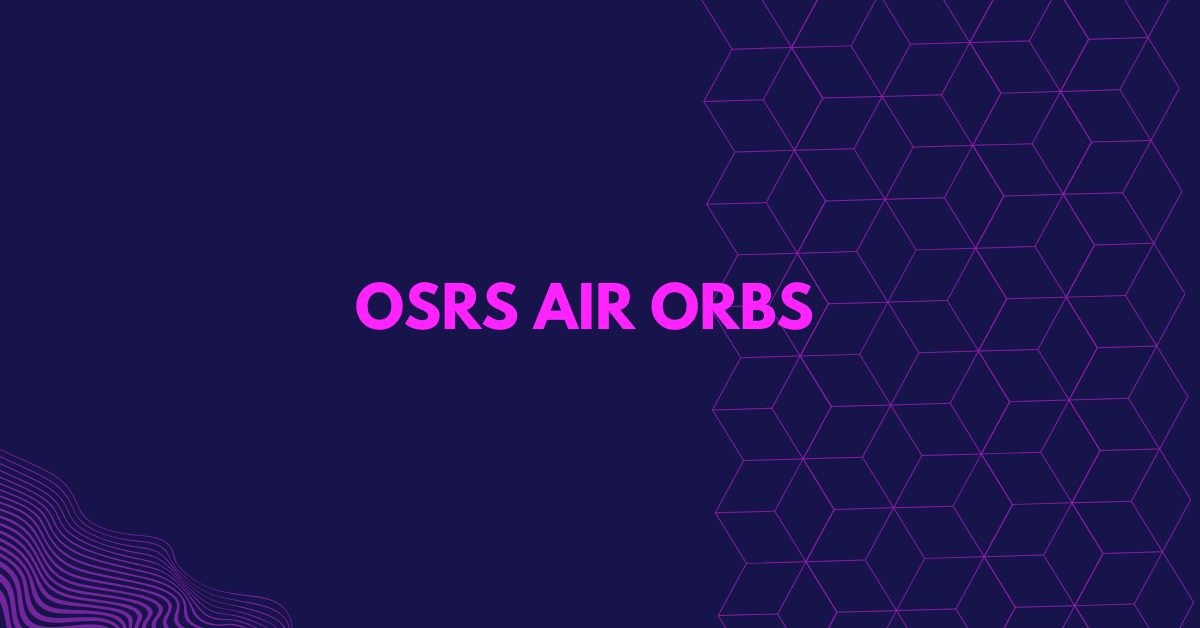 If you want to know more about Air Orbs, then here is everything you need to get started with the items.
There are a lot of items to get your head around in Old School Runescape. Some of these OSRS items are good ways of earning OSRS gold and can be very useful in general. One of the items that we will be discussing today is the OSRS Air Orb, and how you can get your hands on them to get them charged.
What is OSRS Air Orbs, and How Can They Be Charged?
Firstly, an Air Orb is a glass orb that has been used by the Obelisk of Air to be charged. This is done by using the Charge Air Orb spell, which you will need to have level 66 Magic for to be then used on the obelisk itself. The spell needs to have an unpowered orb, as well as 3 cosmic runes, 30 air runes, with 76 Magic experience as well.
[Read more: Reasons why you need OSRS Gold]
Where Do I Find the Air Obelisk?
If you want to find the Air Obelisk, then you will have to head to the level 7 Wilderness, which you will find to the north of Edgeville. If you want to reach there, you will need to head to the ladder that is to the north of the Edgeville Dungeon where the Black Demons are located. In your journey to find the obelisk, you also stand to make a wealth of Magic experience when you get around to banking. In fact, you could make up to 40,000 Magic experiences every hour. With that in mind, if you have been looking for an effective way in which you can earn additional Magic experience, then this could be a very viable training method if you are willing to put the short time in. It can be a very profitable method as well if you are looking to gain additional OSRS GP.
When you are making your way through the Edgeville Dungeon, you should keep in mind that combat is going to be the order of the day in this area. You can expect to encounter the likes of deadly red spiders, black demons, skeletons, chaos druids, and thugs. With that being said, you should make sure that you have enough defense to deal with such a situation so that you can survive. It isn't just the enemies within this area that you need to worry about either. The location is in the Wilderness, you do have to be well prepared. After all, you don't want to put yourself in a situation where you could lose any ORS items permanently. With that being said, make sure that you don't take any Old School Runescape items with you that you are not prepared to potentially lose.
The point also has to be made that you could stand to lose a lot of OSRS gold in such a trip. Therefore, make sure you take a maximum of 81 cosmic runes with you.
What is the OSRS Air Orb Used For?
An OSRS Air Orb can be used on a battlestaff, which then becomes the Air Battlestaff. In order to make this, you will need to have level 66 Crafting, and you can expect to get 137.5 Crafting experience for doing so.
The process of the orb takes around three minutes. A single lap charges 27 orbs that haven't yet been powered and will use 81 cosmic runes as we mentioned before. You can cancel the cooldown animation by recasting the spell on the obelisk once the orb has been charged. By doing this you will be increasing the speed in which orbs are charged. The time in which you will be cutting is by three ticks, which translates to cutting the time down by a third.
As we discussed earlier, the task itself takes place in the Wilderness. By charging an OSRS Air Orb, you will be completing a Hard Task in the Wilderness Diary. So make sure that you go in ready if you are doing the diaries.
A final point to make about these orbs is that you should keep an eye on what they are worth in the Grand Exchange. Like with other Old School Runescape items on the Grand Exchange, the prices and value are always fluctuating up and down, so it can be difficult to keep up to date on how much each item is worth. It won't get to the point where you have to buy OSRS gold in order to get these OSRS items, so don't worry about having to find a place where there is OSRS gold for sale.
How to Charge Air orbs osrs?
Charge Only at the Air obelisk, which can be reached in the Wilderness by passing through the Edgeville dungeon and climbing the stairway to the hill above, can Air Orb be thrown. When you get to this obelisk, level 7 Wilderness is reached. The Wilderness Diary lists charging an air orb as a difficult task.
Charge An Unpowered orb can be changed into an Air orb with the enchantment spell Air Orb. The Battlestaff can then be converted into an Air Battlestaff by using this Orb.
How your RS Gold Hunter Can Earn More By Using Runescape Gold?
To start earning cheap Runescape Gold, you must first invest in Gold4rs. You may need to buy Runescape Gold for this part, but it's easy to get it back. Gold is used to increase your magic skill to 66. You will also need aviation staff, space runes, and helpless orbs. Players must also have access to the air obelisk in the wilderness of the island, accessible from the Edgeville Dungeon.
[Read more: Old School RuneScape Beginners Guide]
How to Aquire Runescape gold for your RS gold hunter?

The process is very simple. First, go to the island with an air obelisk in the wilderness. Again, this location can only be accessed from the Edge Building Dungeon. When you reach the air obelisk, cast the charge air orb while the air staff is equipped. This consumes 3 cosmic runes and 1 depleted orb when creating an air orb. Once you have created enough air orbs, return to  Edgeville Lodestone and store them in your bank. You can later sell it for 2,287 coins per air orb.

What are the Considerations of RS Gold for Runescape Gold Hunters?

Air staff is very important in this way of making money as it eliminates the need for Air Runes. Players only need to spend about 810 coins on the three comic runes required for each use of the Charge Air Orb. Another consideration is to use the heavy beast to carry more bullets. Make sure you have enough inventory space to replace the material. 
The air obelisk is in the wilderness. You also need to go through the dungeon to get to it. Therefore, be careful not to carry valuables with you. When you're ready, you can gain some experience by defeating level 84 skeletons, deadly red spiders, chaotic druids, black demons you encounter.
Have you managed to find any of these OSRS items? Let us know in the comments section below!