Online fraud awareness in the pandemic – how to recognise scams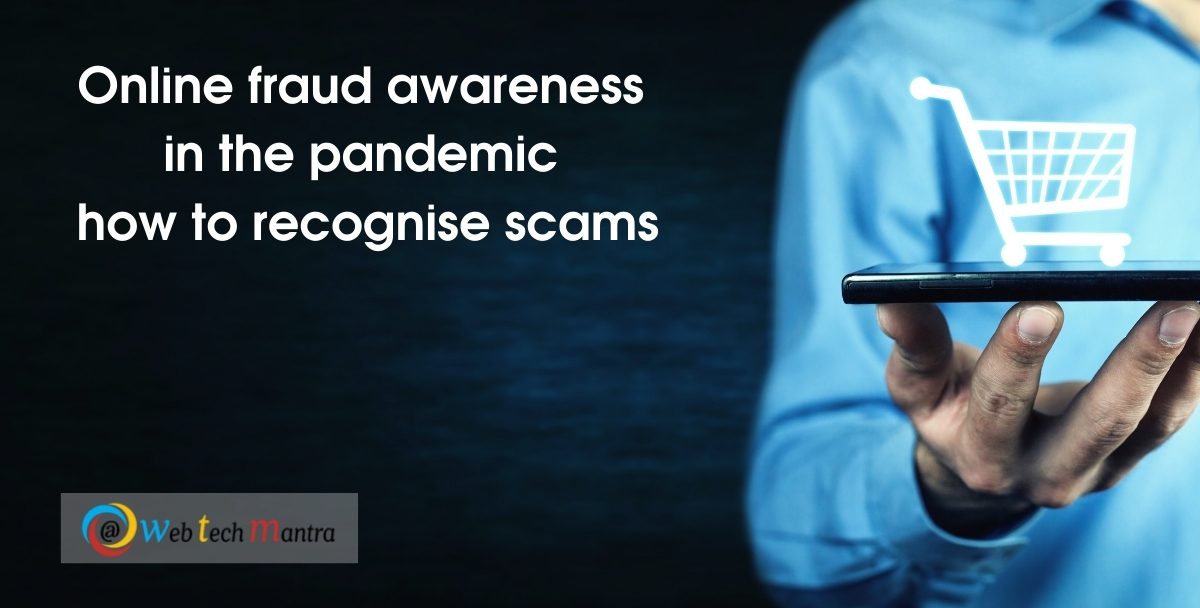 Criminals have been conjuring up new ways to part unsuspecting internet users with their cash throughout the coronavirus pandemic. It's essential to keep on top of the latest scams to avoid becoming the victim of one. It's no surprise to see that criminals have been using COVID-19 to their advantage, though it does seem new scams are emerging all the time.
Thank you for reading this post, don't forget to subscribe!
Exploiting fears
Online fraudsters are known for impersonating well-known organisations including government departments and big-name brands to source cash illegally. These fraudsters have been exploiting a host of pandemic-related fears to trick people into giving away valuable personal information as well as money. In the UK, it's thought that at least one in three people have been targeted by Covid scammers. Evidence suggests this trend is being reflected across the world.
Bogus money requests
Some criminals are encouraging people to make bogus investments in order to take advantage of the global downturn. Another modern scam is to impersonate a leading streaming or subscription service to source cash and information. Governments across the world have been protecting their citizens as well as their economies by offering loans and grants. Unsurprisingly, criminals have been impersonating government departments and creating authentic looking emails to access sensitive information illegally.
Know about: Police Check Online
Fake loans, grants and discounts
As the global pandemic has plunged so many people into poverty and hardship, criminals have been targeting them with promises of access to "relief funds". These emails are used to dupe them into handing over their personal information. Online fraudsters are also impersonating utility suppliers to promise bogus bill reductions and payment holidays. Some phishing emails are informing people they have been in contact with a Covid-19 sufferer. Again, this scam is designed to obtain personal and financial information.
Subscription scams
More and more people have been spending excessive time at home during the pandemic, keeping themselves entertained with online streaming services. Scammers have also been sending out bogus emails telling people to update their payment details for streaming subscription services like Netflix and Spotify, which have grown in popularity recently. When they click on the link to add the new payment details, these are used by the criminals so they can empty their bank accounts. Social media is also being used, with scammers impersonating real people and starting conversations to source information.
Stay safe online and offline
Phone calls are also being used, with fake fines being imposed by criminals purporting to represent authorities and companies. Some people have paid "fines" to scammers after being told they have broken lockdown rules. Scammers have also been "selling" Covid-related products like sanitizers and masks. Once payment has been made, these products are never sent out to the customer. Pandemic scammers aren't just using texts and emails to target their victims.
It's also important to be vigilant for scams that pre-date the pandemic. These include advanced payment scams, where you are asked to send over money in return for a larger sum. Inevitably, this larger amount never appears once you have made the payment, with the scammer vanishing into thin air.
Hallmarks of an advanced fee scam:
Source: wonga.co.za
What to do if you've been targeted
If someone suspects they have become a target of scammers, they should close down the conversation immediately and report the situation to the police. As you would expect, scammers are largely focusing on society's most vulnerable people as they think these are the most likely to fall for their methods. It's important to spread awareness and advise others you feel could be taken in by the scams.