Moving to San Diego Guide: Everything You Should Know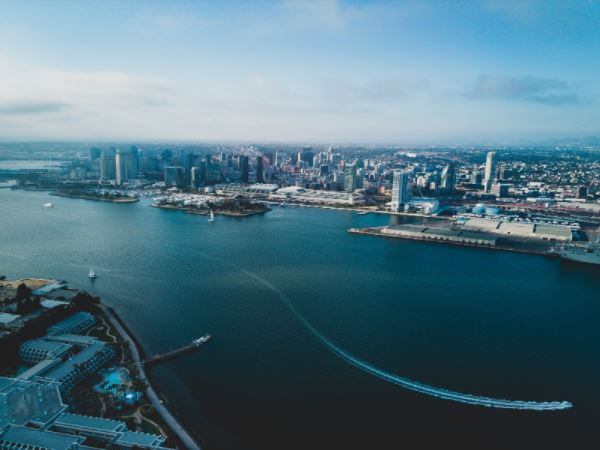 About the City
Built on the Pacific coast of California, San Diego is a city that is known for its beaches, parks, and warm climate. San Diego is the eighth-most populous city in the United States and the second-most populous in California with an estimated population of 1,423,851. The city's main economic engines are military and defense-related activities, tourism, international trade, and manufacturing. The airport of San Diego called San Diego International airport is the busiest single-runway airport in the United States. The city is also a center of research in biotechnology with the presence of the University of California San Diego and with the affiliated UCSD Medical Centre.
Thank you for reading this post, don't forget to subscribe!
San Diego is known for its idealistic climate, 70 miles of pristine beaches, and an astounding range of world-class family attractions. The most attractive tourist spots in the city are San Diego zoo and San Diego zoo safari park, SEAWORLD San Diego, and LEGOLAND California. Send Jago San Diego also features 92 golf courses and a lot of other exciting sports, beachfront resorts, and luxury spas have a wide variety of gaming options, dynamic downtown district and special events, and unique offerings for holidays along with multicultural festival celebrations and rich military history. People living in San Diego have access to the beautiful sunrise and sunset, beaches, weather, etc. If yes, then San Diego local moving company is here to guide you with the process. The city has a low unemployment rate, proving the best opportunities in the field of education. All in all, San Diego is truly a remarkable country.
Planning on Moving to San Diego?
If you are planning to move to San Diego, here's everything that you should know:
To know the basic living expenses in San Diego look at the below-given table which will give you an overall estimate of the average cost of living in San Diego. San Diego indeed is an expensive city to live in whereas it depends upon the individual's lifestyle and quality of life. 
Rental Prices:
●       For one-room apartment -$1,950
●       For two-room Apartment- $2,470
Utilities:
●       915 square foot apartment – $119
●       Internet services – $50 to $90
Food Costs:
●       Residents mostly spend 12.7% of their household budget on food
Transportation:
●       Monthly transit passes- $75 to $125
When we are talking about California how it's possible to not talk about the traffic and complaints related to it. In San Diego, the average community time is only 26 minutes. Also, people are more likely to travel by highways than locally. The San Diego transport system is well versed, having downtown trolleys to the rapid bus. San Diego is commonly known as the "Finest American city" which attracts everyone, people of all ages knowing that the city has something for everyone, the city gives a profusion of happiness. Altogether, we can say that if not moving then once in a lifetime visit San Diego, a place where you will leave your heart and soul.
     

Schools and Education system
San Diego, CA is known for the top-class education system, areas, and surroundings San Diego is home to the best education system. San Diego alone has almost 114 elementary schools, 27 junior schools, and 30 high schools. If your children are now heading to their college life and want to select a career path then San Diego, have some of the best universities to offer.  The city has been ranked 37th for the world-class education system by US news. Also, there are many private universities in San Diego, which stand out for their education system and world-class teaching. Students wouldn't find it difficult to go on a walk thanks to the year-round sunshine, and warm climate.
San Diego is the biggest attraction to young minds with great ideas and energy to make everything happen that is coming their way. All thanks to the investment from technology, biotechnology, and all the tech industries. The City provides a technology-driven environment for young minds. And here it is, the city has some of the best universities in the country. As compared to another Industry hub San Francisco, it is less expensive than that. Both the cities are pretty costly to live in but when compared San Diego is a little less expensive. Also know about: Industry hub San Francisco.
     

The City has Something for everyone
San Diego is ranked 36th best places to live in California, nicknamed as "Birthplace of California". The lifestyle will depend on the preferences, it will be based on the cost of living, job market, employment opportunities, and quality of life. This city possesses a. warm climate, 365 days of sunshine, and beautiful beaches, making San Diego different from cities. The Cultural attraction here is something people crave and talk about. The city has a low unemployment rate, proving the best opportunities in the field of education. Educational accomplishment and quality teaching is a top-notch thing about the city. The city possesses much more than just beaches. If you're an art person then you would love the city as it appreciates creativity, the place has ample museums and art galleries some of them are USS Midway Museum, San Diego Air and Space Museum, San Diego Museum of Art, the Museum of Contemporary Art San Diego and Space 4 Art.
Do's and Don'ts for moving to San Diego.
Do- Try to move in the wintertime as it is more convenient to find a home than in the summertime.

Do- After a move if you're planning to buy a car then make sure you have information related to parking situations if not then try to figure it out because in some areas it can be a big challenge.

Do- Always get a compass card also if you're not willing to use public transportation.

Don't – Make sure you know how to use resources effectively as

California has recycling laws

.

Don't be wasteful.

Don't – You may experience a little earth shake, don't assume that it won't happen to you. Prepare yourself accordingly.

Don't – Use your water wisely, California is a drought-prone state. For example, keep the faucet off while brushing and plan your baths accordingly.