Managing Product Requirements Effectively for Success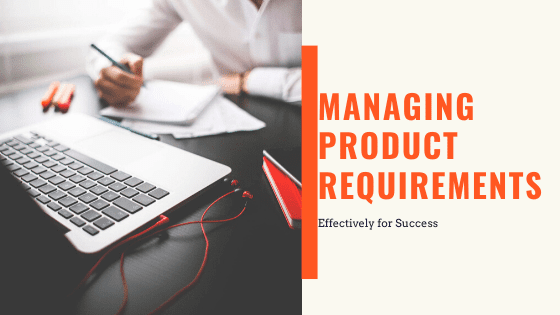 Product requirements management is critical for properly defining the components of a product and ensuring a successful, timely launch. It matters to most, if not all, businesses regardless of the industry.
Thank you for reading this post, don't forget to subscribe!
What is product requirements management and why is it important? In this article, learn more about what managing product requirements entails.
What is Product Requirements Management?
Product requirements management is an ongoing process aimed at the effective execution of all requirements that will help ensure the successful creation of a product. It entails analysis, documentation, prioritization, and modification of product requirements, among others.
A requirement may be described as a capability or component agreed on by stakeholders as necessary for the development of a product. Companies typically breakdown processes into basic requirements to deliver a product or service.
There can be a team that mainly oversees the process of documenting, analyzing, prioritizing, and controlling changes to requirements. The team will have a duty of communicating product requirements status to other stakeholders.
Why Managing Product Requirements is Important
Effective product requirements management can help boost the net earnings or profits of a business significantly. A major way it does this is by reducing costs, such as those linked to fixing errors in requirements.
According to a survey carried out by IAG Consulting in 2009, more than two-thirds of the businesses surveyed were culpable of poor requirements practices. This led to such companies spending almost double the estimated cost for a project on average.
The failure in properly managing requirements contributes significantly to many failed projects.
Apart from helping to reduce costs, effective product requirements management helps in the following ways, among others:
Facilitating more accurate budgeting
Reducing risks
Enabling better prioritization
Improving product designs
Ensuring timely product or service delivery
Promoting more accurate product returns predictions
By managing product requirements properly, it becomes easier to detect a problem earlier. This helps to get rid of the stress of having to deal with such later on.
According to research, requirements management can enhance different key parts of organizational strategy, including planning, portfolio, and programs. Operations management is another area where it is relevant.
How Do You Manage Product Requirements?
The form that product requirement management takes will vary between organizations. Some steps are essential, however, to ensure a truly effective process.
The requirements management stages proposed by the Project Management Institute (PMI) can serve as a helpful guide. They include:
Identifying stakeholders
Gathering requirements
Analyzing requirements
Documenting requirements, such as through the use of a product requirements document
Verifying, validating, and prioritizing requirements
Communicating requirements
Keeping tracks of requirements
Overseeing changes to requirements
Reporting compliance to requirements
Product requirements management should ideally feature all these stages to ensure greater effectiveness. Adhering to a well-planned process like this one makes things a lot easier to repeat when looking to tweak something.
Your job as a product manager can become simpler when you have the right management tools, including a roadmap tool, at your disposal when talking requirements management.
These tools can make the process more efficient. They help link requirements to other elements, simplify changes, and make conveying requirements to stakeholders less taxing.
With the help of tools such as a purpose-built roadmap tool, you can easily present different requirement views to diverse groups of stakeholders.
Typical Stakeholders in Requirements Management
Along with product managers (PMs), business analysts (BAs) are principal actors in planning a product requirements management process. BAs are typically responsible for creating a requirements management plan (RMP) while using the inputs that PMs provide.
A project manager provides the requirements that they need help with. The business analyst takes the inputs and uses it to put together an RMP. BAs also see to the smooth progress of the plan.
Another group of stakeholders are team leaders in the stages of a product's lifecycle. The main responsibility of these persons is to approve the RMP created by a BA working with a PM.
In a software company, other stakeholders in the requirements management process can include:
Project managers
Developers
Designers
Testers
A project manager can come up with compelling reports on the progress of a project with the aid of requirements management. The developers and designers use the requirements to design and develop components.
Is Requirements Management a Must?
Requirements management is useful for all businesses, according to experts. It is even more important when your organization is product-focused. After all, requirements are basically bits of business processes that facilitate product or service delivery to customers.
Proper product requirements management can help ensure faster product development and play a part in making products successful. It helps stakeholders to set realistic expectations very early into the product development process.
It is helpful to have RPM before you start work on any product. However, you can plan requirements management at any time, according to the PMI. It is better to have one late than having none at all.