Lenovo ThinkPad E585 Laptop: Specs, Tests, and Prices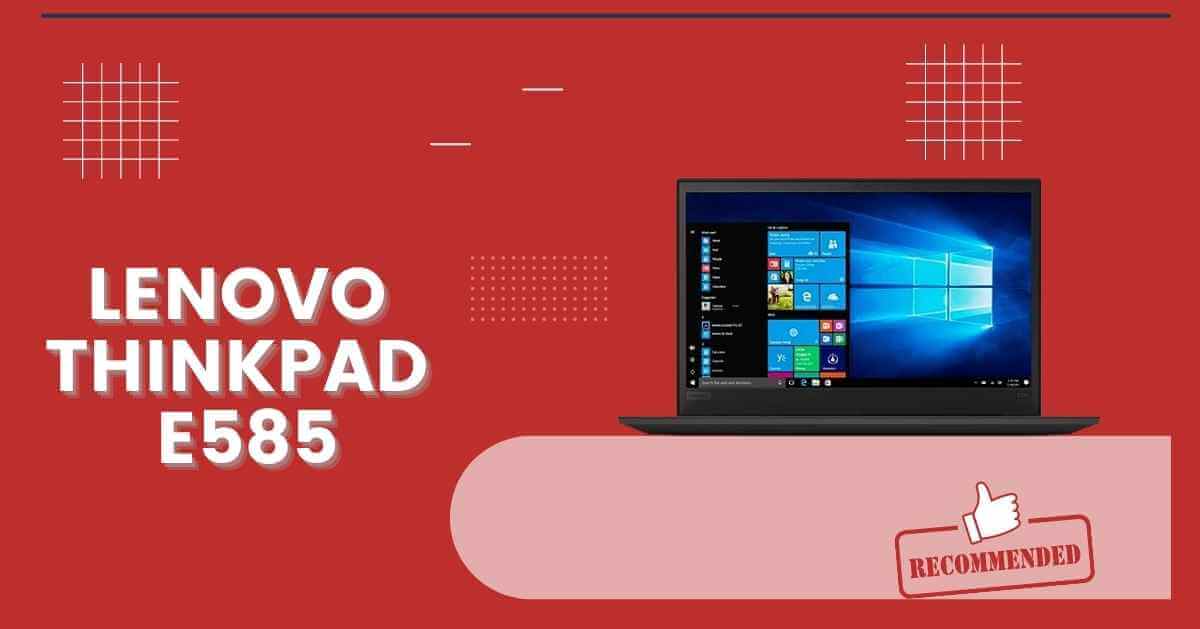 The Lenovo ThinkPad E585 is a business laptop that combines performance with a sleek and sturdy design. Powered by the AMD Ryzen processor it effortlessly handles demanding business applications while delivering consistent results. Its durable construction ensures longevity making it suitable, for challenging work environments. The laptop offers storage and memory options enabling the handling of data. Additionally, it incorporates security features to protect information from unauthorized access. With its user design and easy portability the Lenovo ThinkPad E585 is a choice, for professionals who need a reliable and powerful business laptop to efficiently manage their demanding workloads.
Thank you for reading this post, don't forget to subscribe!
| | |
| --- | --- |
| Specification | Description |
| Processor | AMD Ryzen 3 2200U, AMD Ryzen 5 2500U, or AMD Ryzen 7 2700U |
| Memory | 16GB DDR4 |
| Storage | 512GB solid-state drive (SSD) |
| Graphics | AMD Radeon Vega Graphics |
| Display | 15.6-inch Full HD (1920 x 1080) IPS anti-glare display |
| Audio | Dual 2W speakers with Dolby Advanced Audio |
| Connectivity | 802.11ac Wi-Fi, Bluetooth 4.1, Gigabit Ethernet, USB-C, HDMI |
| Security | Fingerprint reader, Trusted Platform Module (TPM), webcam privacy shutter |
| Durability | Tested to meet military-grade durability standards |
| Battery Life | Up to 10 hours |
| Operating System | Windows 10 Home or Windows 10 Pro |
| Dimensions | 14.5″ x 9.9″ x 0.8″ |
| Weight | Starting at 4.7 lbs |
specs
[Read Blogs: Acer Aspire 7 a717-72g Laptop Full Review]
Performance of Lenovo ThinkPad E585
The Lenovo ThinkPad E585 is powered by the AMD Ryzen processor, which delivers performance and responsiveness. With, up to 4 cores and eight threads this processor effortlessly handles multitasking ensuring the execution of applications without any delays. The integrated Radeon Vega graphics further enhance graphics performance making it an excellent choice for tasks that require the use of graphics. Supporting DDR4 memory the processor enables data access and processing resulting in improved system performance. Whether you're working on spreadsheets. Engaging in activities like video editing or running virtual machines the AMD Ryzen processor in the Lenovo ThinkPad E585 excels, across a wide range of tasks.
| | | | | | | |
| --- | --- | --- | --- | --- | --- | --- |
| Processor | Cores | Threads | Base Frequency | Max Frequency | Cache | Graphics Card |
| Ryzen 3 2200U | 2 | 4 | 2.5 GHz | 3.4 GHz | 1MB L2 / 4MB L3 | Radeon Vega 3 |
| Ryzen 5 2500U | 4 | 8 | 2.0 GHz | 3.6 GHz | 2MB L2 / 4MB L3 | Radeon Vega 8 |
| Ryzen 7 2700U | 4 | 8 | 2.2 GHz | 3.8 GHz | 2MB L2 / 4MB L3 | Radeon RX Vega 10 |
performance
Storage and Memory
The Lenovo ThinkPad E585 offers plenty of storage and memory options allowing for efficient data storage and access. It can support, up to 32GB of DDR4 memory, which improves data processing and overall system performance while also being energy efficient to battery life.
In addition to the memory, this laptop provides storage possibilities, including up to 1TB of solid-state storage, for booting and loading times. With these storage and memory options users can effortlessly manage files run multiple applications simultaneously and handle complex projects without worrying about performance or storage limitations.
| | |
| --- | --- |
| Specification | Description |
| RAM | 32GB max / 2400MHz DDR4, dual-channel capable, two DDR4 SO-DIMM sockets |
| Memory | Up to 2 drives (one M.2 SSD and one HDD) |
| M.2 SSD Slot | Available for M.2 SSD |
storage and memory
User-Friendly Design Keyboard
The Lenovo ThinkPad E585 offers a design that's easy to use and portable. It has a sleek and lightweight build making it convenient to carry in bags or backpacks. This is especially useful, for professionals who are always on the move.
The laptop features a keyboard with backlit keys allowing for comfortable work in different lighting conditions. It's perfect for those who work late at night or, in lit environments. Additionally, the spill-resistant keyboard adds durability by protecting the device from spills.
| | |
| --- | --- |
| Specification | Description |
| Keyboards | 6-row, Spill-Resistant, Multimedia Fn Keys |
| Touchpad | Buttonless Mylar Surface Multi-touch Touchpad |
design
Display & Audio
The laptop screen provides a vibrant visual making it easy to read in lighting situations even in dimly lit rooms or, under direct sunlight. While the audio quality is decent, for enjoying music and videos it may not meet the expectations of audiophiles looking for top-notch sound. You'll find the speakers conveniently placed on both sides of the keyboard making them easy to spot while watching videos or movies.
| | |
| --- | --- |
| Specification | Description |
| Speakers | Stereo Speakers, 1.5W x 2, Dolby Advanced Audio |
| Microphone | Dual Array Microphone |
| Ports for Audio | Headphone / Microphone Combo Jack |
display and audio
Ports
To ensure you have ports it is advisable to have at one USB Type A port and one USB Type C port. The USB Type-A port is used for connecting devices like mice flash drives and external hard drives. On the other hand, the newer USB Type C offers data transfer speeds and charging capabilities. This laptop comes with all the ports that are commonly used for tasks.
| | |
| --- | --- |
| Specification | Description |
| Ethernet | Gigabit Ethernet Connection [ RJ – 45 ] |
| Wifi & Bluetooth | Wi-Fi 2×2 802.11ac + Bluetooth 4.1, M.2 card |
| Type – C | Gen 2 (with Power Delivery and DisplayPort function) |
| USB | 1. One USB 2.0 |
| | 2. Two USB 3.1 Gen 1 |
| HDMI | HDMI 1.4b |
| Other | 1. Micro SD Card reader |
| | 2. Security Keyhole |
Ports
[Read Blogs: Dell XPS 15 Touch Screen 15.6″ 3.5K OLED Laptop Review]
The durability of Lenovo ThinkPad E585
The Lenovo ThinkPad E585 is designed to withstand the demands of use making it a durable choice, for professionals dealing with workloads. This laptop features a build that meets military-grade durability standards allowing it to handle temperatures, humidity, vibrations and shocks. Its spill-resistant keyboard and sturdy hinges add a layer of protection against spills and drops.
To ensure lasting performance the laptop has a reinforced chassis that shields components from the effects of regular wear and tear. It has undergone testing with more than 200 quality checks to meet Lenovo's strict reliability and durability standards. With its construction, the Lenovo ThinkPad E585 is a companion, for professionals who require a reliable device capable of withstanding the challenges of their work environments.
Security Features
The Lenovo ThinkPad E585 is designed with security features to protect data from unauthorized access. It comes with a built-in fingerprint reader eliminating the need, for passwords and allowing device access. This fingerprint reader supports Windows Hello making device sign-in and touch-based authentication for payments effortless.
In addition to the fingerprint reader, the Lenovo ThinkPad E585 includes a Trusted Platform Module (TPM) that provides hardware-based security for data. The TPM adds a layer of defense against cyber threats through data encryption and system integrity verification.
To enhance privacy further this laptop introduces a webcam privacy shutter. Users can physically block the camera when it's not in use preventing camera access. Particularly beneficial for professionals dealing with information this shutter adds a level of security, against potential hacking attempts.
[Read Blogs: Dell Precision 17 7730 Workstation: Full Review and Specifications]
Conclusion
The Lenovo ThinkPad E585 is a powerful laptop that combines performance with a sleek and user-friendly design. With its AMD Ryzen processor, memory and storage options and a variety of connectivity choices, it is an ideal choice, for professionals who face demanding workloads. Additionally, the laptop offers security features such as an integrated fingerprint reader and TPM to ensure data protection against threats.
Its lightweight and slim form factor along with a sized keyboard provide both convenience and ease of use. This makes the Lenovo ThinkPad E585 an option for professionals who are frequently on the go and need a trustworthy companion, for their work endeavors.