Dell Precision 17 7730 Workstation: Full Review and Specifications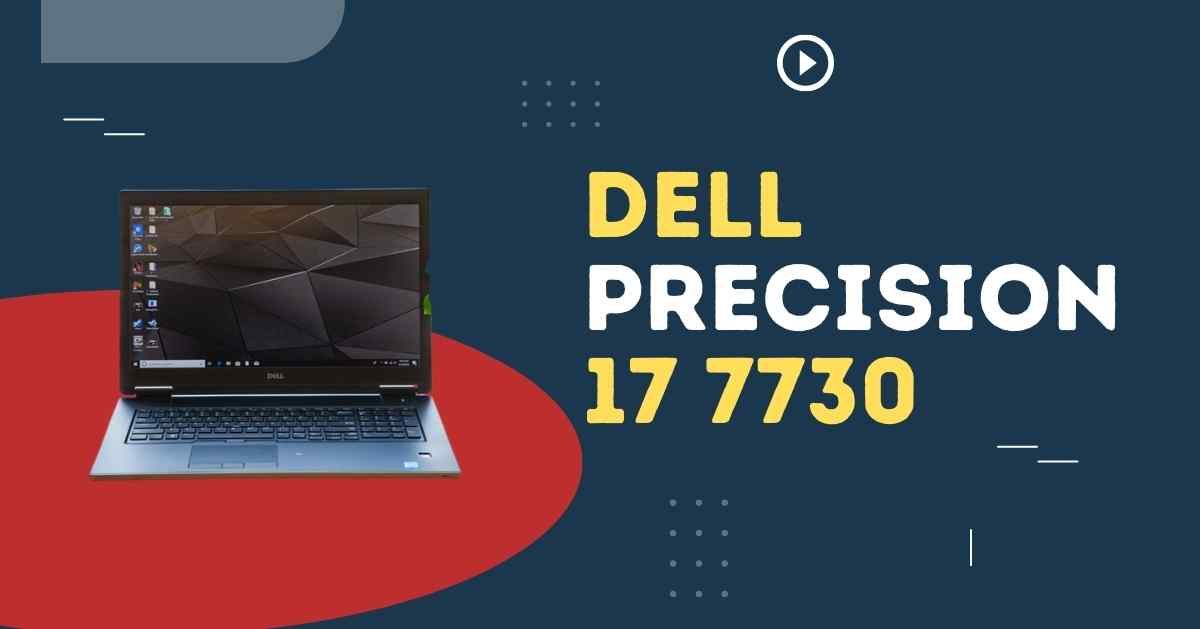 The Dell Precision 17 7730 is a workstation designed for professionals, in fields such as architecture, engineering, video editing and 3D modeling. With the Intel Core and Xeon processors and impressive NVIDIA graphics, it delivers processing power and graphics performance. The large 17.3-inch display provides visuals making it perfect for analyzing datasets and intricate visualizations. This workstation is designed to be robust yet portable allowing professionals to work efficiently both in the office and while on the go. Alongside security features and versatile connectivity options, the Dell Precision 17 7730 offers a productive platform for collaborative projects. Additionally, it allows users to customize workflows based on their needs, with its configuration options.
Thank you for reading this post, don't forget to subscribe!
Specifications
| | |
| --- | --- |
| Specifications | Details |
| Processor | 8th Gen Intel Core and Xeon processors |
| Graphics | NVIDIA Quadro P5200 graphics |
| Display | 17.3-inch FHD, UHD, or UHD with PremierColor options |
| Memory | Up to 128GB DDR4 |
| Storage | Up to 8TB of storage (HDD/SSD) |
| Battery | Up to 10 hours of battery life |
| Ports | 4 x USB 3.1 Gen 1, 2 x USB 3.1 Gen 2 Type-C, 1 x HDMI, 1 x Gigabit Ethernet |
| Wireless | Optional Wi-Fi 6 card |
| Security | Built-in smart card reader, fingerprint reader, IR camera, hardware TPM 2.0 module, and Dell Data Protection |
| Operating System | Windows 10 Pro |
| Dimensions | 16.3 x 10.8 x 1.2 inches |
| Weight | Starting at 7.49 lbs |
| Warranty | 3-year ProSupport Plus and onsite service after remote diagnosis |
| Review | 4 |
specifications
Pros and Cons
| | |
| --- | --- |
| | |
| Pros | Cons |
| + Vibrant, sharp 4K display | – Below-average battery life |
| + Blistering performance | – Runs warm |
| + Comfortable keyboard | – Top configs are absurdly expensive |
| + Durable, premium design | |
| + Powerful graphics | |
pros and cons
[Also Read: Acer Aspire 7 a717-72g Laptop Full Review]
Design
When handling the Dell Precision 7730 it's important to be mindful of your wrists and use both arms. Carrying this laptop in a backpack might require some effort. You might consider seeking help, from a chiropractor. Weighing at 7.5 pounds it is slightly heavier than the HP ZBook 17 G4 (7.1 pounds). Lighter than the ThinkPad P71 (8 pounds) which falls into the category.
Although the Precision 7730 has a sleeker design compared to its predecessor, its size of 16.3 x 10.8 x 1.2 inches suggests that it's better suited for use than frequent movement. The Lenovo ThinkPad P71 shares a size (16.4 x 10.4 x 1.2 inches) while the HP ZBook 17 G4 is slightly longer (16.5 x 11 x 1.3 inches).
The Precision 7730 exudes sophistication with its high-quality materials like a carbon fiber lid, soft-touch deck and metallic frame that are built to last over time. Apart from its size, the laptop's black and silver industrial design adds visual appeal.
The inclusion of vents sleek metal trim around the deck and a discreet LED battery indicator, on the front edge are noteworthy details that enhance its overall appeal.
However, it's unfortunate that the lid has a tendency to collect fingerprints and there is definitely room, for improvement, in reducing the size of the display bezels.
Display
The 17-inch screen, on the Precision 7730 provides a viewing experience almost like being in a theater. The 4K panel is incredibly sharp. The colors it displays are vibrant and full of life.
When I watched a preview of the movie Green Book I could clearly see the smallest details in the set design. From records in Mahershala Alis's living room to the wisps of smoke rising from Viggo Mortensen's cigarette everything was so vivid. The turquoise paint on the pianist's Chevy looked as if it had just come off the showroom floor.
Likewise in the trailer for Kin, a sci-fi film the neon lights and colorful explosions were bursting with shades of blue and orange. Matte screens usually don't have that wow" factor as ones but every time I visited my favorite websites on the Precision laptop I was amazed. My only slight issue, with the display is that sometimes skin tones appear saturated; however, Dell includes display calibration software that allows you to adjust color temperature.
Our tests confirmed just how impressive this display is. It reproduced a 211 percent of the sRGB color gamut, which is one of the highest ratings we've ever seen.
The Precision display stood out for its colors outshining the Lenovo ThinkPad P71 (183 percent). HP ZBook 17 G4 (173 percent). On the other hand, the average brightness of workstations is lower measuring around 149 percent.
Thanks, to its matte screen and impressive peak brightness using the Precision 7730 in lit environments is a breeze. The screen achieved a brightness of 330 nits surpassing both the ThinkPad P71 (283 nits) and the HP ZBook 17 G4 (256 nits). In comparison, the workstation brightness is dimmer at, around 325 nits.
Keyboard and Touchpad
With an actuation force of 69 grams and a key travel distance ranging from 1.5mm, to 2mm (within the recommended range) the chiclet-style keyboard on this laptop ensures a typing experience during long typing sessions. The keys are substantial. Provide tactile feedback offering a typing experience with well-spaced positioning.
During my typing assessment on 10fastfingers.com, I achieved a typing speed of 114 words per minute with an error rate of 5 percent. Although this aligns with my accuracy rate of 95 percent it's slightly slower than my speed of 119 words per minute possibly due to the slightly higher actuation force required for these keys.
Considering the size and power of this laptop the touchpad on the Precision 7730 appears smaller than expected at dimensions of 3.9 x 2.1 inches. However, it compensates for its size by being highly responsive to gestures such as pinch to zoom four finger taps for accessing settings and three finger swipes to switch between applications.
If you prefer an alternative, to touchpads there is also a rubber nub located at the center of the Precision 7730s keyboard.
However, finding it might be a little challenging as the black pointer doesn't have a ring making it blend in with the dark surface. Nonetheless, despite this, I didn't face any problems while using the pointer and the additional set of buttons, for navigating web pages (middle click buttons).
[Also Read: Dell Alienware Aurora 2019: The Ultimate Gaming Beast]
Performance Of Dell Precision 17 7730
The Dell Precision 17 7730 is a powerful machine. With its Intel Core i9 8950HK CPU and 32GB of RAM, it effortlessly handled the task of opening 30 Microsoft Edge tabs, including four playing YouTube videos and two streaming Fortnite, on Twitch.
With all these demanding tasks running simultaneously the laptop seamlessly launched resource applications like Xbox and 3D Paint Windows apps. This is quite impressive. Expected, considering that the Precision 7730 is designed to handle heavy-duty tasks like video encoding and 3D rendering.
During our Excel Spreadsheet Test, where we matched 65,000 names with their corresponding addresses the Precision 7730 completed the task in 1 minute and 19 seconds. This performance outperforms the workstation time of around 1 minute and 21 seconds by a second.
On the Geekbench 4 performance test, this laptop achieved a score of 23,130. This score notably surpasses those of laptops like Lenovo ThinkPad P71 (15,972) and HP ZBook17 G4 (15,839) well, as the average workstation score (15,252).
Additionally, the Precision boasts storage capabilities.
In our File Transfer Test, we observed that the workstation's 512GB M.2 PCIe SSDs were able to replicate 4.97GB of mixed media files in a 9 seconds achieving a rate of 565 megabytes, per second. While this speed surpasses that of the Lenovo ThinkPad P71 (463 MBps) and the average for workstations (505.6 MBps) it falls short compared to the dual SSDs in the HP ZBook 17 G4 (848 MBps).
When we gave it the task of transcoding a video from 4K to 1080p using the HandBrake app we were amazed by how the Precision 7730 completed the operation in 8 minutes and 59 seconds – nearly twice as fast as the average time of workstations which is, around 17;44.
Graphics
Sporting the Nvidia Quadro P5200 GPU furnished with 16GB of GDDR5 memory, the Dell Precision 17 7730 possesses the prowess to effortlessly handle even the most graphically demanding software or the latest games set to high visual settings. This GPU enabled the Precision 7730 to achieve a 3,953 score on the 3DMark Fire Strike Ultra synthetic graphics test, surpassing the performances of the Lenovo ThinkPad P71 (3,588), HP ZBook 17 G4 (3,643), and the workstation average (1,490).
During the gameplay of the racing title Dirt 3, the Precision 7730 achieved a remarkable 223 frames per second, ensuring that navigating hairpin turns feels incredibly smooth. In comparison, the Nvidia Quadro P5000-equipped HP ZBook 17 G4 managed the same title at 171 fps.
Audio
The speakers facing downwards, which are featured in the Precision 7730 have the ability to produce volume to fill a room. However, their audio quality is not quite, up to par. As I listened to the driven track "Grace Beneath the Pines" by Glen Hansard his powerful vocals took the stage. However, they appeared muffled. The emotional depth that the poignant piano chords should bring to this composition lacked resonance and substance.
Similar observations arose when I played John Mayer's track "New Light." Mayer's smooth vocals were fairly accurate. The impact of the drums was not as strong and the lively instruments, in this track, seemed somewhat scattered and disconnected.
Battery Life
With the 97Wh battery the battery life of the Precision 7730 is quite limited. During our Laptop Battery Test, where we continuously browse the web over Wi Fi at 150 nits of brightness the system shut down after 4 hours and 14 minutes. In comparison both the Lenovo ThinkPad P71 (5;57) and HP ZBook 17 G4 (5;23) managed to last for, over an hour longer. However, they still fell short compared to the runtime of workstations which's around 6 hours and 49 minutes.
Webcam
The Precision 7730's webcam delivers a satisfactory performance. With a 720p lens, it captures a respectable level of detail, although its brightness is subpar, and the color rendition appears unnatural. In a selfie taken in a dimly lit office, my facial red tones appeared oversaturated, while the pattern of white dots on my dark shirt was indiscernible.
Heat
The webcam, on the Precision 7730 performs adequately. It captures an amount of detail with its 720p lens although the brightness could be better and the color representation seems a bit off. When I took a selfie in a lit office my skin tone appeared saturated and the white dots, on my dark shirt were not visible.
Software and Warranty
The Windows 10 Pro operating system, on the Precision 7730 laptop comes with a selection of preinstalled software. One standout is the Dell Power Manager, which keeps an eye on battery health while PremiereColor allows you to adjust display color, brightness and white balance.
In total, there are 10 Dell branded applications that cater to warranty and technical support needs while helping optimize the performance of the workstation. One notable addition is the Dell Precision Optimizer, which uses AI to improve application performance.
Unlike Windows 10 devices the Precision 7730 doesn't come loaded with Microsoft bloatware. There are a few apps like Microsoft Solitaire Collection and LinkedIn. You won't find Candy Crush games taking up space.
Dell offers a three-year warranty for the Precision laptop that can be extended to five years with on-site repair services. To get an idea of Dell's performance in terms of customer support and overall brand satisfaction check out our evaluations, in the Tech Support Showdown and Best and Worst Brands rankings.
Configurations Of Dell Precision 17 7730
The Dell Precision 7730 has a base model starting at $1,479. It includes a 1600 x 900 display, an Intel Core i5 8300H CPU, integrated Intel HD GFX graphics 8GB of RAM and a 500GB 7,200 rpm HDD.
The unit we reviewed is priced at $5,534. Comes with a 4K display. It upgrades its components, with an Intel Core i9 8950HK CPU, an Nvidia Quadro P5200 GPU, 32GB of memory and dual 512GB PCIe NVMe SSDs.
If you're looking for the top tier model of the Precision 7730 it also offers a 4K display and P5200 GPU. Additionally, it features an upgraded Intel Core Xeon E 2186M CPU, along with 128GB of RAM and an impressive storage capacity of an 8TB SSD. The price for this premium model starts at $10,928 without any customizations.
There are plenty of options to configure the Precision 7730 according to your preferences. Dell offers choices between i5,i7 and Xeon CPUs. You can also choose between Radeon Pro and Nvidia Quadro GPUs. Additionally, it supports up to four slots, for RAM that can accommodate up to a capacity of four cards each having up to 32 GB in size. Furthermore, it can hold up to four TB SSDs reaching a storage capacity of up to 8TB.
Some of the options you can choose for customization are RAID configurations, an upgrade that adds a backlit keyboard increasing the battery capacity from 64Wh, to 97Wh and including a fingerprint reader.
[Also Read: Dell XPS 15 Touch Screen 15.6″ 3.5K OLED Laptop Review]
Conclusion Of Dell Precision 17 7730
The Precision 7730 is a workstation that offers performance and a vibrant 4K display. Its keyboard is comfortable the design is premium. It has a GPU which adds to its appeal. Although it would benefit from battery life and tends to heat up when handling tasks these are minor drawbacks.
In terms of competition, the HP ZBook 17 G4 is a contender, at $6,059. It features a display. Delivers exceptional performance. It stands out by maintaining temperatures during testing and offering longer battery life. On the downside, the brightness of its display falls short. Its design is not particularly remarkable.
On the other hand, the Lenovo ThinkPad P71 priced at $4,643 also emerges as an option, with its color-accurate 4K panel and exceptional keyboard. However, it falls behind in terms of hard drive performance compared to the Precision 7730.
Overall I wholeheartedly endorse the Precision 7730 as an encompassing workstation. As long as it fits within your budget.