iTop Easy Desktop Review: Free Stardock Fences Alternative for Windows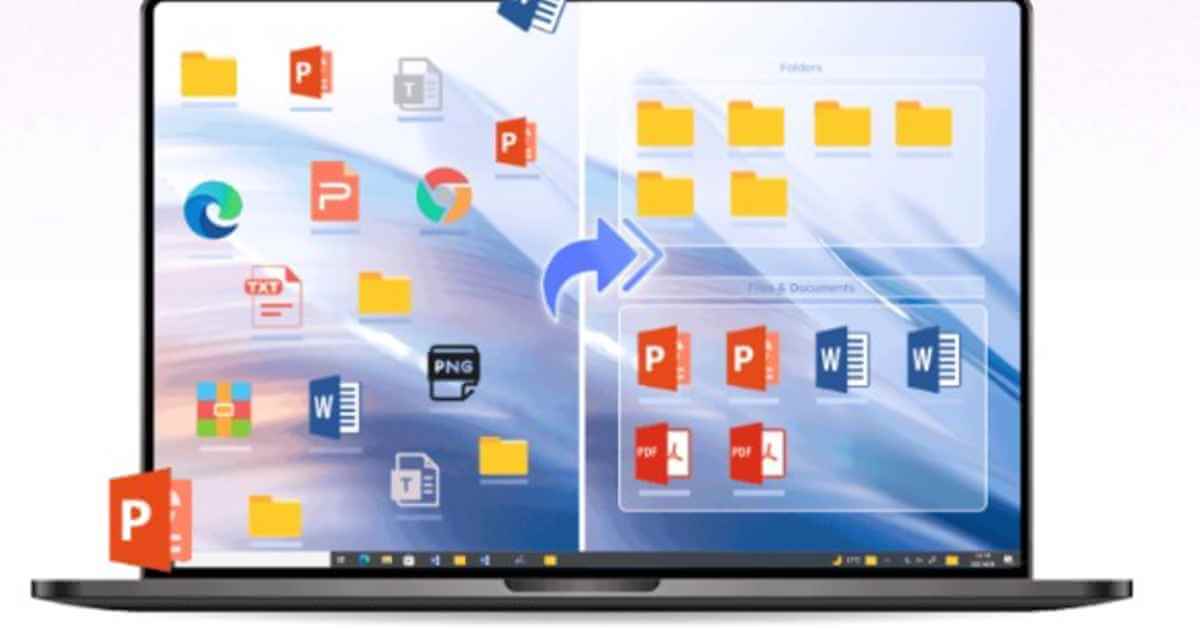 Let's shake hands if you're sick of looking at your desktop screen to see disorganized key folders. I remember how annoying it was to search through my laptop to find a 100kb file. And when you're a busy freelancer, that's a lot of time—almost an hour. Before I discovered iTop Easy Desktop, it kept happening for a fair period. Because I've just saved a ton of time, and my Desktop now appears organized, tidy, and manageable. Do you not know about iTop Easy Desktop? To find out what magic lies in, wait beneath the term "iTop Easy Desktop," and read on until the end.
Thank you for reading this post, don't forget to subscribe!
What is iTop Easy Desktop?
You may create desktop decks to organize your files, folders, and other apps with the desktop organization tool iTop Easy Desktop. You may now organize various things, including your Chrome profiles, shortcuts, office documents, and files. With no risk of losing any crucial PC data, you may immediately organize Desktop.
The days of losing several crucial files when purging your laptop of junk and then regretting the entire cleaning procedure are long gone. iTop Easy Desktop is now revitalizing the entire procedure to make it easier, more streamlined, and less problematic. Remember that everyone needs iTop Easy Desktop since it allows you to work more quickly and enjoy rapid searches with a tidy, organized desktop.
Stardock Fences Alternatives: Top Reliable Pick
By splitting the Desktop into several portions, the finest Stardock Fences enable you to categorize and manage it. Many people hunt for free yet powerful alternatives to Fences despite the existence of feature-rich and successful premium Windows applications. Explore our long choice of excellent alternatives now so you can quickly decide which is perfect for you.
iTop Easy Desktop is an excellent productivity application. Compared to the other Stardock Fences alternatives on our list, it organizes desktops well without expense. If you want to eliminate the cluttered desktop icons, files, and folders that cause you to stress, go no further than iTop software.
Users no longer need to spend hours searching for certain files on their laptops or computers since this feature-rich program will automatically arrange the user's Desktop and crucial digital files in no time. It's incredible how effective this entirely free desktop optimizer can be. So, give this Windows desktop organizer a shot and be ready for a fantastic journey!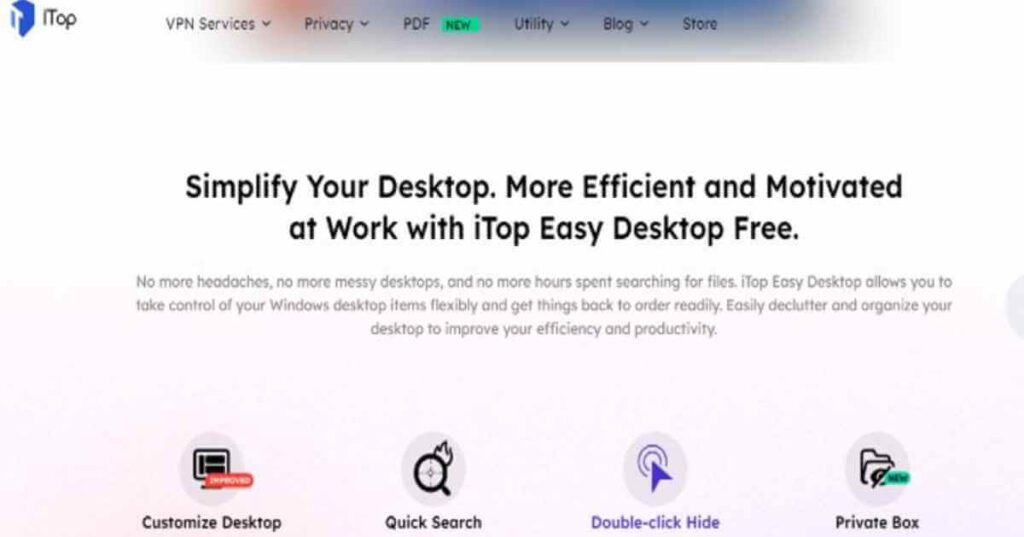 iTop Easy Desktop: Standout Features
The iTop program, one of the high-end alternatives to Stardock Fences, is an amazing, must-have software, especially for people who truly want to get rid of such excess clutter in an efficient method.
Quickly Declutter and Organize Your Digital Workspace
The organizing of the Desktop can be completely free and automatic. This all-inclusive program may also clean and arrange files, folders, photos, and icons received, downloaded, or produced on the Desktop into boxes and groups. There's also a handy manual mode. Overall, anyone can easily clear up their computers using iTop Easy Desktop.
Everything is quick: find, hide, and search.
Aside from arranging the icons on the Desktop, iTop Easy Desktop includes a slew of productivity-enhancing features. They can be unhidden and hidden with a single double-click on the Desktop. Furthermore, the software allows users to quickly identify directories and files using hotkeys, which is far faster than the built-in Windows search capabilities.
Using Folder Portal, you may access any folder and personalize the boxes.
The iTop Easy Desktop's "Folder Portal" functionality allows all users to access all folders directly from the Desktop. Using this significantly enhances the users' workflow. Furthermore, users may modify the exact transparency of boxes, personalize the color of the boxes, and do more activities (DIY) with the aid of the one and only iTop Easy Desktop.
The Final Line
Having a clear, organized desktop where you can instantly access your files and papers with a single click is the best feeling in the world, and iTop Easy Desktop provides you the ability to experience this freedom. The benefit of being a member of the iTop Easy Desktop family is that it is free. That bargain is a steal. So, stop suffering from migraines caused by disorganized desktops because the iTop Easy Desktop is here to increase your productivity and efficiency!