How To Increase Domain Authority For Your Website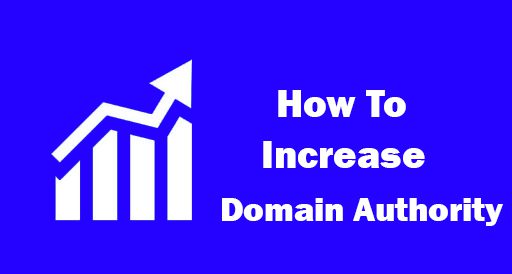 The process of boosting (or) increasing domain authority (DA) is very necessary and very tough for all the bloggers, but it is must and should requirement for each website.
The Domain Authority is a ranking metric created by Moz defining how strong the ranking on the website is.
This is one of the market criteria we use when we think about SEO and SERP ranking. The domain authority must be calculated on a range of 1 to 100. The closest you get to 100, the more traffic and the higher ranking you would get.
Low DA can lead to huge traffic losses and rankings. That's why; having a good DA is important. Many people have difficulty changing their DA and this is because it's a bit of little a long-term process.
However, there are important steps you can improve your DA. It may not happen overnight, but it happens sooner than you think.
If you are looking for Domain authority increment services contact at guestpost@webtechmantra.com
Reasons To Improving DA:
Everyone with Google Domain Authority (DA) Google Trust sites wants to increase their DA & PA website.
When you look for anything on Google, you can get results for places such as Wikipedia, Ebay, Twitter, Lifehacker.
So, they're all in the race to increase their DA for their website.
Check Your Site DA:
Moz, who developed DA, has software called Open site Explorer that you can use to test your DA.
The Process We Follow Steps to Boost DA:
Perform a link profile analysis and delete any unnecessary links.
Focus on SEO on optimization and off page optimization
Write related Title and meta tags
Optimize Site speed
Write User-friendly navigation (like breadcrumbs, sitemaps, etc.)
Quality Backlink Building
Manual operation by our Experts
Use Relevant Images & Videos
Quick Index Submission
Use Unique Content
Better Contextual Links
Our strategies for DA Growth:
The Web Tech Mantra generates customized solutions for each of our clients focused on their needs and priorities.
We also tried multiple methods and, as a result, find a way to improve every website Domain Authority.
We're creating high-level DA pages that connect from one to the other, as well as the money page or place you're trying to bring to the DA.
With help high Domain Authority websites, our sites continue to build the trust of Google, which in effect continues to place the keywords on the first page of Google results.
Boost Your Website Credibility The Right Way:
Once it comes to the SEO, we're able to update searching for various strategies that will produce the highest profit.
For Google algorithms frequently changed, the stuff that Google still likes function like great content, socially, strong authority, and reduced bounce rate, By attaching the High Authority websites to your website and through the rankings of your keywords that will show your website.
We have followed 4 packages for domain authority service
Domain Authority Service for Platinum package.
Domain Authority Service for Gold package
Domain Authority Service for Silver Package
Domain Authority Service for Bronze package
Those who are all looking to increase domain authority for the website you can contact us at
FAQs:
Q.How can improve my DA performance?
Metrics that will help you reach a higher score for DA.
Write Accurate content.
Understanding On-Page SEO.
Links internally is important.
Create high-quality links to website.
Modifying Negative Links.
Improved Frequency of Publishing.
Q.How do I boost my DA site?
Steps on Increasing your Domain Authority
Focus on your SEO Off-Page.
Optimization of the SEO on-page.
Focus on the technical SEO.
Ensure the website is Accessible to Mobile.
Speed up the website Load.
Improving the social signals.
Q.How can I expand my domain authority in 2020?
Actionable Tips: To boost the domain authority of your website
Do the creation of Quality content links.
Never put unwanted affiliation links.
Boost Quality of Internal Linking.
Publish a Great Content.
Promoting content on various social media.
Increase page loading speed.