How To Actively Advertise Your App On Popular Social Media Platforms?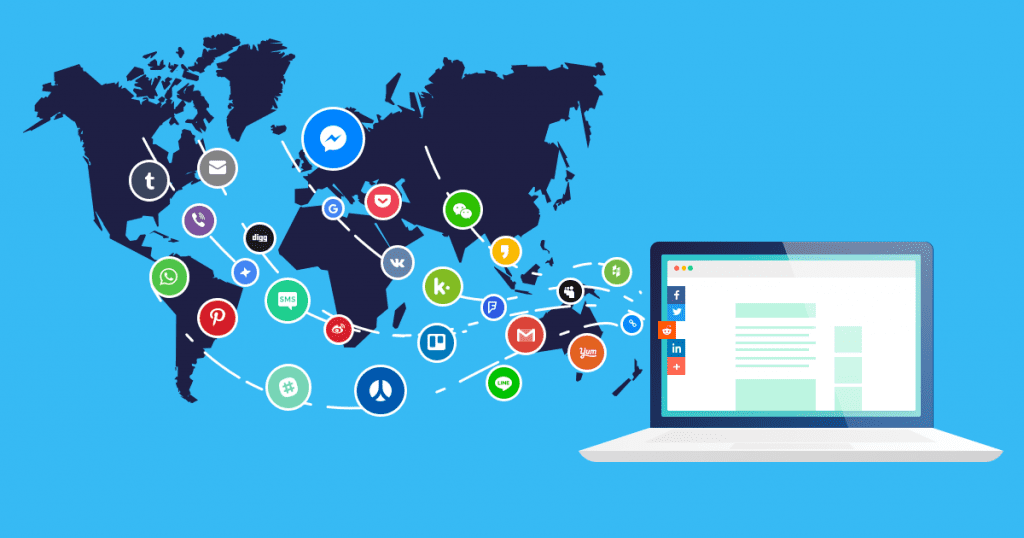 Social media platforms have long been used to accomplish a variety of business purposes. All you need to do is create a business page and several ways are open for brand promotion.
Thank you for reading this post, don't forget to subscribe!
Is it the only benefit social media platforms are rendering to the industry? Have patience! There's a lot more which you'll praise about the revolutionary platforms. The platforms are well-known for grabbing target audience attention in great manners and also tells you how to promote an app on social media.
App founders got the gist and came up with a hope to promote their newly developed apps on app stores.
They discovered the fact that creating a mobile app with trending ideas is great enough and it professionally takes place under the guidance of seasoned mobile app developers. The aspect which they considered the toughest part is, the app marketing or how to promote an app after launch.
Here, come the social media platforms like Facebook, Twitter, Instagram, LinkedIn, etc. that come into the picture and influentially pave the way for better app promotion.
Read Also: 6 Ways to Use Social Media for Marketing
Ways To Promote App Through Social Media
Explore how prominent social media platforms are making it easier for app marketers:
Pre-launch Amazing Content Creation
Working on app pre-launch buzz brings curiosity into users' minds. It's like creating the upcoming product's hype among interested users and make them wait for the app to launch so that they can have a complete idea for the same.
This can be done amazingly by distributing a product release, developing a short introduction video featuring its benefits and most importantly by throwing a social media post containing quality yet compelling app promotion content.
Bring Influencers To Your App
Getting an idea or reference about tech updates, software and apps from the family and friends is undoubtedly a good idea. But, it doesn't lead to a beneficial venture every time. In this case, you have to seek other options too.
This can also be done if you get app reviews from famous personalities. It increases the value of an app and makes it much more prominent among users who are interested in downloading it.
When it comes to promoting a mobile app, getting your app liked and reviewed by well-known influencers would be one of the best leads towards your app success.
They are credible and the industry knows them as tech-giants. This usually attracts other users to get along which further brings maximized clicks, app reviews, and downloads to your app.
Don't Focus On A Single Platform
As we have a variety of businesses across the market. Similarly, the audience is also segregated into sections. You can't decide where you'll find your type of audience which you can target for your app promotion.
Therefore, it is suggested not to stick with a single social media platform rather, utilize all of them equally and extravagantly to reach out to the market you actually desire to target your app. Make sure you're advertising your app strategically and create separate content for each social media page.
For this, you have to create mobile app reviews content which later gets published on a variety of social media platforms. This is an important thus should be keenly focused.
[Read Also: 12 Best Video Player Apps for Android]
Create Engaging Social Media Pages
Well! It would be the first step in this detailed guide.creation of social media pages belongs to a very first and important phase where you need to be focused and user-oriented.
Your social media pages should be creative, exceptional and well-designed to grab the users' attention and enforce them to explore for more. This is the way, one can earn genuine positive mobile app reviews.
Design the pages in a way that these create a unique impression among all the available hundreds of thousands of pages created by other business handlers. You can consider it a test in which you need to be passed at any cost.
Leverage Existing Mobile Site
Utilizing your existing mobile site might create organic engagement for your mobile app. People who know about your services will come to your website first to check the related information.
For your website, you can add a link to your mobile app with a meaningful CTA to let them know that they are now dealing through the mobile app too. This is an amazing technique and truly working in terms of attention increment.
Final Note:
Today's world is filled with outer showcasing and digital appearances. It's up to you how you use this digital world to make your app visible on the top of app stores. Using social media platforms for app promotion is quite easy, but getting the desired results is not a cup of tea for all.
One can only achieve the estimated outcomes if and only if they are following the relevant strategies in the right direction.
If you're also a mobile app marketer, joining this social media promotion race would be a great part of your app success journey. Here, you'll get app reviews, along with maximized user attention and utmost proximity that increase app visibility on the respective app store.