File Management and Organization are Made Easy with GogoPDF Online Tools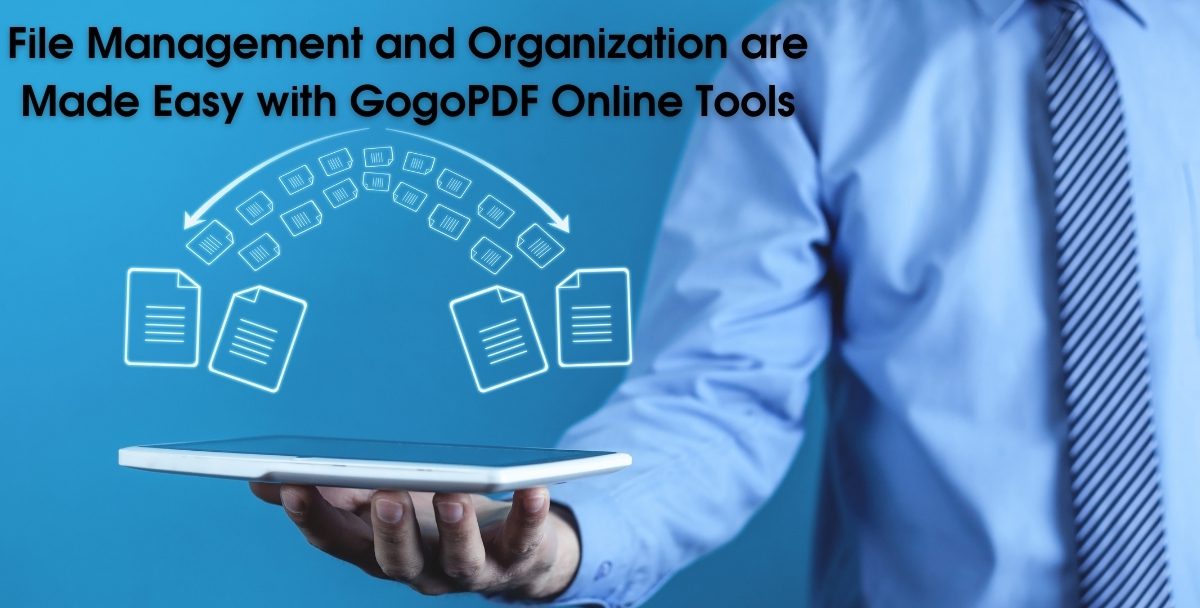 Organizing electronic files has been one of the challenges to most people around the world. If you don't have the skills, you'll surely encounter different problems in dealing with your files, especially if you don't have any available tools to help you do different file activities. Hence, the simple task of converting your files to other formats can be difficult for you.
However, as technology continues to develop in response to helping people file needs, the number of websites significantly proliferates to offer various tools and services on the house. One of the online platforms that most people have trusted their files for many years is GogoPDF.
Therefore, read the details below and see how GogoPDF can be of so much help by using its various online tools for efficient file organization and management that you'll surely need for your electronic files.
Converting PDFs
As mentioned earlier, the simple task of converting your files to other formats can be difficult if you don't know the process. However, with the use of the GogoPDF file converter, you can make it done in no time. For example, if you need the images in your PDFs for the project you're working on right now, you have to convert PDF to PNG.
If you want to have reliable copies of your Excel spreadsheets, Word documents, and PowerPoint presentations, you can go ahead and transform these files into PDF format. Aside from these, there are more file formats available on the GogoPDF website for conversion that your future projects and tasks might need.
Merging PDFs
If the PDF files on your smartphone or computer folders are all well-organized, it'll significantly contribute to every successful file task you've done. Otherwise, PDFs you regularly use and the unused ones that are scattered all over the screen of your smartphone or computer will surely give you a bad impression and negative vibes.
That's why the PDF merger online tool of GogoPDF is of so much help to let you employ effective PDF file organization. The tool will combine two or more PDFs into a single file. Therefore, if you have particular PDF files that you use in the same task or project, you can merge them together. PDFs for leisure, school, or business, you can also unify them accordingly.
The purpose of using this PDF merger of GogoPDF is to help you have well-organized file storage that will result in quick file access and retrieval whenever you need one in the future. It'll surely be convenient and time-saving in organizing all your PDF files.
Protecting PDFs
Protecting your PDF files from anyone who tries to access them and use the information these files contain without you knowing it is your responsibility as the PDF owner. Thus, the best thing to make your files safe is to set up a personalized password. You only need to go to the website of GogoPDF and upload your files on its tool.
Then, provide the password you want to use with a combination of different numerals, capital letters, and other symbols. After that, the tool will save the password you've made that will usually take a couple of minutes. There you have it! Your PDF files are now protected with a password, so you won't worry anymore about any possibility that anyone will access and use your files without your permission.
Signing PDFs
A personalized signature is sometimes needed for some documents for validity, credibility, and authenticity purposes. However, PDF files don't let you simply get a pen and sign them. Hence, you have to use the PDF eSign tool of GogoPDF that will allow you to add your digital signature to your files.
You can use the computer mouse or the laptop's touchpad to manually input your signature on your PDFs. Another option is to upload the image form of your signature. It could be in JPG format, PNG, or even the one you've taken using your smartphone's camera. After you've finally added your signature, the tool will immediately save it on your files.
Then, after a couple of minutes, you can now download the newly signed PDF files on your smartphone or computer file drive. That's the easiest and the most convenient way of adding your signature on your PDFs using the GogoPDF online tool. It'll surely be so convenient and time-saving in completing all of your file tasks.
Takeaway
Many people still struggle to manage and organize all of their electronic files. Lack of skills and no available tools to use are reasons for failing in doing these file tasks. Don't worry because the list of online tools discussed above will significantly help those who have the same struggles. Hence, if you are one of them, it's time for you to explore the GogoPDF online platform today and discover other amazing benefits you'll surely enjoy while dealing with your electronic files.