Some of the stunning looking Garmin watches for women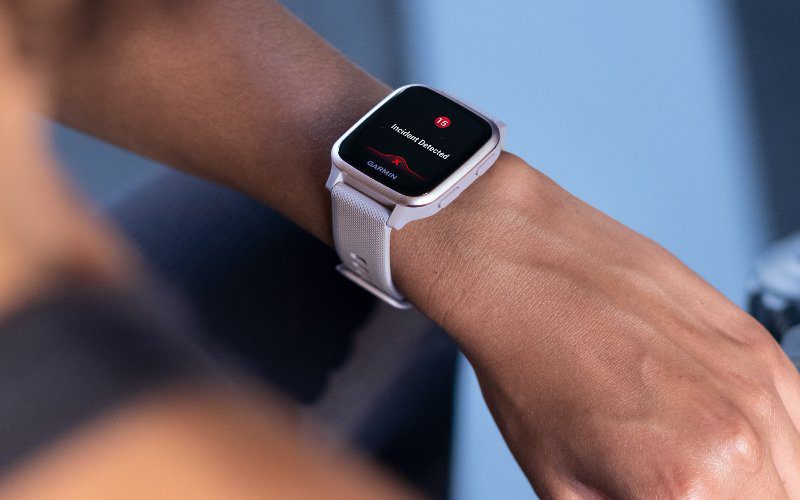 Garmin was established in 1989 and is an American company currently incorporated in Switzerland (Schaffhausen). Almost three decades ago, Garmin started their first successful run in the aviation industry with their cutting-edge GPS navigation gadgets. Since then, Garmin's inventory has increased to cover the automotive, marine and aviation sectors fully. Today, Garmin is a prestigious brand in the automotive, aviation, marine, and fitness markets. They were created on a healthy product ecosystem and blending impeccable quality, awe-inspiring designs, and excellent reliability into unique user experiences. Now Garmin watch aims to become the number one name in the smartwatch and fitness tracker industry. Let's take a look at the Garmin watches for women that can be an excellent option for your requirements:
Garmin Women's Smartwatch Lily
The Garmin Women's Smartwatch Lily is specifically designed for women with an elegant taste. This Garmin watch flaunts a super slim design that's a significant departure from the usual chunky layout of most smartwatches.
Buying a smartwatch is always a wise choice when it comes to tracking your fitness activities. Users can get smartphone notification alerts through the Lily, it comes bundled with an exciting range of activity-tracking profiles, and under the hood, it houses a pulse ox sensor as well. This Garmin watch is best-in-class when it comes to offering women's health features in the most user-friendly way. Garmin's period-tracking app is also present in this device and is available with a swift tap of the stylish monochrome display.
Garmin Vivomove 3 (Rose Gold, 39mm)
Garmin Vivomove 3 is the best Garmin smartwatch with a hybrid design. This Garmin watch looks very similar to their hugely popular model Garmin Vivoactive 4 at first sight. Still, surprisingly, this is a hybrid smartwatch, which means this device has an analog face that swiftly moves out of the screen automatically to show fitness stats and smartphone notifications on a hidden digital display. This Garmin watch is a great-looking wearable, lighter on fitness features than the Vivomove model. The smaller than usual big digital display also means that it will be compact and look excellent on the wrist. To navigate your daily activity stats, users need to delve into the Garmin Connect app.
If you're in the market looking for a fashionable alternative to a Fitbit, then Garmin Vivomove 3 can be an excellent option for you.
Garmin Vivosmart 4 Fitness Tracker
The Garmin Vivosmart 4 Fitness Tracker comes bundled with special sleep monitoring relying on the REM (rapid eye movement) monitor feature, along with a wrist-based Pulse Ox sensor to track your blood oxygen saturation levels at night and the stress tracking feature (24×7). It also comes bundled with a relaxation breathing timer feature, Body Battery feature, and VO2 Max feature.
A goodnight' sleep plays a significant role in overall mental and physical wellbeing. In fact, a poor sleep quality may lead to the growth of unwanted chronic conditions. With its sleek design, this Garmin watch is very comfortable to wear even at night. Garmin's Vivosmart product line is excellent at monitoring stats, making it hugely popular among fitness enthusiasts who love to see daily activities' accurate stats.
Garmin has bundled features dedicated to physical activities, including swimming, walking, running, and more, in this fitness tracker. The Garmin Vivosmart 4 activity tracker will inform users of notifications, text messages and incoming calls.
Whether you are looking for a Garmin watch or a fitness tracker, no matter which product you finalise from the above list, you will cherish your new smartwatch experience. If you are delaying your purchase due to budget restrictions, then we have got you covered on that. Keep reading to discover more.
The ingenious way of purchasing your Garmin watch and fitness trackers 
EMI Store is one of the largest online platforms for all your necessities. Now you can also order your favourite Garmin watches on the EMI Store without spending the entire amount at once but repay in easy instalments with the No Cost EMIs option.
Do not forget to check out the vast benefits you can get with your EMI Network Card while purchasing your Garmin watch, fitness trackers or other products from any of the 1.2 lakh+ stores in more than 2,900 cities in India.
So what are you waiting for? Place an order for your latest Garmin watch on Bajaj EMI Store and get it simply delivered to your doorstep with the quick home delivery option