Future of Enterprise Low-Code Platforms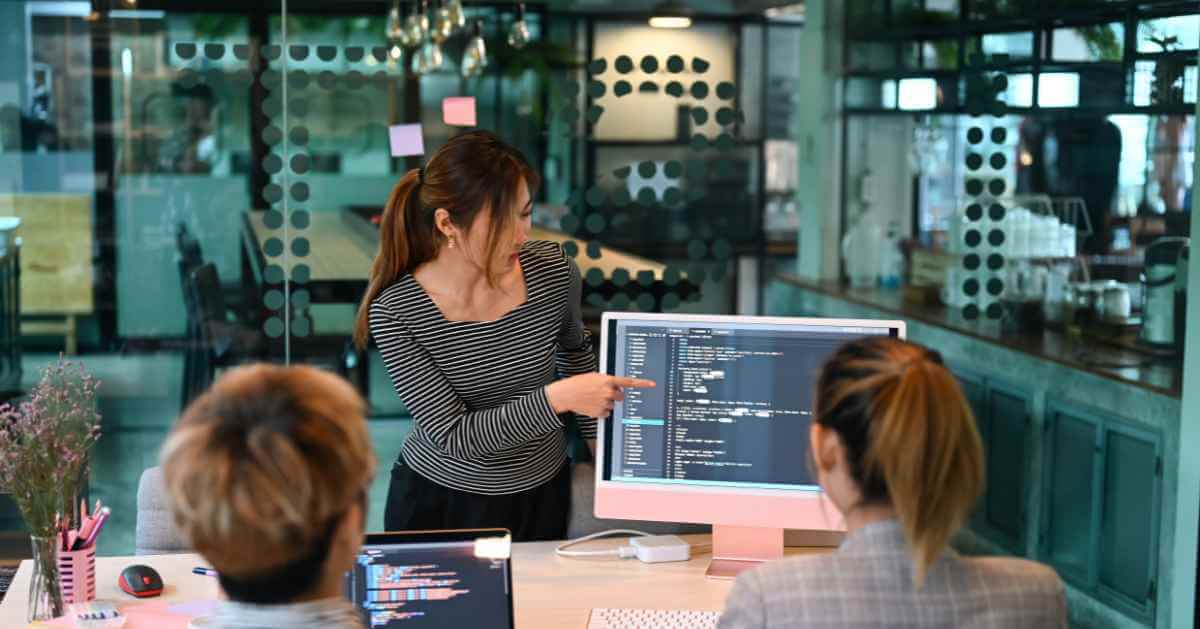 IT teams no longer rely on tedious software development processes and time-consuming manual coding to create reliable and modern solutions. The software industry has been driven to find alternative methods to deliver their services and products. It remains digitally current due to the rise of new automation technology, rapidly growing expectations and demands from innovation-craving customers, and a shortage of developers. Today, a low-code application platform makes it easy to overcome this challenge.
Thank you for reading this post, don't forget to subscribe!
​​What are Enterprise Low-Code Platforms?
With a growing demand for new apps and modernization, businesses across the globe are turning to low-code enterprise solutions to drive their digital transformation initiatives. The low-code enterprise software enables digital product teams and citizen developers to create apps without time-consuming hand-coding.
A low-code application platform streamlines software development by providing visual interfaces and pre-built components. It lets users quickly and effortlessly create applications, regardless of their coding expertise. Furthermore, the visual nature of low-code platforms enables shorter turnaround times, lowers the risk of errors, and encourages greater accessibility for a broader range of users.
As per Statista, the global low-code application platform market revenue is expected to reach approximately 32 billion US dollars in 2024. The low-code platforms' future holds promising potential for streamlining application development. Organizations can now provide results quickly and easily due to enterprise low-code platforms that empower application development processes.
Importance of Low-code Application Platform
Customized, feature-rich enterprise applications are required to bring value to a business. But why should you go with a low-code application platform? Here are some significant factors why this approach is gaining popularity among organizations:
One Platform to Meet All of Your Needs: Low-code platforms offer a unified solution that meets various development needs. They develop applications that cover simple to complex enterprise-level systems. It streamlines IT management and eliminates the need for numerous tools.
Unlock Employee Potential: Low-code enterprise solutions enable employees from all departments, not just IT, to get involved in application development. This change allows them to contribute their perspectives and create customized solutions, fostering innovation and effectiveness.
Multiexperience Innovation: Organizations are putting more emphasis on providing outstanding user experiences across a variety of devices and touchpoints. Low-code enterprise software makes building user-friendly and responsive applications easier, which helps organizations remain competitive in an evolving digital environment.
Accelerated App Delivery: Businesses can create and deploy applications faster than conventional development techniques by simplifying the coding process and using pre-built components. This flexibility is essential for adapting to shifting market needs and staying ahead of the competition.
Modernize Legacy Applications: Many organizations struggle with outdated applications that restrict their ability to change and innovate. The low-code application platform bridges modernization by enabling developers to construct new applications that smoothly connect with legacy systems, increasing the functionality of existing technology investments.
Exploring the Low-code Platforms Future
As businesses continue to engage in more modernization, here are some predictions for where low-code platforms might take us next:
Business-driven Automation: One of the leading drivers of low-code adoption is building custom apps designed to support their specific operational needs. It empowers organizations to automate processes swiftly, reducing manual work and increasing operational efficiency. Also, low-code enterprise solutions allow users to easily manage workflows while learning and transforming apps to be simple.
Support for Remote or Hybrid Work: More people enter the full-time remote workforce as workplaces remain less populated or shuttered. Low-code platforms will enable businesses to provide hybrid and remote workers with the infrastructure and tools required to operate independently and collaborate from home. Every firm must be connected across data, devices, people, and processes. A low-code application platform integrates the apps and ensures that they work seamlessly with each other.
AI and ML Capabilities: Through prebuilt, pre-trained AI models, enterprise low-code platforms will enable both coders and non-coders, business users, to add AI capabilities into their apps without machine learning expertise. It increases competitiveness by allowing more informed and data-driven decision-making. Also, a low-code application platform enables businesses to develop and deliver applications for various platforms simultaneously. To increase accessibility and control, it uses this to provide low-code mobile app development.
Less Dependence on Skilled Developers: Traditional coding frequently requires high technical knowledge. Low-code enterprise software reduces reliance on skilled developers and simplifies development across the business by removing much of the technical complexity. Additionally, the time it takes to design any application or workflow is reduced from months to just a few days! You are not only releasing the built app to the market more quickly, but you are also addressing customer feedback and making modifications as necessary.
Efficiency and Cost Savings: Low-code applications can be designed and deployed quickly, which results in cost savings. Organizations may shorten development time, distribute resources more effectively, and ultimately see a faster return on investment. It enables the organization to consider making financial investments in additional innovations. Also, the work progresses quickly and cuts the time in half due to the low bug count.
Flexibility and Adaptability: The low-code enterprise software offers flexibility and can easily adjust to changing needs. Low-code platforms let businesses experiment with new ideas and iterate on applications to quickly respond to changing business requirements and remain competitive in a fast-paced market.
Revolutionizing Application Development with HCL Volt MX
Volt MX is a multiexperience development platform that bridges the gap between business and IT, enabling professional and citizen developers to collaborate seamlessly and create compelling experiences.
It enables every employee, from professional to citizen developers, to collaborate and solve digital challenges in a safe, governed environment.
It provides the efficiency and agility to modernize and accelerate app delivery by more than 60% with comprehensive services and no backend complexity.
From progressive web apps (PWAs) to native mobile apps, you can engage with your users wherever they are, spanning various devices, including wearables and kiosks, all while utilizing a single code base.
Schedule a demo to discover how our industry-leading multiexperience low-code platform can enable your organization to deploy applications within a matter of weeks.