10 Best Free Time Tracking Apps to Improve Productivity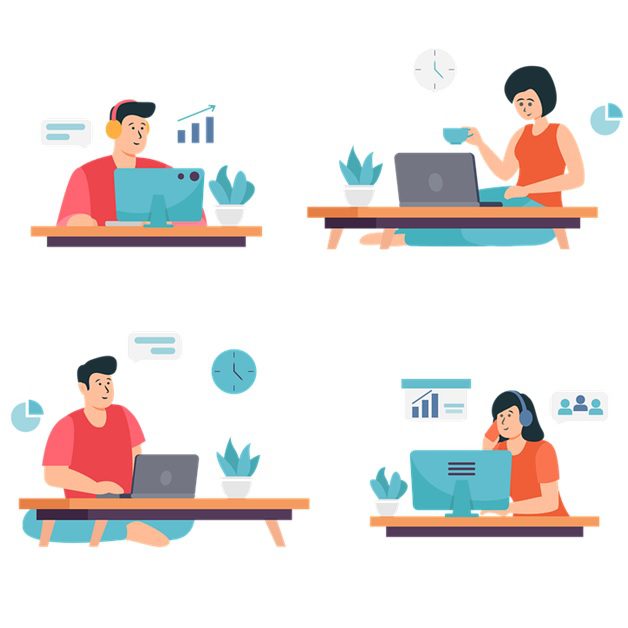 Time tracking is becoming increasingly popular as a way to improve productivity for employees. In fact, 80% of average working hours are used for non-work activities. For teams, time tracking helps to provide performance and productivity data by monitoring time-wasting activities. Moreover, solo professionals often track the time they spend on tasks mainly to create invoices for clients.
Thank you for reading this post, don't forget to subscribe!
Monitoring your work hours bring plenty of benefits and using a time tracking program will make the process easier. If you're a professional or team looking for the best free time trackers, one of the apps covered in this article will be right for you.
#1 Traqq
Traqq is helping freelancers and teams to track time in smarter ways. It monitors recorded time as you work, and gives alerts for hours worked. Even if you forget, Traqq will always remind you to activate your timer, or when your device is idle. At the same time, this app makes it easy for managers to monitor employee productivity.
It measures activity levels, wasted time, and generates detailed reports for individuals and teams. Traqq is one of the best time trackers with screenshots that records employees screens without revealing sensitive and personal information. Video recordings and screenshots are taken in the background to avoid disruptions to work.
What's more, users are given the freedom tomanage their recorded time and screenshots. They can delete anything—including the corresponding hours—from the reports. Despite that, employers can still detect suspicious usage.As of this writing, you can download and use all the features of Traqq for free.
#2 ezClocker
ezClocker is a highly rated time tracking app for freelancers and small teams. It's simple design allows you to record your hours per job, add notes, and send an invoice email to your customers with a touch of a button.
The team version of the app allows employees to download the ezClocker app on their phone and clock in with a touch of a button, view their schedule, and total hours worked. Employers use ezClocker to view timesheets, create schedules, view overtime and export time entries to process payroll.
Clockify is another time tracking solution for individuals and teams. It makes it easy for users to manually add hours or use a stopwatch timer. You can track work progress, get weekly reports, and monitor time totals on team dashboards. Clockify is available on Android, iOS, Windows, Mac, and Linux, and it supports integration with over 50 third-party apps.
#3 Toggl
If you want to easily track the time you spend across projects, you should check out Toggl. This app helps to provide insights about how you spend time by monitoring activity levels, and website visits longer than 10s. Toggl has a Pomodoro feature that makes it easy to focus on tasks in bit-sized periods. It's smart enough to detect idle devices so that reports are highly accurate. Toggl is one of the best time trackers that has both free, and premium plans.
#4 RescueTime
Freelancers who want to monitor how they spend their time will find RescueTime efficient. It's suited for those who want to boost productivity without necessarily reporting to anyone. You don't have to manually input time because the automatic tracker measures the time you spend on both PCand mobile devices.
RescueTime sends you detailed reports to give insights about your productivity leveland how you work. It comes with a free version that allows you track activity levelsand get reports. RescueTime has other amazing features that are available for paid plans.
#5 Harvest
Harvest is another time tracker that has been helping freelancers for close to a decade. It makes it easy to monitor multiple tasks on a project, and they can be billed separately. In Harvest, billings can be done per user, project etc., and it does a good job with differentiating billable and non-billable hours.
Harvest comes with an intuitive dashboard that makes it easy to handle project monitoring, invoicing, analytics and reporting. Harvest is free forever for one user. However, the free plan limits tracking to only two projects.
#6 Hubstaff
Hubstaff is more than a time tracking app. It makes employee and payroll management quite easy. No need to manually input time because tracking happens automatically. It's able to detect inactive hours, generate user timesheets, and even track via GPS. You can create tasks and manage different billings for every worker in your team.
The free version gives access for one user to monitor timeand activity levels. Hubstaff can be deployed in the cloud or used on Windows and/or Mac.
#7 Time Doctor
Time Doctor is highly an intuitive solution for remote teams. Employers or supervisors are able to monitor employee activity by viewing visited websites, keystrokes, idle periods, and screenshots. They're able to keep track ofindividual productivity. Employees also have access to daily performance reports to help them monitor and improve their efficiency.
Time Doctor provides detailed reporting based on projects, tasks, users etc. The free plan allows you to track basic tasksand time spent.
#8 FocusMe
Are you looking for a time tracking, and anti-distraction solution? FocusMe does a great job with this. It automatically tracks the time you spend on apps, or websites to give insight on daily activity. FocusMe also features a Pomodoro timer that allows you to break up daily projects or tasks into short periods. This strategy has been proven to yield productive workflows.
To achieve more focus, you can use FocusMe to block apps or websites that you find distracting. It also provides data and insights from how you spend time so you can work towards improving or rewarding yourself.
#9 Tracking Time
This app can be used by both freelancers and teams. On single projects, employers or managers can track the time spent by all team members. There's no need to input time manually, the timer automatically tracks in the background so employees can focus without distractions.
Tracking Time works on mobile and desktop. It supports integrations with relevant third-party apps. Small Teams can use the free plan.
#10 ActiTIME
ActiTIME comes with an easy-to-use interface that allows you to track time however you want. You can choose to use the automatic timer or input time entries manually. Employers can manage projects, assign tasks, monitor time, and get detailed reports all in ActiTIME.
The tool also makes it easy to manage workload, billing, and invoicing across multiple projects. ActiTIME works across web-based, Android, and IOS devices.
Conclusion
The U.S loses $7.4 billion per workday tracked work activities. This and many other reasons are why you need to take time tracking seriously. All time trackers offer basic functionality for real-time tracking. However, they all have additional features that make them unique. So, there's no time tracking app that works for everybody. You just need to check their features, and try one that suits your workflow and productivity needs.
META DESCRIPTION
Monitor your remote staff for attendance, payroll, and compliance with the best free time trackers. Discover top time tracking apps that you can use at no cost.