Domain Name vs Web Hosting: What's The Difference?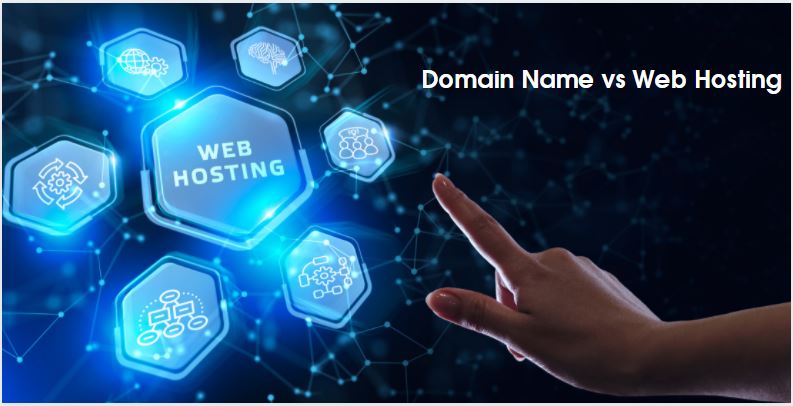 The domain name and web hosting are both requirements to create a website. These two terms may sound similar to unfamiliar ears, especially because they are often used together when talking about websites. 
Thank you for reading this post, don't forget to subscribe!
However, they are two separate aspects of a website with different functions.
This article will explain to you what a domain name and web hosting is, which one you need most for your website, and how to recognize a good domain name and web hosting, provider. 
What Is a Domain Name?
A domain name is essentially the address of a website. 
The actual address of a website is an IP address, which is presented in numbers. However, a string of numbers is hard to memorize. Thus, the domain name is developed for websites.
Since a domain name can only be used to access one website, you'll have to check its availability before registering it for your site. 
There are lots of free domain name checkers to try out. Most of them are connected to a hosting provider like Hostinger, but some, like Instant Domain Search, exist as a standalone service.
When brainstorming for domain names, there are some tips you need to keep in mind.
First, make sure to keep your domain name under a certain length. The ideal length is no more than two or three words. 
Choose words that are easy to remember and simple to spell. If it's for a business website, you may also include your brand name in there and put in related keywords.
If possible, avoid including lots of symbols and numbers in your domain name. They are harder to type in and may lessen the credibility of your website.    
What Is Web Hosting?
In simple terms, a web hosting service allows individuals or organizations to publish their website on the internet. 
It does so by storing your website on a server, which can be accessed by internet users. 
While there are physical and virtual servers, both still require physical resources to run. Since most businesses don't have the resources or technology to host a website on their own, many depend on a web hosting provider.
Web hosting providers are businesses that provide the network of computers, or a server, to host websites. 
They also provide other services, such as regular maintenance, a database for websites, email accounts with personalized domains, and FTP access for file uploading.
There are lots of web hosting providers out there, but a good one should be reliable, with minimum downtime and accessible customer support.
Ideally, a hosting provider should also include freebies or additional features in their plans. Whichever web hosting plan you choose to buy, make sure the features match what your website needs.   
Domain Name vs Web Hosting: Which One Do You Need?
A domain name and a web host makes your website accessible for visitors, but both of them have different functions. 
Domain names give a catchy address for websites, while a web host stores the website in a server to make it accessible by internet users.
Since they have different purposes, you need to have both of them for your website. 
Technically, website owners can't "own" a domain name. Buying a domain name is more similar to renting. 
Website owners can buy a domain name from a registrar, a business that handles the commercial sales of domain names. 
When you buy a domain name through a registrar, the registrar reserves the domain name for a limited amount of time. It passes this information along to a registry, the organization that maintains the database of domain registrants.
Once the period is over, you have a choice to renew your reservation. If you don't renew it, the registrar may hand over your domain name to other buyers. 
The same goes for web hosting. Purchasing a web hosting plan is similar to renting a space for your website. It needs to be renewed after a certain amount of time, depending on the plan you purchased.
You may buy a domain name and web hosting bundled in one plan or separately. 
Most hosting providers also offer domain registration services and often bundle a free domain name with their hosting plans. 
Buying two of them together has an advantage. You can manage all the renewals and maintenance through one service.
When providers give you a free domain name, it's only free for a certain period of time. There's a renewal price that you have to learn about before buying. 
This is an important point to note, as many complaints about domain name registration are about hidden costs and an expensive renewal price.
Buying a domain name and a web host separately is also a viable option, especially if you've found the right service for both that match your needs.
Conclusion
While there are differences between a domain name and web hosting, both essentially are meant to make websites accessible.
A domain name gives a memorable address for websites, while web hosting makes it available to access through the internet. Both of them are crucial for a website.
Now that you've understood their differences and similarities, you're now ready to get one of each for your website.