The 7 Best PAC, PLC, and Dedicated Controllers for Industrial Automation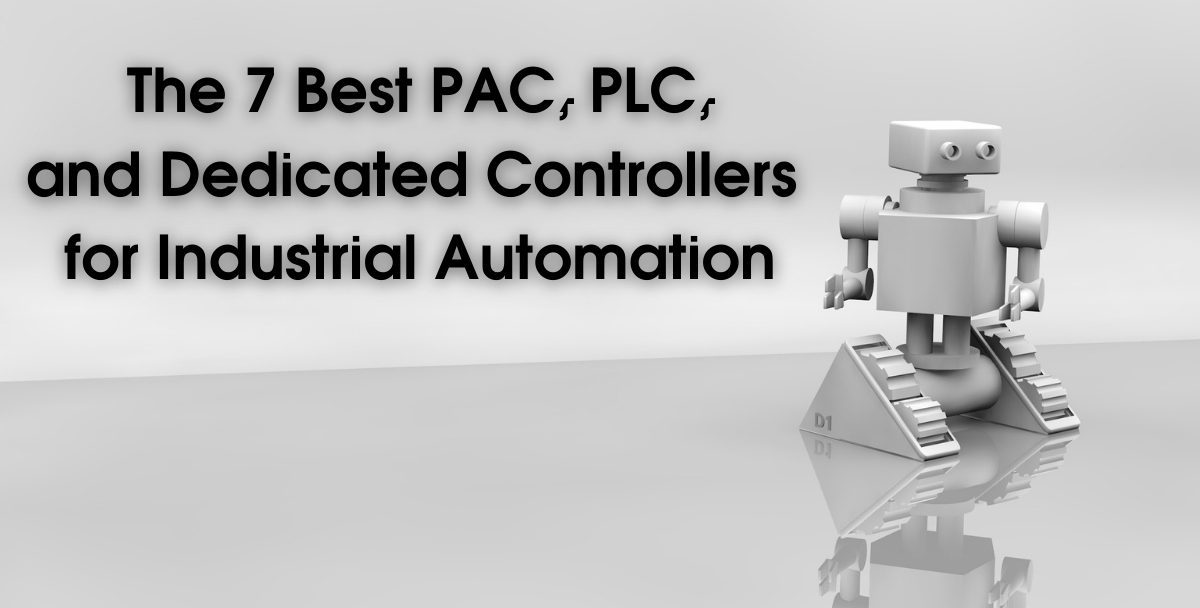 Modern industries need a reliable and efficient system to control their automation and other processes. They can make use of a PLC (Programmable Logic Controller), which uses manual commands to control the input and output from different devices. This tool's flexibility makes it ideal for industrial applications. It can work in almost any application as it guides output devices based on user commands.
Thank you for reading this post, don't forget to subscribe!
PLCs are suitable for manufacturing industries as they can be used as automation controllers. They are tidiercompared to endless timers and relays and enable manufacturers to track mistakes effortlessly. Let's look at the other benefits offered by PLCs for industries.
PLCs are typically simple to use, and employees don't need any special training to run them. It is also easy to track the control solution's decisions. A PLC is better at executing deterministic logic compared to Windows or other desktop operating systems. Its functions are also more consistent and reliable. Even minute timing errors can cost a business a lot in wasted raw materials and time. For this reason, PLCs are a great option for companies.
PLCs also offer excellent input/output features and a greater number of options compared to traditional computers. It's also easy to find PLC hardware that can manage added input/output, and you can select from an array of interfaces. For instance, you can pick a simple tool that utilizes a primary light and switch mechanism. Or, you can opt for a platform with a graphic interface.
You can even connect a PLC to a conventional desktop. PLCs can also be custom developed for purposes such as distributed control solutions, networking, motion control, sequential relay control, and others.
PLCs are built tough and can easily handle an industrial mess. Desktop tools need temperature control and regular airflow. Their internal fans gradually drag in the dirt and dust of the surroundings,which can compromise the whole system. PLCs are more rugged, and their processing power also compares favorably with desktop computers.
PLCs are built with tough hardware and design,enabling them to function in the rigorous conditions of assembly plants and floors. Their design is compact, which means they don't block access and use of other machines. PLCs can fit almost anywhere and thus provide a safer computing option that is more damage-proof than desktop tools.
PLCs are cost-efficient and much cheaper compared to developing solutions that can do the same tasks. In industry, errors can prove costly. For instance, a machine that places incorrect shipping labels on wrong packages can result in a mislabelling chain.  Therefore, it's essential to invest in efficient and reliable technology to avoid costs like this. PLCs are cheaper and more effective and valuable compared to competitor products.
In short, PLCs combine lower costs with superior performance. They can deliver precision computing even in the rigorous settings of shipping centers and industrial factories. A PLC occupies minimal space and lasts longer than its functional equivalents. A custom PLC system can offer easy access, a dynamic array of functions, and high performance in specific industrial environments. Thus, their industrial applications and benefits are clear.
Schneider Electric Solutions
Schneider Electric offers the following best PAC, PLC, and dedicated controllers for industrial automation:
PAC and PLC Controllers for Industrial Machines
EcoStruxure Machine Expert
Modicon TSX Micro
PL7
Modicon Easy M100
Modicon Easy M200
Smart Relay – Zelio Logic SR2/SR3
Logic Controller – Modicon M221
Logic Controller – Modicon M241
Logic Controller – Modicon M251
Modicon M262
Logic Controller – Modicon M258
PLC, PAC Controllers
EcoStruxure Control Expert
Modicon MC80
Modicon M340
Modicon M580 – ePac
Modicon X80 I/Os
Modicon Premium
Modicon Libraries
Safety Controllers and Modules
Preventa XPS MF
Preventa XPS MC, XPS MP
Modicon M580
Controllers (PLC) for Commercial Machines
Distributed I/O
Concept
Modicon TM3
Modicon TM5 IP20
Modicon STB
Modicon Momentum
Modicon TM7 IP67
Modicon ETB
Modicon Momentum for Unity
Mature Offers
Modicon Quantum
Modicon OTB
Software Suite
We recommend that you contact licensed professionals to get recommendations for suitable electrical solutions for your business needs. They can provide you the required guidance in shortlisting and selecting efficient and affordable systems for your organization.