10 Ways Custom Software Can Benefit your Business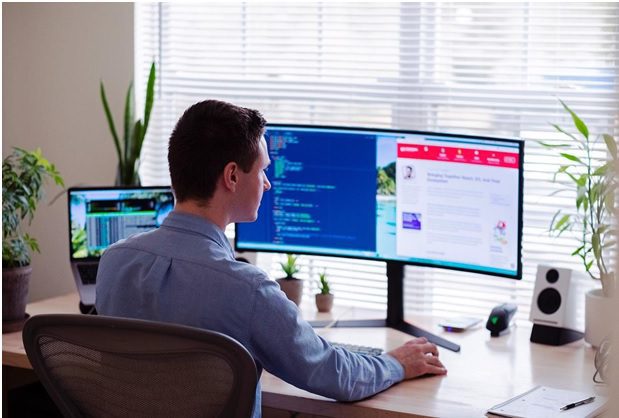 Today's highly competitive market demands every business to tweak their approaches to stay in the game and cater to the growing needs of their customers in a better way. One such approach that has emerged as a great solution for modern-day businesses is custom software development. As every business is unique in its own way, custom software solutions help to address the specific requirements of your business exclusively, which work to boost operational efficiency and productivity.
Thank you for reading this post, don't forget to subscribe!
Choosing pre-built software for managing different business processes is often the go-to choice of uniformed leaders. However, such off-the-shelf solutions may often fall short to meet the particular needs of your organization. Most of the time, pre-built software may come with many features that you seldom use or may not need at all. So paying for a "feature-rich" software application that does not fulfill your requirements can be a worthless investment. Going for custom software, on the other hand, allows you to bundle the features that you want and will surely use.
Why Choose Custom Software Development for your Business
Custom software solution providers can help you to digitize your business operations the way you want and address the varying demands of your customers competently. Although your custom software may not seem to be like a complete business software solution, it will be personalized to suit your needs and will accommodate limited users as per your needs. Below are some of the main benefits of choosing a custom software solution over pre-built business software.
1. Increased Efficiency
As you can get all the features required to run your business operations in the custom software, there are fewer chances of running into an error. You can train your staff to make use of the specific features of the software solution without having to worry about your employees being distracted by the useless added features. This leads to a higher quality of work and makes room for excellent service.
2. Long-Term Cost Savings
Building custom software may take more time and effort than picking any of the off-the-shelf solutions, and this means that it may cost more. However, that will depend upon the features you include in the application and its range of functionality. In any case, custom software development will require you to invest upfront, which eliminates the need for paying monthly charges. Besides, as your personalized software improves employee efficiency, it also helps to save a lot of costs in the long term.
3. Improved Satisfaction Rates
The custom software solution for your company will ease the stress from your employees by automating many of the routine rule-based tasks. This can in turn allow your staff to focus on other productive jobs, which will make them feel more valued in the organization. With reduced stress levels and boosted morale, your employees will feel more motivated to deliver the best performance, which will add to the overall business efficiency.
Read Also: 5 Factors That Could Improve Your Online Business's Performance in 2021
4. Quick Reporting
Reporting is vital for all businesses no matter which industry they belong to. Custom software solutions can include simple options to generate monthly or weekly reports to help you assess your business performance and analyze how different campaigns worked out in your favor. It also eliminates the need for spending hours preparing the reports by juggling through different documents and data. You can get a summarized report from your custom software in a matter of seconds.
5. Superior Integration
Custom software applications are built with the latest technologies that will help to address the specific needs of the different departments in your organization. This makes them great for business integration; you can even have a customized solution designed with a centralized control panel to manage multiple processes through a single integrated system. This will help you to achieve better results by monitoring the business processes on the go from a unified dashboard.
6. Reduced Hardware Cost
One of the major concerns associated with pre-built business software is the hardware costs. This can be a big thing for small-scale businesses. Custom software development, on the contrary, avoids the need for using any specialized hardware to run and manage the application. This is because they can be developed to be integrated with the existing business systems in your company. As you do not have to invest in any additional hardware, this also adds to your cost savings.
Read More: Custom Software vs Off The Shelf – The differences
7. Better Scalability
Scalability is one of the most significant benefits of developing custom software. You can scale the software features and attributes as your business grows so that it can continue supporting your operational needs and functions. This also means that you do not need to go for a full-blown application right from the start. Instead, just focus on the features that you need at present and make sure that there is enough room for scalability to meet your future requirements as they come.
8. High-End Security
Custom software developers maintain high-end security and include effective features in the application to keep the data and information in the software secure from external threats. As cybercriminals are evolving day-by-day and have even found ways to breach most of the legacy business software solutions, a custom software application with robust security features can be the ideal way to thwart cyberattacks and keep your company data safe.
9. Easy Maintenance
Choosing pre-built software needs you to depend upon the vendor for maintenance and updates for as long as you are using the application. This means that if the vendor stops issuing updates one day or charges extra for maintaining their maintenance schedule, then you may have to look for other solutions or pay the added costs. Custom software, conversely, allows you to take charge of the maintenance and updates so that you can ensure the utmost efficiency of the application, always.
10. Dedicated Support
You also get dedicated support from custom software developers to keep your application running smoothly. Most software development companies offer efficient and reliable technical support for free or for a minimal fee. In any case, the round-the-clock availability of dedicated support services will ensure that you can resolve any glitches in the business applications easily and without having to face any serious downtime.
In a nutshell, custom software development is the right way to furnish your specific needs and accomplish improved business performance. It is high time you develop a custom software solution for your company and stay competitive in the market.