5 Cord Cutting Myths Debunked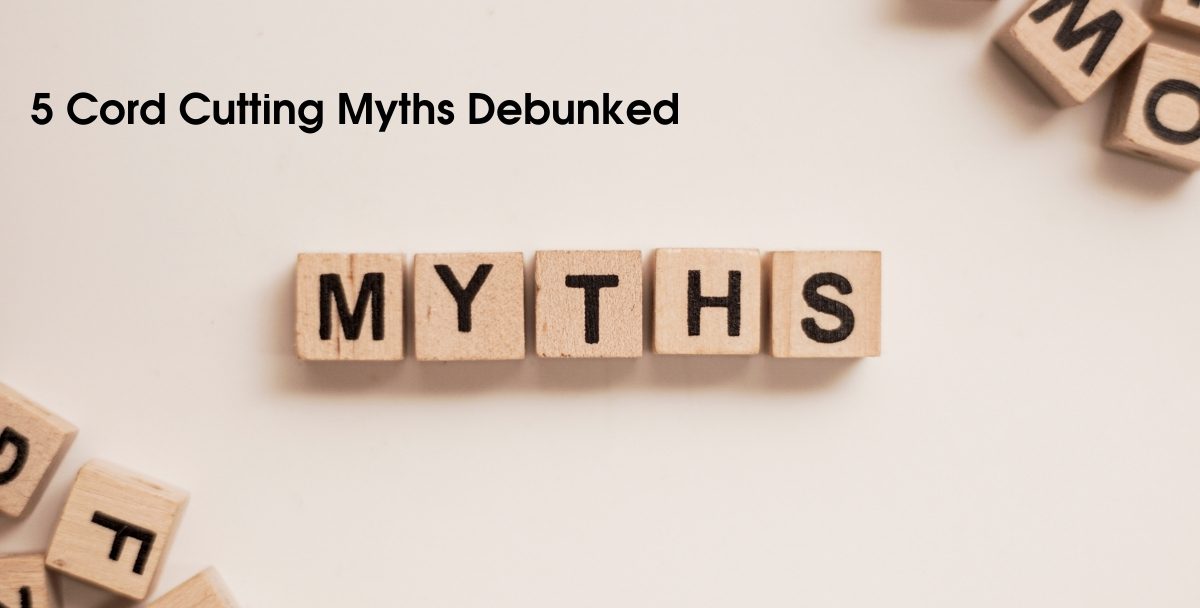 In a time when we're all looking to cut back on our bills, you may be thinking about cutting the cord for good.  Who can blame you? Satellite TV providers like DISH Network, DishLatino, DirecTV and others have never made it easy to save a few bucks and they're notorious for raising their rates every year which has many people fed up. We've all heard about the friend of a friend that's only paying $20 a month for TV service, but is that true? Start by doing your own research and know the facts from the myths. Let's debunk the five most popular cord cutting myths right now that may have you stumped on what to do.
Thank you for reading this post, don't forget to subscribe!
Myth 1: Cord Cutting Saves Money
Fact: Cord cutting won't save you any money if you're looking for exactly what you have now.
While it's true that cord cutting can save you money, don't go into cord cutting expecting it to. It won't be much cheaper if you're just looking to replace your current cable or satellite TV service. The stories you hear of people paying $20 a month on TV just combine a couple of their favorite streaming services without specific channels in mind. There's no way to sign up for everything and it will be cheaper than what you're paying for with paid TV service.
Myth 2: I Need To Spend More On Internet
Fact: Your current internet plan is likely fast enough.
Netflix recommends 5 Mbps for HD quality video and 25 Mbps for ultra HD on one device. If you're planning on multiple devices streaming simultaneously or other devices using the internet heavily while you stream, you'll need faster speeds than that. Bottom line is unless you're paying for the lowest tier internet, your internet speeds are likely fast enough. You won't need to empty your wallet for top internet service just to stream.
Myth 3: I Can't Watch Live TV
Fact: You absolutely can watch live TV including live sports.
Streaming has come a really long way and there are live TV streaming services out there. Some of the most popular live TV streaming services you can find are:
Sling TV
Hulu Plus Live TV
AT&T TV Now
fuboTV
Streaming services with Live TV are the closest you will find to the cable TV experience. You can watch TV just as you do now. The only difference is the TV packages and the service being delivered via the internet.
Myth 4: I Will Miss Out On My Favorite Shows
Fact: You can find your favorite shows.
You don't need to miss out on your favorite shows. If you do your homework before committing to cutting the cord or any specific streaming services, you shouldn't. You'll have to ask yourself a few questions before proceeding like:
What channels are your favorite shows on?
What are your favorite channels?
How much do you want to spend every month?
Once you've answered these questions, you'll know what you absolutely cannot live without. In fact, subscribing to a streaming service with your favorite shows might be even better for you. It's likely they'll have previous episodes and even whole seasons available. You have the option of watching the whole series over again and all the new episodes as they air if you wanted to.
Myth 5: Cord Cutting Is Complicated
Fact: Cord cutting is easy with a tiny bit of research.
The first step in cord cutting is doing your research and everything after that is up to you! Cord cutting will only be as complicated as you make it out to be. Choosing what streaming services to go with could be fun so think of it that way. Opting for streaming TV instead can give you access to more shows and movies than you have right now without even realizing it.