5 Must Essentials to Carry While Going For a Trip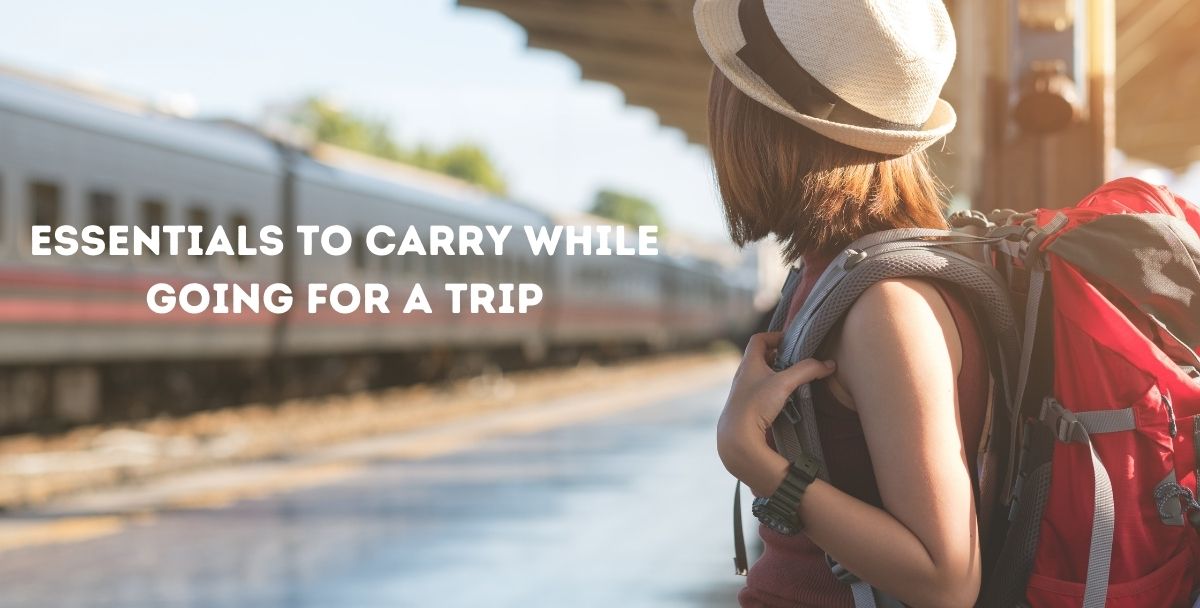 Trips and treks are the outlets of a being when the busy schedules begin to pain the nerves. With the pandemic putting a grave stop to outdoor activities, the desire to travel has doubled since it has been subdued long enough.
Thank you for reading this post, don't forget to subscribe!
And now, when you have the chance to quench the thirst, you are unsure of what to pack in that travel bag of yours? Well, worry not because here is a list of all the vacay items that you might need handy to spend a blissful trip!
Bag Basics
While traveling, the most important thing not to forget is what kind of bag you should carry.
Depending upon the journey undertaken, decide the bag. However, the bag must have strong straps and be big enough to carry significant loads under all circumstances.
Try to have a wheeled bag to save you the hassle of carrying the weight on your shoulders. However, if you are traveling on rough terrains like mountains or snowy places, it would be better to shift to a Duffle bag or be content with a travel bag with no wheels.
Also, there could be a possibility that sometimes you might need to go somewhere else from a specific spot that might not need the entire luggage. Therefore, pack some go-to small but sturdy bags too if such circs arise, or there's always room for shopping in your itinerary.
Know About: Wooden Sunglasses.
Careful Clothing
Do not go overboard with clothing; keep the fancy clothes at bay. Pack according to the trip.
Pack lightweight and comfortable clothes, have comfy sleepwear and pajamas, have t-shirt and tank tops. If you are going to cold places, be generous with packing jackets and belts, and if needed, then some equipment that will help support the trek. Minor accessories should include sunglasses or shades, hats, and swimsuits. Have a good pair of shoes and comfortable socks.
The best way to fit the clothing and some minor accessories in your bag is by using some tactics. It is commonly called cube packing, where the clothes are folded into minute cube shapes as much as possible. The shirts can be turned into rolls instead of folding because long thin rolls will take less space than folded items.
Toiletries to Look For!
Do not neglect the toiletries because they are the saviors that most travelers do not realize.
Pack moisturizers, lip balm, cream, face wash, soaps, perfumes or deodorants, and the most critical feminine products like sanitary pads. Also, the pandemic has taught humankind the importance of hygiene; therefore, do not forget the sanitizers.
Hold your toothbrush and paste dear to your heart, shampoo and conditioner, shaving kits, towels, sunscreen, and any medication you are prescribed.
Also, have a pepper spray in case of emergency survival mode.
Health is Wealth
Do not neglect the possibilities of a health hazard in a traveling expedition.
Keep a first aid kit with yourself at all times that includes at least the essential medications. Have a thermometer, pain killers, allergy medicines, fever pills, and other ointments and antiseptics.
Also, before going on a trip, know the significant local phone numbers you can contact if you happen to face adversity so that help can arrive immediately.
Entertainment, Entertainment, Entertainment
Travelling is, after all, about fun. So do not leave those elements behind that shall act as an entertainer in this journey.
You can have your laptop, camera, or handy cam, a book to read while at peace, a means to sketch if you are an artist at heart, and some other digital device. And if you do bring electrical appliances, make sure you have a power bank with you.
If you are addicted to audio, bringing your headphones with you while you enjoy the scenic beauty of the trip will be a joyous trail.
A trip can go wrong or feel inconvenient if you travel without your essentials. Hope this list helps you create a checklist for your next trip post the Covid-waves. Till then, let's plan and hope the world heals sooner.
Check: Do not forget your mobile phone, ID, wallet, tickets, and passport at any cost! Try to stay vigilant during your trip. A little safety has never come in the way of fun.