How to Capture More Leads Using ClickFunnels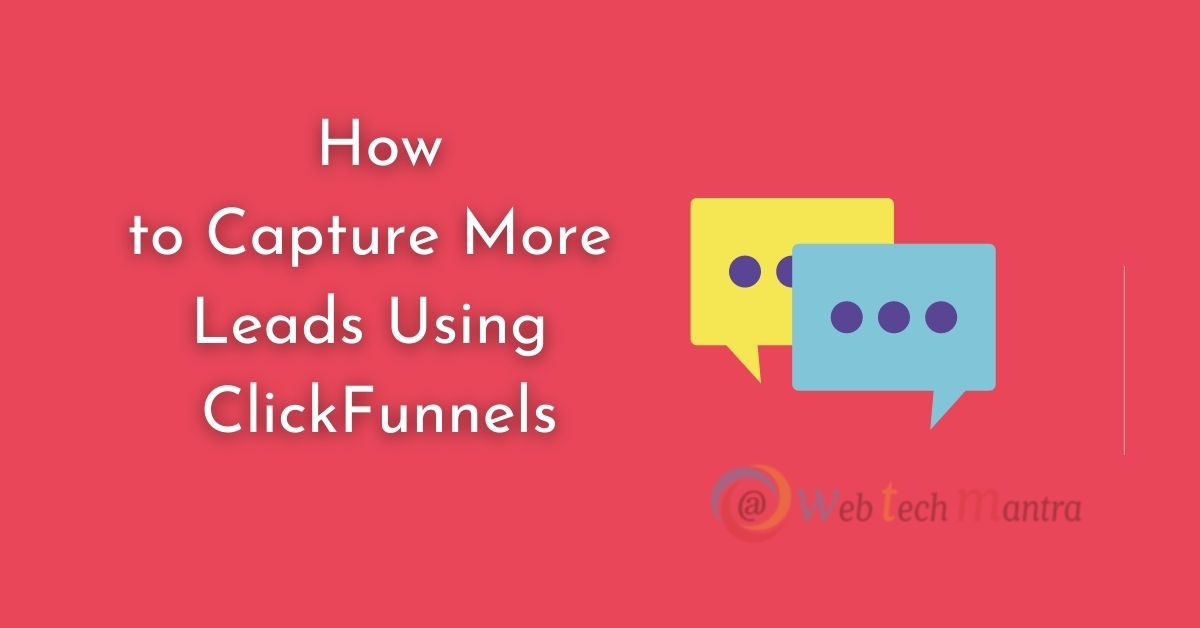 If you're an entrepreneur looking to attract new customers and grow your business, you definitely know how important lead generation is. You can't just go out and about, asking random people to buy your products and services. Customers have to be wooed so they'll come willingly towards you, and that's where lead generation comes into play. So how exactly do you lure the audience and transform complete strangers into customers?
Thank you for reading this post, don't forget to subscribe!
There are several methods you could use to attract potential clients and get them interested in what you have to offer. From high-quality online content to surveys, coupons, or product trials, anything that will grab the audience's attention and make them share their personal information with you is a great lead generator. But is there a way to make things a bit easier? Well, since you asked, we're happy to inform you there is. If you find the process of capturing leads a bit complicated and you're looking for a shortcut, look no further because ClickFunnels is exactly what you need.
If you want to learn how ClickFunnels can help you capture leads and grow your business, it's time to get more in-depth and see what ClickFunnels is all about.
ClickFunnels 101
You might have already heard about ClickFunnels and the benefits it can bring to your business, but you might still have questions and doubts, so we're here to give you answers. To put it simply, ClickFunnels is a website and sales funnels builder, designed to make life easier for entrepreneurs, marketers, and anyone else interested in marketing, selling, and delivering products online. However, a definition can't do ClickFunnels justice, as this tool has the ability to do so much more. It's basically an all in one marketing solution that encompasses everything you need to run a successful business online. It's like having an IT, marketing, and sales team in just one easy-to-use software.
With ClickFunnels you can build amazing landing pages and create a variety of funnels, depending on your business needs, so capturing leads and building strong and long-lasting relationships with your customers will seem like a breeze. You'll no longer have to use different tools for different marketing purposes because ClickFunnels brings them all together for you. There are many aspects to cover when it comes to using ClickFunnels, that's why it's important to do your research and learn all about the features and functionalities it provides. For a complete review, read here and discover the nitty-gritty of using ClickFunnels to help your business thrive.
Pricing
Obviously there's a price to pay for all the good staff ClickFunnels offers, but don't worry, you won't have to break the bank to make ClickFunnels part of your marketing strategy. Besides, every penny you spend on ClickFunnels is worth it and the results you'll see are far greater than the investment.
Since different businesses have different requirements, ClickFunnels has three pricing plans to cover all customer needs, each of them offering great features and valuable information so you can start working on attracting customers and increasing sales right away.
The Standard Plan – How do 20 funnels, 100 pages, 3 custom domains, 1 sub-user, and 3 payment gateways sound to you? It sounds like a steal to us at only $97 per month. To make the offer even more tempting, you also get chat support round the clock and access to the Funnel Hacker Forum.
The Platinum Plan – If you're willing to spend a little more, you'll forget about funnel and pages limitations. For $297 per month, you get access to as many funnels, sales, and landing pages your heart desires, and other exciting bonuses. And to top it all, the plan also gives you the possibility to manage your email marketing within ClickFunnels.
The Collective Plan – this plan is for the big players who are well aware of the powerhouse ClickFunnels can be and are ready to take things to the next level. For $1,497 per month, you get the full VIP treatment with unlimited funnels and pages, 27 custom domains, special training that will provide you with valuable insights and VIP support.
Benefits of using ClickFunnels
If by now the advantages of using ClickFunnels are still not obvious, we'll list them down for you:
You can set up landing pages and all kinds of funnels in the blink of an eye
You can easily customize your pages as you see fit
You get free training and enjoy tons of bonuses
There's a wide variety of professionally designed templates you can use
You can monitor the performance of your pages
You can run A/B testing
You can join the affiliate program and create an additional revenue stream
You get a free 14 days trial before you choose a pricing plan
And the list can go on, but we advise you to start the 14 days trial and see for yourselves just how amazing ClickFunnels is and what it can do for your business.
Lead generation
ClickFunnels doesn't just provide special training packed with valuable information and industry secrets on how to capture leads with ease and gain a competitive edge, but it also shows you just how to do it and gives you the tools for it. ClickFunnels will take you step by step through the process of building funnels specially designed to capture your visitor's contact information, so you'll gain more leads with whom you can connect and start building a durable relationship.
You'll learn how easy it is to add an Optin page with ClickFunnels that allows you to collect the information you need from your audience and build your email list. And the best part is you can watch ClickFunnels works it magic before committing to one of the plans mentioned above with the free 14 days trial.
To sum it up, ClickFunnels is an amazing lead generator as it can help you:
Build professional landing pages
Create a variety of funnels
Collect email addresses
Run membership courses
Create membership pages
Run webinars
Promote live events